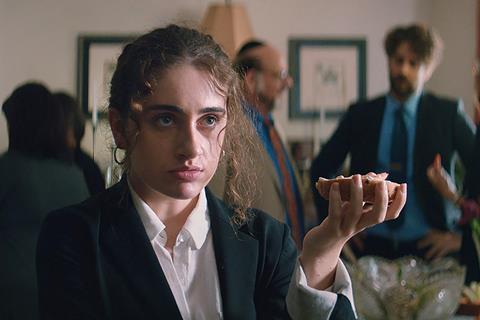 Key executives: Efe Cakarel, founder and CEO; Kevin Chan, co-head of acquisitions; Cate Kane, co-head of acquisitions; Anaïs Lebrun, director of content, international
Business model: SVoD
Subscription costs: £9.99 ($10.99)/month; Mubi Go (which includes a weekly cinema ticket), £14.99 (around $21)/month
Territories available: More than 190 countries
Annual turnover and/or subscriber base: Undisclosed
Most watched film title on platform in 2021: Shiva Baby (dir. Emma Seligman)
Mubi has firmly established itself as the godfather of arthouse streaming platforms, a position that has only strengthened over the last 18 months. Launched in 2007 by Turkish entrepreneur and film lover Efe Cakarel, the SVoD platform is now available in more than 190 countries online, via smart TVs and on mobile devices.
Headquartered in the UK, the company has more than 100 staff, mainly in its London and New York offices but also in Istanbul, Mumbai, Kuala Lumpur, Mexico City and Sao Paulo. Mubi's signature offer has been to add one new title every day, available for 30 days. But the past three years has seen it invest aggressively in all-rights acquisitions and the company has a growing presence in theatrical distribution in the UK and Ireland and, more recently, production.
As a result, its team has become an increasingly formidable force in the market, with co-heads of acquisitions Kevin Chan and Cate Kane snapping up some of the hottest titles available. Before this year's Cannes Film Festival had even begun, they had secured all UK and Ireland rights to a trio of Competition titles: Mia Hansen-Love's Bergman Island, Paul Verhoeven's Benedetta and Leos Carax's Annette, which is set to open the 2021 edition.
While the pandemic has clearly spurred new subscriptions, it is also Mubi's carefully curated approach that has resulted in the service tripling subscribers globally since the beginning of 2020 and seen viewing also triple year-on-year. While Mubi does not release subscriber numbers, it does state that its "members" now number more than 10 million. "It is not about quantity, it has always been about quality," says Chiara Marañon, Mubi's director of content for the UK. "That is why we bring one new film to the platform every day. Our audience sees value in curation."
Explaining the scope of titles it looks to bring to the platform, Marañon says: "We want to dive deep into the richness that cinema can offer — films of all origins, epochs, genres, subjects, lengths and formats. Mubi is open to everyone who loves cinema, in all its shapes and forms, and who want to discover new things and revisit old favourites."
Recent and upcoming Mubi releases, which previously won awards and acclaim at A-list festivals, include Kelly Reichardt's First Cow, Ben Sharrock's Limbo, Gianfranco Rosi's Notturno, Xavier Dolan's Matthias & Maxime, Werner Herzog's Family Romance LLC, Pablo Larrain's Ema, Luca Guadagnino's Suspiria, and Bacurau from Kleber Mendonca Filho and Juliano Dornelles. "We discover a lot during larger festivals such as Venice, Cannes and Toronto, but we also follow projects from very early on, even before the festival selections happen," says Anaïs Lebrun, Mubi's director of international content.
Lebrun adds that Mubi has worked with "hundreds of partners" globally, ranging from independent producers to mini-majors and studios, local distributors and international sales agents and even with filmmakers themselves. "The type of licences will always depend on the film," she says. "It could be a non-exclusive deal or it could be a global exclusive for a few years."
With an increasing number of titles for which Mubi has multi-year rights, the platform added a library in May 2020 so its subscribers could access titles beyond its trademark 30-day window. Speaking to Screen International recently, Cakarel said: "If you have the rights for 12 years to a film like Limbo, it doesn't make sense to just show it for 30 days. About two or three years ago when we really started to invest in all-rights acquisitions, we found ourselves also being able to buy pay-one rights of some amazing films.
"We showed Portrait Of A Lady On Fire right after the cinemas; we got that from Curzon for 15, 18 months, whatever the pay-one window is. Pain & Glory from Pathé — it doesn't make sense to show that film for one month. We are never losing our 'one new film every day', but now we just open up the world behind our kitchen a little bit."
Movies on the go
In a further display of its passion for cinema, the company has launched the Mubi Go package, which covers the cost of a cinema ticket for one curated new release every week. It was an initiative that was rested during global lockdowns but is coming back as part of its ongoing support of the independent arthouse ecosystem. As theatres reopen around the world, there are plans to expand Mubi Go to the US and Germany.
A more recent development has been a move into production, led by senior vice president of production Bobby Allen. Mubi has previously been a co-producer on titles including Port Authority by Danielle Lessovitz, Ekwa Msangi's Farewell Amor and Rachel Lang's Our Men, which is set to world premiere in Directors' Fortnight at Cannes. But it is now developing its own slate of titles and expects to greenlight its first film, fully financed, in 2023.
"If you want to have a meaningful, long-term, sustainable differentiation, you have to be producing your own content," Cakarel told Screen. "There's no reason why we could not be doing the next Alfonso Cuaron in a couple of years, instead of Netflix. Because Mubi is the right home for these kinds of major productions. It's going to be a journey. We are going to be investing heavily into it."