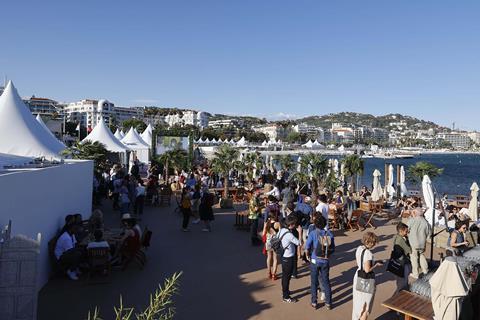 The great Cannes reset is about to begin. As the global pandemic shows signs of receding in many places after holding the world hostage for two years, and in spite of the on­going tragedy in Ukraine, the 2022 Cannes Film Festival and Marché du Film are returning and the excitement is palpable. In contrast to last year's July event, the cinemas, restaurants, cafés, hotel bars and suites on the Croisette will be packed.
At time of writing, high-profile sales packages included Lionsgate's Hunger Games prequel and Dirty Dancing sequel, and AGC Studios' The Dating Game with Anna Kendrick and more will emerge in the lead-up to the event. Those in attendance will grapple with a new reality shaped by the pandemic: more streaming, shorter exclusive theatrical windows now averaging 45 days in North America, and a return to production. These factors will have a bearing on pricing and deal structures. But first, in-person business is coming back and emotions are running high.
"I haven't been this excited to go to a market since my first Cannes," says Kim Fox, co-founder of The Veterans, who will be launching sales on the Daisy Ridley and Shazad Latif thriller Magpie. "I am tickled to be seeing everybody again. It's been business as usual over the last two-and-a-half years and there's been no shortage of buying and selling, but we want to reconnect and see people in person."
"We were already feeling more positive, based on the last couple of months," adds Sierra/Affinity managing director and EVP Kristen Figeroid, who said there was "a lovefest" when buyers visited Los Angeles for pre-Cannes meetings and is lining up a sales launch on survival story The Skeleton Tree with Jacob Tremblay and Woody Norman. "Hearing all the optimism from the studios at CinemaCon is a big relief; it's great that people are focused on the theatrical business," Figeroid continues. "That's encouraging news for the independent buyers and promising news about North American launches, from which the independent buyers can platform their releases."
Indeed, the annual Las Vegas jamboree CinemaCon served up a stirring dose of enthusiasm for theatre operators as suppliers teased their upcoming slates of mostly tent­poles, and at least two studio heads declared theatrical the cornerstone of their business as the industry celebrated box office successes for Spider-Man: No Way Home, The Batman, Sonic The Hedgehog 2 and, most encouraging, the smaller Everything Everywhere All At Once. More recently Doctor Strange In The Multiverse Of Madness has raced to $500m worldwide within its first week.
If that fosters hope in the independent space, then it needs to be tempered by the keyword, "tentpole". Costly A-list content is a vital part of the cinemagoing experience, but independent buyers and those in the exhibition sector who suffered under Covid-19 more than at any other time in the history of the film industry know they will need more diverse content to thrive.
Sellers are attuned to this sentiment. The pandemic was tough on most theatrical releases including independent heavy-hitters such as female-led action vehicle The 355 and Roland Emmerich-directed sci-fi Moonfall, and in light of the war in Ukraine and the ongoing impact of the pandemic in China, where strict lockdowns remain in places, sales agents are mindful of offering affordable content.
"Given the very limited buying power out of Russia, southeast Asia and, particularly, China for the classic mid-higher budget indie action thriller — where these were the cornerstone territories — the financing model for these films doesn't add up at the moment, particularly when there are narrower US theatrical options," notes Stuart Ford, chairman and CEO of AGC Studios.
He describes as "extremely challenging" the big-budget independent financing model. "Although we have produced and/or sold many of these films over the years, we're taking a wait-and-see approach," Ford adds. "Of the bigger indie films made in the last few years, Moonfall had significant equity financing out of China and Kandahar had significant equity financing out of the Middle East. Across-the-board financing potential for these films is fairly limited at the moment. Many of the stronger titles [in Cannes] will be in the $25m range."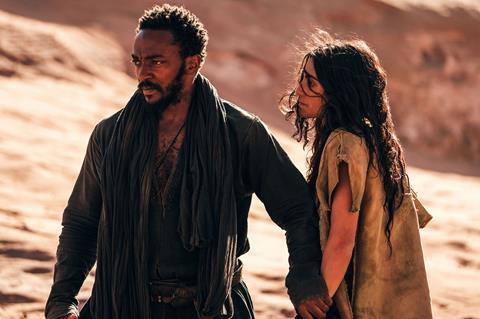 AGC Studios will be launching sales on The Dating Game, the serial-killer thriller that came out of turnaround at Netflix, as well as supernatural thriller Consecration with Jena Malone, and Richard Linklater's action comedy Hitman starring Glen Powell from Top Gun: Maverick. The company will also show first footage from Pierre Morel's action comedy Freelance starring John Cena, which sold out at AFM.
Russian buyers, some of whom are based outside their mother country, are expected to attend Cannes. Sellers will honour existing contracts but are highly unlikely to engage in new business for the foresee­able future in light of the invasion, effectively turning the territory into a zero for sales forecasts. Nor is the Asian industry expected to attend in great numbers, and absentees will connect with buyers and sellers on the Croisette via Zoom and other video-conferencing platforms.
"It's our expectation there will only be a handful of Chinese buyers on the ground," says Film­Nation founder and CEO Glen Basner, who launched sales at AFM 2018 on this year's out of Competition selection Three Thousand Years Of Longing, directed by George Miller, and will be hosting several pre-­recorded presentations, a recent tactic developed during Covid-19. "Film­Nation will continue to trade in China and meet distributors and try to understand where that market­place is headed. Our course of action is always to engage in dialogue, to listen and understand, and then chart a pathway forward."
Basner is excited to be making the trip to France. "Everybody that I speak to, including myself, are thrilled to be back in person together," says the executive, whose Cannes sales slate include a reboot of The Crow, Woody Harrelson thriller Last Breath, sci-fi romance Fingernails starring Riz Ahmed and Jessie Buckley, and Michael Keaton to star in and direct noir Knox Goes Away. "Our relationships across the world run deep and, for me personally, for over 25 years… We're ready to take action, which bodes well for the market in general."
China factor
"To be able to make these big $150m movies, you have to have China," says Jonathan Yunger, co-president of Millennium Media, which owns the Nu Boyana studio complex in Bulgaria and a facility in Greece where much of The Expendables 4 shot. "So now we turn these into $80m, $90m titles. We can make these movies look like $150m with our studio."
The latest instalment in the all-star action franchise has already sold out and will open in North America through Lionsgate in 2023. In terms of new content, Millennium plans to unveil a mixed roster of large and small titles across diverse genres and will launch sales on sci-fi thriller Subservience from Till Death director SK Dale.
"A few years ago there were these mid-budget movies and now we're seeing more of these because of [the] distribution [landscape]," adds Yunger. "People consume content at an unbelievable rate."
Capstone Global head of acquisitions Ruzanna Kegeyan echoes the sentiment: "For sellers, [the times are] a great opportunity and there's plenty to go round. It's opened the playing field to everybody — we sell to independents and to streamers." Capstone will be launching sales on action thriller Breathe with Sam Worthington, Jennifer Hudson and Milla Jovovich and has Spinning Gold in post which tells the life story of Casablanca Records co-founder and 1970s record producer Neil Bogart.
From a US buyers' perspective, Arianna Bocco, president of IFC Films — a regular distributor of Cannes selections who will be in full-on acquisitions mode on the ground— is intrigued by the mix of established auteurs and new voices in official selection and the sidebars. "I'm excited to go sit in a theatre and feel that sense of discovery again," she says.
Bocco is also hopeful the market will offer up pearls. "Because it's been such an unusual cycle after [in-person versions of] Sundance and EFM didn't happen, we're seeing an uptick in finished film acquisition screenings." The feeling is that with greater supply, asking prices may drop a little.
Two significant developments coming out of the streaming and big media sectors will be talking points. Netflix's dismal first quarter, in which the streamer lost 200,000 global subscribers (due to the suspension of the platform in Russia) and forecast losing a further 2 million, led to a $50bn loss in market cap and was on everybody's lips at CinemaCon.
A source of relief was Warner Bros Discovery CEO David Zaslav's comments in support of the theatrical business, and evidence of theatrical and streaming co-existence: Warner Bros' The Batman had grossed $750m at cinemas worldwide by the time it debuted on HBO Max and went on to draw 4.1 million views on US smart TVs in the first week.
Netflix is not going anywhere and, as it increases its focus on international subscribers, the trailblazing platform has hinted it is willing to consider measures such as an ad-supported tier in the years ahead. As producer and Cinetic Media principal John Sloss, an avowed supporter of theatrical and independent cinema, puts it: "The addressable market to these streamers is not 200 million people; the addressable market is 2 billion people."
Sloss questions whether global consumers will want to pay for multiple platforms and says consolidation is "inevitable", yet he also recognises the world is some way off from peak SVoD. "My job is to get content financed and there's more money than there's ever been for it right now," he says. "It's a precarious time to put [projects] together the way we have when equity and territory sales are down, and the question is, will that return? If you have something that fits the programming intentions of the streamers, then it's an extremely good time."
"We've never been a believer that the theatrical marketplace was going away," says FilmNation's Basner. "That said, there are films that are better suited for audiences to enjoy on a platform and in those instances we're very happy to do business. We made a movie called The Good Nurse for Netflix and The People We Hate At The Wedding for Amazon, and we're excited to see people enjoy them on those platforms. We've never looked at anything as binary — 'Is there theatrical or not?' We keep adapting to the marketplace and keep servicing different ways for audiences to enjoy feature films as best as possible."
Highland Film Group CEO Arianne Fraser, whose sales slate includes Russell Crowe and Liam Hemsworth action thriller Land Of Bad, notes the intricate ecosystem means "streamers have been very aggressive not just in all-rights acquisitions but also in terms of backing independent international distributors". Streamers hand-pick individual territories and strike deals where the theatrical release adds value throughout the release chain.
In other cases there is a different dynamic. "We have seen cases where independent distributors partner with other territories to acquire a title to compete with streamers," she says, citing companies from the UK and Australia as common allies, where one buyer transacts on behalf of two territories.
Buyer movement
There has been a shift in what international buyers are prepared to accept in terms of US distribution. Once territory sales were predicated on a US release of 1,000 or 2,000 screens. Now, as a considerable number of projects end up on streamers and in the wake of Amazon's acquisition of MGM, international buyers are finding satisfaction in smaller US theatrical footprints and a modest exclusive theatrical window in their territories before the film eventually lands on a non-theatrical US platform.
"One of the challenges for independent financiers and producers is the range of US theatrical options has arguably narrowed further in the last year," says AGC Studios' Ford. "That represents something of a sea change over the last several years.
"It's a positive development because it reflects the reality of the industry today," he adds. "We've had this disconnect for several years where the US marketplace [operated to] one set of release patterns and international buyers found themselves hemmed in with more traditional releasing patterns. That created a delay from a deal-making perspective but I feel that [gap] has significantly narrowed."