How is the market evolving for socially conscious and politically engaged documentaries? Ahead of tomorrow's Doc Day event, Screen talks to key practitioners and stakeholders.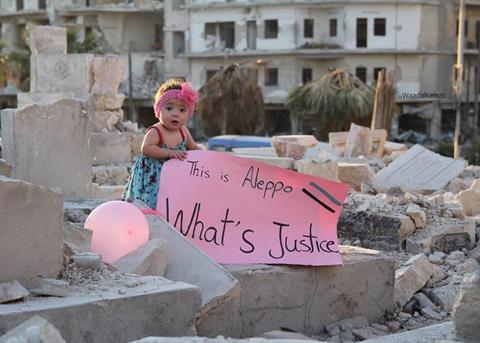 Aspiring journalist Waad Al-Kateab made it safely out of Syria in 2016 with her husband, her infant daughter Sama, and 300 hours of footage she had recorded of family, friends and neighbours during life under siege.
Al-Kateab, now 28 and living in London with her family, has spent two years turning that raw footage into the powerful documentary For Sama, which played as a special screening in Cannes' official selection.
With her UK co-director Edward Watts, Al-Kateab had to find the right story to tell from those hundreds of hours of footage. It was Watts who convinced her the most powerful way to navigate that "labyrinth" of material was to tell her own personal story, as a mother talking to her young daughter.
"I wanted to help her make the best story and accessible for western audiences, for audiences who might be fatigued by Syria," says Watts. "She didn't want to have herself as the heart of it, but that evolved."
Al-Kateab is still not totally comfortable being the face of the story but she understands why the intimate approach was a new way to open people's eyes to the conflict in Syria. "I prefer to be more anonymous," she says. "But when I've seen the reaction of people in cinemas, I saw how they were engaged with this story, and it's the best thing for the film. I'm happy we made it this way."
Watts adds: "Everyone responds to interpersonal tales, and [her story] is touching these epic themes about love, motherhood, difficult choices, following the path of your soul compared to the path of personal protection and safety. That's an elemental journey that everyone goes on."
The team behind For Sama is speaking at Cannes Marché's Doc Day tomorrow (see sidebar, page 14). For Al-Kateab, she hopes her personal story "can help shed light on the reality of what's happening. The main goal of what we are trying to do, with all the screenings, is to shed light that 3 million people are still living in the same situation."
Even people who have watched nightly news reports from Syria, or other more journalistic documentaries, will find empathy for the Syrian crisis by going on such a personal journey with Al-Kateab and her family.
A number of other personal takes on issue-oriented documentaries are playing in Cannes. In the ACID selection, Aude Chevalier-Beaumel and Marcelo Barbosa's Indianara looks at a charismatic revolutionary fighting for transgender rights in Brazil. In Directors' Fortnight, Blow It To Bits by Lech Kowalski is about striking workers in France.
Reaching 'peak doc'
With so many kinds of media — not limited to newspapers, websites, podcasts, social feeds and television — also covering social issues, political movements or hot-button current affairs, it takes very special filmmaking to cut through all that noise, not only reaching audiences, but having an effect on them. "It could be argued that we are now in the era of peak documentary," says Dana O'Keefe, who works with New York-based Cinetic Media, which operates across finance, sales and talent management, and has recently worked on documentary hits such as Knock Down The House and RBG. O'Keefe adds: "This is a moment of unprecedented opportunity for documentaries in general and, more specifically, for issue-oriented films."
He continues: "The filmmaking talent pool, financing climate and overall marketplace are incredibly robust and dynamic at the moment, with more production companies, studios and financiers recognising the opportunity that exists and rapidly entering the space."
Lisa Marie Russo, BFI Doc Society Fund executive, says: "Story is paramount. Creative docs that take risks on storytelling and films on subjects like climate change, freedom of speech, the erosion of democracy and the after-effects of colonialism need to have a place at the table alongside the big-budget documentary 'thriller' films."
Two examples recently backed by the Doc Society Journalism Fund are Olivier Sarbil's On The President's Orders (concerning the drugs war in the Philippines) and Petra Costa's The Edge Of Democracy (about contemporary Brazil). Russo says both are "beautifully executed films that shine a light on dark and dangerous subjects".
Claire Aguilar, director of programming and policy for the International Documentary Association, notes that strong personalities can also help attract audiences. "You have your biopics like RBG [about Supreme Court justice Ruth Bader Ginsburg] — very much a political documentary because of the personality and her world, and then you have Won't You Be My Neighbor?, another biopic [about US TV personality Fred Rogers], which is not overtly political but is commenting on contemporary politics and morals. Both were seen widely and [were] successful and about a well-known person."
The deal on everyone's lips this year has been Netflix's reported $10m acquisition of Rachel Lears' Sundance hit Knock Down The House, which followed the campaigns of four underdog political candidates, including the now-household-name Alexandria Ocasio-Cortez.
Russo warns that "the sky-high deal is an outlier, it sends a message to the filmmaking community that there is a pot of gold at the end of the rainbow". That's not the reality for most documentaries. She notes that Doc Society was an early funder on Knock Down The House: "What docs need is support during filmmaking. Streaming services and broadcasters need to be financing films from the start — taking risk on talent and important topics."
Aguilar says the Knock Down The House deal "certainly sets a precedent. But the jury is still out if it will produce a trend. I remember when An Inconvenient Truth was presented by Participant Media and had its Oscar campaign and impact campaign. That was the beginning of the big tentpole impact film. Maybe the big political film will be a regular feature on the platforms now."
But no matter what, not every filmmaker with a socially conscious film is going to land a Netflix deal. "For many filmmakers who are making socially/politically conscious films, they are falling into the middle zone where they are not getting those deals," says Aguilar.
Still, she agrees with O'Keefe that there is more financing out there for socially relevant films. "Yes, there are more platforms interested in socially conscious films, and thus more financing along with those platforms."
O'Keefe adds: "I think we are seeing documentary filmmaking start to emerge as a new standard bearer for investigative journalism and hard news. The recent spate of box-office successes and record-breaking distribution deals for films tackling complex social and political subjects indicates as much.
"It's undeniable the appetite has grown substantially over the past few years, which can be viewed in part as a response to the vortex of the Trump administration. Regardless, there are now exponentially more platforms and outlets for documentary available to audiences worldwide, with more to come. The result is that filmmakers tackling difficult subjects simply have more resources at their disposal."

DOC DAY
Tuesday May 21
Access with Marché badge or day pass.
MORNING SESSION
9:30-12:00, Plage du Gray d'Albion
Welcome from Jérome Paillard, Marché du Film; Frédérique Bredin, CNC; and Julie Bertuccelli, SCAM.
Keynote by Alessia Sonaglioni, executive director, European Women's Audiovisual Network.
Conversation with Yolande Zauberman, filmmaker and president of jury for L'Oeil d'Or — Cannes documentary award 2019.
Documentary case study: For Sama, with co-directors Waad Al-Kateab and Edward Watts; impact producer Erika Howard (Frontline/PBS); and Salma Abdalla, Autlook.
AFTERNOON SESSION
15:30-17:30, Cinema Olympia
Welcome by Fabienne Hanclot, ACID.
Panel: Documenting social struggles, with filmmakers Lech Kowalski (Blow It To Bits) and Aude Chevalier-Beaumel and Marcelo Barbosa (Indianara).
Panel: Media outlets working beyond investigative journalism, with Lindsay Crouse, The New York Times op-docs series; and Horia El Hadad, Al Jazeera English.
Closing keynote by Kamal Sinclair on 'Making a new reality', a research project about inclusion and diversity in emerging media.