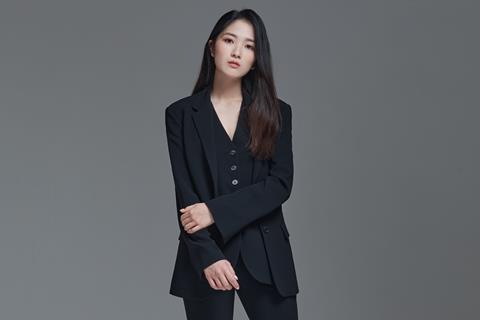 Known for her performance as an arrogant, privileged top student in K-drama Sky Castle, Korean actress Kim Hyeyoon is incandescent with rage in her first starring role in The Girl On A Bulldozer, set to receive its North American premiere at the New York Asian Film Festival (NYAFF).
Director Park Ri-woong's drama tinged with social critique stars Kim as a no-nonsense teenager making her way through a world seemingly stacked against her. When her father has a mysterious accident that leaves him in a coma, she goes about trying to find answers as their home and restaurant is threatened with repossession.
"I had never been able to express so much anger in my life, so it was cathartic," the cheerful actress tells Screen. "On the other hand, I realised it's really hard and energy-consuming to be so angry all the time."
The part also took a lot of physical energy as she did her own stunts, training for a month at the Seoul Action School run by legendary action choreographer Jung Doo-hong and found it "so much fun, I think I would really enjoy doing [an action film]."
It is a performance that has earned Kim the Screen International Rising Star Asia Award, which she is set to accept at NYAFF before the premiere on July 25. The award will also recognise Kim's work to date that includes her performance in the hugely popular K-drama Sky Castle as well as smaller parts in films such as Kim Yun-seok's drama Another Child and Kwon Oh-seung's thriller Midnight, which both screened at NYAFF in 2019 and 2021, respectively.
Born in 1996, Kim began acting in TV series during her first year of high school and majored in acting at Konkuk University in Seoul.
"The advantage of our school was that acting majors and directing majors would take classes together so we got to communicate with each other about things we were curious about and why people would behave the way they did on shoots," she recalls, adding the friends she made then still share information and experiences with one another.
During that time, Kim directed a couple short films herself, an experience that gave her a better appreciation of directors – and made her decide to stick to acting.
"I wrote the scripts, put together the cast and crews, and got on with it," she says. "But [as a director] every moment is a crossroads of decisions. The burden of everything being up to me – that made me think even more that I should be diligent in acting."
Looking back on her earlier roles, Kim says: "The time I spent as a bit part actor was the most helpful and is still a driving force for me. I have always had a sense of inferiority and it whips me on to try harder and be better. Maybe it's also a sense of competitiveness. But that time also helped shape my mentality and made me stronger."
Kim says she learned a lot from Yum Jung-ah, who played her mother on Sky Castle. "She always has a lot of cards ready. Whatever happens on set, she has contingencies. Whatever the other person does, she has several cards to pull out and show you and they are all her own," says the actress.
"Maybe because of that, I want to try different roles even more and see what kind of facets of myself I can pull out – go where I haven't and try things I haven't."
Reflecting on her career to date, she says: "If you only prepare 100 [%], then sometimes you'll only be able to show 70 to 80, and even less a lot of times. But if you prepare 200, even if you do badly, you'll be able to show 100. So I tend to prepare a lot more and often."
As a viewer, Kim enjoys horror, thrillers and mysteries. "But as an actress, I like all sorts of films, especially ones where I can find lots of messages contained within," she adds. "But also, films and dramas where you can see actors completely immersed in their roles even for a few short moments where you see it working or their emotions are conveyed – I find that thrilling."