Renowned TV writer-director Ori Sivan explains to Wendy Mitchell why his latest project Harmonia could only be made as a film.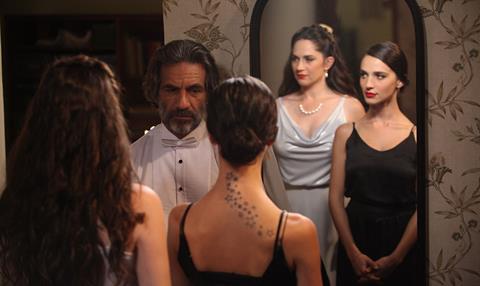 It takes a certain confidence to update the Bible. Ori Sivan, well-known as the co-creator of hit Israeli TV series In Treatment, is a writer/director who was inspired by the tale in Genesis of Abraham and his two wives, and wanted to show how this story can resonate today. The result is Harmonia, which has its world premiere at Jerusalem Film Festival in the Israeli Feature Competition section.
"I stay close to the Biblical story," says Sivan of his film. "I even tried to write it in the way the Bible tells stories. The style is pure and short and without subtext; it's straightforward and simple, but the story is dramatic, there is conflict."
The action is transplanted to contemporary Israel and follows a childless couple, Abraham and Sarah. He is the charismatic conductor of Jerusalem Symphony Orchestra and she is a morose harpist who develops a special friendship with a young horn player, Hagar. Hagar offers to bear a child for Sarah and Abraham, and gives birth to Ismail, who grows up to be a gifted pianist but does not know the story of his birth.
"One woman can offer her help or her abilities to a woman that cannot give birth, it was there in the Bible and it's also true now. It's a story that can hold now," says Sivan.
The director loved exploring the world of classical music (his grandmother was in the Israel Philharmonic Orchestra). "I found it the perfect way of people connecting to each other," he explains. "There are 100 people doing something together that has no meaning when they are alone, and that has no meaning without the conductor."
Sivan built a good deal of emotion into the story of the two women. "It could have been a dominating relationship, and the Bible tells the story that way. But my interpretation is different and I thought it would be a very deep friendship and connection between them."
He sees ties to themes from his previous works, such as his miniseries Barefoot, about three generations of a family on a kibbutz. "That was my TV miniseries dealing with people wanting to be part of a bigger body and co-operating. People don't live their lives alone, they live in co-operation with other people — that's also the essence of classical music, giving life to a symphony."
He continues: "My interest is in the way people relate to each other; the Israeli reality and Israeli cinema is loaded with aggression and violence and it's hard for me. I try to avoid that subject, which is surrounding our lives here. I tried to tell a story that is connected to the way people relate to each other as human beings."
He says television projects are easier to produce in Israel. In Treatment — which inspired HBO's US remake — ran for an impressive 80 episodes in Israel.
"I really like photography and looking at interesting framing and telling a story visually, and In Treatment was totally words and acting but nothing to do with cinema," says Sivan. "Harmonia is a kind of a reaction. [I wanted] to make a film and express myself in that way cinema can provide and television cannot."
A joyful shoot
Sivan speaks with joy about the experience of making the film, particularly working with the music and the actors, led by Alon Abutbul and Tali Sharon. "I had so much fun listening to classical music, choosing the pieces and working with the orchestra, and working with the actors."
Sharon learned to play the harp for the role in just a few months. "She knew the hand movements and the right strings, she was doing a perfect job playing the harp — the orchestra members could not believe she was doing the concerto."
The film is Sivan's second fictional theatrical feature (he co-directed Saint Clara with Ari Folman in 1996). He has caught the film bug again, and has another idea he would like to shoot in the next two years.
While Harmonia is not overtly political, Sivan hopes it will cause the audience to think. "The story is in a way about the Arab-Israeli conflict; Ismail used to be metaphorically the father of the Arab Muslims, and Isaac — the other son of Abraham — is kind of the father of the Jews, in a metaphorical way. I tried to give it a very, very slight touch. I tried to say, in a way, we're all brothers."