Maya Kenig, Idan Hubel and Tawfik Abu Wael set for 2017 Pitch Point.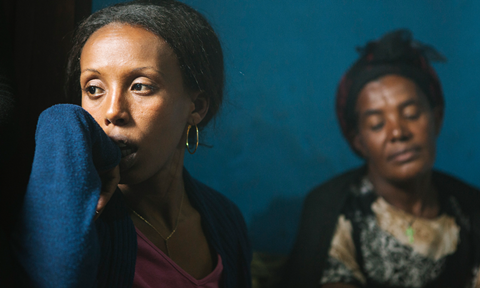 A black comedy revolving around breastfeeding, a Palestinian transgender drama and a coming-of-age tale set against the backdrop of an Israeli settlement are among the features due to be unveiled at Jerusalem Pitch Point presentation today and tomorrow (July 16-17).
The competitive event, which takes place within the framework of Jerusalem Film Festival's (JFF) industry programme, is designed to connect local filmmakers and their producers with international partners.
Past participants include Maysaloun Hamoud's In Between, Talya Lavie's Zero Motivation and Rama Burshtein's Fill The Void, as well as Scaffolding, The Cakemaker and Doubtful, which are competing in this year's Israeli Feature Competition strand.
A total of seven feature projects and four rough cuts will be presented at the meeting. "We focused on quality over quantity," says JFF industry chief Ariel Richter, who oversaw the selection. "Throughout the process, we asked ourselves, 'Do we need to see this film?'"
Lucky seven
Maya Kenig will present dark comedy Milk, which is set against the backdrop of a human milk parlour where women are pumped like cows as part of a commercial dairy operation.
"We went crazy over this project when we were reading it. It's so well-written. I told her [Kenig], 'It's the upbeat cousin of The Handmaid's Tale,'" says Richter, referring to Margaret Atwood's dystopian story of female suppression which has undergone a revival following its recent TV adaptation. Milk is Kenig's second feature after her well-received 2012 comedy Off White Lies, which played at several festivals and was acquired by Film Movement for the US.
Palestinian filmmaker Tawfik Abu Wael will unveil drama Wise Hassan, about a young man sent on a mission from his Palestinian town to Tel Aviv to murder an Israeli known as Lulu, who turns out to be a loveable transgender prostitute.
It is Wael's third feature after Thirst (Atash), which won the FIPRESCI prize at Cannes Critics' Week in 2004 and scooped the best Israeli feature award at JFF the same year, and his more recent 2011 work Last Days In Jerusalem, which premiered at Locarno. "It's a strong, sexy and packed story," says Richter of Wise Hassan.
Idan Hubel will present crime-drama A Great Light, about a female detective investigating the murder of a young girl by her father. It is his second feature after The Cutoff Man, which played in Venice's Horizons section in 2012.
Two projects have already attended high-profile co-financing events. Ruthy Pribar's debut feature Asia — about a woman caring for her dying daughter — was at Rotterdam's CineMart in January, while Yona Rozenkier and producer Kobi Mizrahi were at Cannes' L'Atelier this year with tragicomedy Decompression, about an estranged father and son who set off across Israel on a tractor.
There are also two first-time features: Uri Marantz's ambitious animation King Khat, about an Israeli scientist-turned-international drugs baron; and Tali Ohaion's When The Hinds Do Calve, about a born-again Jew whose faith is shaken by her sister's worsening cerebral palsy.
Works in progress
The jury and other industry guests will also get a sneak peak at four titles in the Works in Progress competition. Roman Shumunov will present drama No Future, about a group of rappers living in the city of Ashdod who get caught up with the mafia. It won Pitch Point's Van Leer Foundation Award at the project stage in 2015.
There is already growing buzz around Alamork Marsha Davidian's Ethiopia-set Fig Tree [pictured], which revolves around a family airlifted out of the war-torn country for a new life in Israel. It won the $50,000 first prize at the Sam Spiegel Lab in 2015.
Amikam Kovner and Assaf Snir will screen extracts of Echoes, about a widower who discovers his late wife had a relationship with another man. Tsivia Barkai's Red Heifer — a coming-of-age tale shot in the settlement of Silwan on the outskirts of Jerusalem's Old City — completes the quartet. "It's a strong story set in a world we don't get to see much on the big screen," says Richter.
A total of $28,500 in prize money will be handed out this year following the introduction of the new $15,000 DB & Opus Prize, which offers post-production services to the projects presented. Existing prizes are the Van Leer Group Foundation Award, the Cinelab Award, the Wouter Barendrecht-Lia Van Leer Award and the YAPIMLAB Award.
This year's high-profile jury features Entertainment One's Michal Steinberg, Memento Films International sales chief Tanja Meissner, Matthijs Wouter Knol, head of Berlin Film Festival's European Film Market, and Sony Pictures Classics executive Dylan Leiner.