International sales companies and financiers are in town to get the first glimpse of new projects from the prestigious Sam Spiegel International Film Lab. Melanie Goodfellow reports.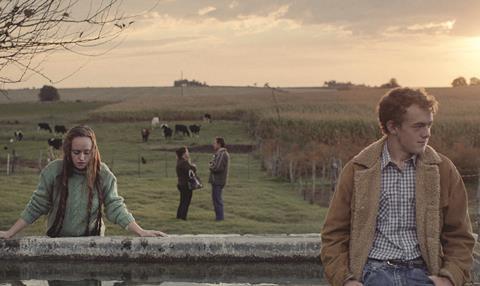 In just five years, Sam Spiegel International Film Lab has established itself as a world-class incubator for award-winning features. It is now well known how the Jerusalem-based lab supported this year's foreign-language Oscar winner Son Of Saul when few others believed in the vision of first-time Hungarian director Laszlo Nemes and writer Clara Royer. But the success of the lab — which selects a dozen projects a year, split roughly 50:50 between Israeli and international film-makers — extends much further.
Other films to have passed through the programme include Philippe Lacote's Ivory Coast-set war drama Run, Nadav Lapid's The Kindergarten Teacher, Alvaro Brechner's Mr. Kaplan and Michal Vinik's coming-of-age love story Barash, which premiered in the New Directors line-up of San Sebastian Film Festival in 2015.
Further films include Burhan Qurbani's Tribeca screener We Are Young, We Are Strong and Maximiliano Schonfeld's mystical drought tale The Black Frost[pictured], which premiered in the Berlinale's Panorama section this year.
"Our mission from the very first day was that the films must get made" says Renen Schorr, the founding director of Jerusalem's Sam Spiegel Film & Television School, who spearheaded the lab and oversees the initiative alongside associate director Ifat Tubi. "We're happy to see that, from the first two editions, 75% of the projects have come to fruition."
One of a kind
"There's no other lab like this in the world supported by a school," suggests Schorr, noting the two labs on which it is based — Sundance and Torino — are linked to festivals. "It's not part of the school's mandate, no-one forced us to do it but it brings a new energy and a new freedom."
After celebrating the Jury Prize for Son Of Saul in Cannes in 2015, the lab was represented on the Croisette again this year by Singaporean director Boo Junfeng's much-praised prison executioner drama Apprentice, which premiered in Un Certain Regard and sold to a number of distributors worldwide (the film will screen for a second time at the festival on July 10). Israeli film-maker Asaph Polonsky — an alumnus of the first lab — premiered One Week And A Day, about a couple attempting to resume their lives after the death of their son, in Critics' Week at Cannes and won the Gan Foundation prize for distribution (the film screens here on July 10 and 11).
Polonsky developed his screenplay under the guidance of film-maker Hagai Levi. "It was great to have a fresh perspective on it and working with Hagai Levi was a tremendous help," the director says. "We would mostly talk about the characters and their journey.
"He sent me to see Midnight Run, which is now one of my favourite films. The biggest challenge was to write a new draft that made sense from one session to the next because you can come out with so many new ideas after a week at the lab."
The lab was also present in the Cannes L'Atélier co-production market with Nepal-based film-maker Bibhusan Basnet and Pooja Gurung's project The Whole-Timers, which portrays Nepal's civil war through the eyes of a teenage Maoist guerrilla.
Other international projects in this edition include dark existentialist comedy The Woodcutter's Story, the first feature from Finnish director Mikko Myllylahti, who co-wrote the script of compatriot Juho Kuosmanen's The Happiest Day In The Life Of Olli Maki, which won the Un Certain Regard prize.
Israeli projects include Shai Carmeli-Pollak's The Voice Of The Sea, about a Palestinian boy living in a village that is cut off from the coast by Israel's Separation Wall, who sets off on a perilous journey to the sea; and compatriot Margarita Linton-Balaklav's Life Is Somewhere Else, about a teenage Russian immigrant confined to a West Bank settlement who befriends a Palestinian boy.
The pitching session will bring to a close seven months of development work in Jerusalem and online. First and second-time feature writers with projects at an advanced stage have been working under the guidance of script editors Clare Downs, Jacques Akchoti and Eran Riklis.
As in previous years, there will be two jury prizes — a winner and runner-up — worth a total of $70,000, donated by the Beracha Foundation. The chair of this year's jury is Oscar-nominated cinematographer Slawomir Idziak, known for his work on Black Hawk Down and his early collaborations with Krzysztof Kieslowski.
He will be joined by Cannes Critics' Week chief Charles Tesson; Celluloid Dreams founder Hengameh Panahi; French producer Carole Scotta of Haut et Court;
Medienboard Berlin-Brandenburg film fund director Kirsten Niehuus; Eric Lagesse, president of Paris-based Pyramide Films; Eurimages chief Roberto Olla; and Katriel Schory, head of Israel Film Fund.