Dir/scr: Peter Strickland. Romania-UK-Hungary. 2009. 84mins.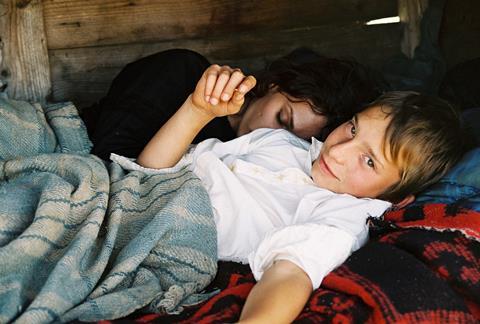 Rural tragedy with an undertow of film noir, Katalin Varga is a woman-on-a-mission story about how violence breeds violence. With an intriguingly old-fashioned feel, this resembles a Romanian film of a bygone era but it is the debut feature of expat British director Peter Strickland. The brooding, atmospheric feature uses its low-budget restraints to impressive effect and boasts an intense, contained performance by female lead Hilda Peter. The film should put both her and Strickland on the map, and export prospects should be healthy within a distinctly niche milieu.
The film begins with police, or men claiming to be police, arriving at a man's home late at night looking for a woman called Katalin Varga. Why Katalin (Peter) and her 9- or 10-year-old son Orbán (Tanko) are on the run is explained by a skip back in time, with Katalin's husband brooding over the discovery that Orbán is not in fact his son. Katalin takes Orbán on a journey, supposedly to see his grandmother, but in fact her destination is a remote village called Jadszereda, where she is warned that nothing good can happen. Sleeping in barns and travelling in a horse-drawn cart, the pair reach their destination, where Katalin meets a brutish would-be seducer Gergely (Giacomello) and the nature of her purpose becomes apparent.
Pursued by avenging forces, Katalin travels on, to meet Antal (Pálffy), with whom she has unfinished business. In fact, Antal, a reformed and gentle man, is now married to the doting, sympathetic Etelka (Kantor). Katalin eventually narrates her painful history to the two of them in a spellbinding, extended sequence that takes place in a rowboat, with Katalin's matter-of-fact narrative eerily taking on fairy-tale aspects
that hint either at a metaphysical shift in the movie, or at the heroine's madness.
The rural setting here could be 19th-century at times, with Katalin and Orbán travelling by horse-drawn cart and attending village hoedowns, with gypsy music
played by firelight. But the time period is clearly contemporary. The discrepancy gives the film a curious hybrid quality, at once revenge thriller and folk tale. Strickland casts partly for looks, with some memorably thuggish faces in supporting roles and Pálffy sporting a windblown look with his long hair and moustache. Peter is spellbinding in the lead, giving Katalin a mercurial, sometimes feral quality that keeps us guessing about her character throughout.
Beautiful, sometimes rough-edged photography by Mark Gyori captures a range of rural moods, from sun-kissed meadows to the sort of looming forests that exude a Gothic air. Katalin Varga's eerie electronic-choral score, plus inventive use of birdsong and other natural sounds, further thicken a distinctively ominous mood.
Production companies
Libra Film
Ross Sanders Production International
Peter Strickland
International sales
Memento
(33) 1 53 34 90 20
Producers
Tudor Giurgiu
Cinematography
Mark Gyori
Music
Steven Stapleton
Geoff Cox
Editor
Matyas Fekete
Main cast
Hilda Peter
Tibor Pálffy
Norbert Tanko
Melinda Kantor
Sebastian Marina
Roberto Giacomello