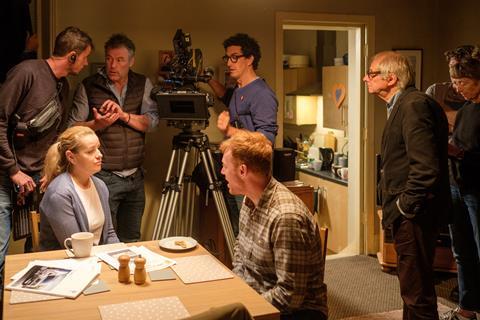 The UK release date for Ken Loach's Sorry We Missed You falls portentously on November 1 - that's to say the day after Brexit (if it happens).
The 83-year-old UK director, who is a guest of honour at Filmfest Hamburg this week, is phlegmatic about the film coming out on such a day.
"I hope it doesn't make any difference, I don't think it means we are all going to be on the streets on November the first," says Loach. "I guess people will have time to go to the cinema as well."
But Loach can barely contains his disdain for UK prime minister Boris Johnson and does not disguise the damage he believes Brexit might have on his own filmmaking.
"We have a coproduction[partnership] with Belgium [with the Dardennes' Les Films Du Fleuve]," says Loach. "Belgians come [to the UK]. Electricians come and some of the camera crew come as part of the co-production. If 'free movement' goes, that is going to be more difficult. The co-production model should still work but often that depends on the quid pro quo in terms of labour."
Too many UK producers, he suggests, "look across the Atlantic" when they should be "looking across the Channel."
Loach's films are always made as European co-productions, "with the strongest pillar of that being France," he says.
He pays tribute to French producers and distributors such as Pascal Caucheteux of Why Not Productions, Jean Labadie of Le Pacte and, before that, Michel Saint-Jean at Diaphana Films. He talks of how "supportive" and "adept" they've been at securing finance for his work.
Exploring the UK's "gig" economy
In Hamburg, Loach revealed the extent of the research he and screenwriter partner Paul Laverty undertook into the UK "gig" economy while making Sorry We Missed You.
They looked in particular at the plight of delivery drivers and care workers on zero-hours contracts. He told the story of one driver - ill with diabetes - who missed a day's work to visit the hospital. "He was fined for that and so he got into debt," Loach recalls. "The next hospital appointment, he didn't go to, and the next hospital appointment he didn't go to. He got more ill. He didn't have the treatment and he died, aged 53."
Loach recently met the man's widow, who is fighting to get compensation.
The veteran director would like now to make a third film following on from I, Daniel Blake and Sorry We Missed You, looking at the world of work and welfare in contemporary. The question is whether he has the energy.
"It depends. When you get older, you just take each one when it comes because you don't know when another one is going to come along," he says. "It would be nice to do another one. It feels like we could do with a third one."
When he is making a feature, Loach commits fully.
"It's a 12-hour, six or seven days a week job for a couple of months. When you get to your mid-80s, that's quite a lot to take on," he reflects. "You've got to put the same emotional energy into it and focus. It's that unremitting focus, day after day, for quite a long period."
Resilient characters
Loach's films may deal with grim subject matter but his characters all have plenty of humour and resilience. "I guess Paul and I and also Jim Allen [the writer who died in 1999 but worked many times with Loach], we are drawn to characters who are optimists," says Loach.
"They are triers. They're not beaten. When the film starts, they're not beaten. The character in Raining Stones is a bit like Ricky in Sorry We Missed You. He'll try anything. There is a kind of energy about them. I think that slightly reflects Paul's character, which is very positive and has a lot of energy, optimism and determination."
The energy of the characters makes their plight all the more terrible. They fight but the odds are invariably tilted against them. In Sorry We Missed You, delivery driver Ricky (Kris Hitchen) is worn down by "exhaustion, no time and no energy." His family suffer with him.
Loach blames the "Alan Sugar, culture," films like Wall Street (with its "greed is good" mantra) and Margaret Thatcher for the mindless worship of the entrepreneur and the suggestion that "the person who strikes out on their own makes a fortune."
That is the "capitalist dream," but the reality is a world in which "companies are going bust all the time" as the system itself teeters on the edge of collapse.
Investors "reluctant" to back "committed" cinema
Novelist and screenwriter Hanif Kureishi recently bemoaned the lack of any decent UK films about Brexit and the failure of contemporary UK filmmakers (apart from Loach and one or two others) to deal with what is going on in the society around them. Loach, though, suggests young UK filmmakers are not to blame.
"It's not filmmakers who decide what films are made," states Loach. "It's the people who invest in them, the distributors. For us, it is mainly the Americans who decide what films are made and these are multi-national corporations."
Even "the government bodies are quite reluctant" to invest in what in the 1960s Loach and his contemporaries used to call "committed" cinema.
"The BFI doesn't have a huge amount and whether they will go on their own and back films with a more radical perspective, I don't know. I sense not," he predicts. "You meet lots of young filmmakers who want to make films that are connected to real life but they don't get commissioned. They don't get the money."
Not long ago, Loach was told by one of the main UK broadcasters his work "didn't fit the profile of the channel."
Striking a chord
The irony is Loach, for all of his perceived radicalism, is one of the UK's most commercial filmmakers. His films are made for relatively modest budgets, are sold widely (and profitably) in the international market and are often revived. He only had to experience the response to Sorry We Missed You from young German audiences in Hamburg this week to realise his work strikes a considerable chord.
Whatever his reservations about current UK film financing, Loach talks with huge enthusiasm of how his UK distributors eOne, under Alex Hamilton (since departed) and Kezia Williams, set up community screenings for I, Daniel Blake. These were held all over the UK, thereby reaching audiences who would not otherwise have seen the film.
"They've been brilliant. We had nearly 700 (screenings)," he remembers. "They let people have it (the film) for 80 quid a night. For that you could advertise, you could charge. Campaigns used it, food banks used it, charities used it. They showed it at football clubs, churches, above bars and at community centres."
Loach and his collaborators attended dozens of these screenings across the country. "It's a whole new model of screening," he adds. "It's in areas where there are no arthouse cinemas for miles and if there were, people wouldn't go because they think it is a different culture.
"Put it on in the local football club and charge two quid - or charge nothing - and have a collection on the door and people come. What's great is that they would always stand up and tell their own stories afterwards, often far worse than were in the film, and there was a real sense of communication. It was the most exciting process of screening films that I've ever had."
Filmfest Hamburg runs from September 26 until October 5.