Director Ladj Ly and producers Toufik Ayadi and Christophe Barral tell about making French Oscar hopeful Les Misérables.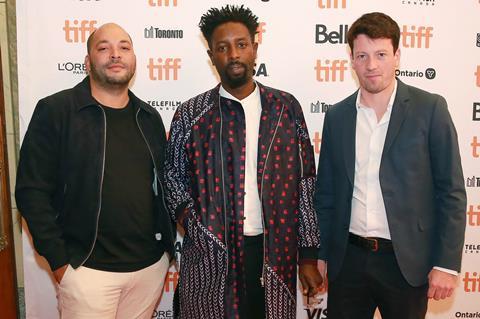 It has been an extra­ordinary six months for filmmaker Ladj Ly and producers Toufik Ayadi and Christophe Barral, the team behind Les Misérables, an incendiary first feature capturing tensions between youngsters and police officers in a socially deprived Paris suburb. The trio still pinch themselves as they take stock of the film's trajectory, from its unexpected premiere in Cannes Competition in May — where it won the jury prize with Bacurau, and secured a buzzy $1.5m deal for US rights to Amazon Studios — to its selection as France's Oscar candidate.
When Screen catches up with Ayadi and Barral at the Paris offices of their SRAB Films production house, Ly is in the midst of a nationwide preview tour ahead of the feature's French theatrical release by Le Pacte on November 20. The film has also recently opened Colcoa French Film Festival in Los Angeles. Table place cards from the opening night gala dinner for filmmakers Michael Mann and Taylor Hackford sit on a shelf below the framed Cannes jury prize certificate for Les Misérables.
"Michael Mann presented the film and Taylor Hackford hosted the Q&A. It was pure chance that it was them but they're absolute references for all of us. Ladj knows Heat and Blood In, Blood Out by heart," says Ayadi, referring to Mann's 1995 heist thriller classic and Hackford's 1993 film about three cousins caught up in Los Angeles' Chicano gang culture.
It is an adventure that began in 2015. Back then, Ly was best known as a guerrilla short filmmaker who had documented life in his Bosquets neighbourhood in the tough outer-Paris suburb of Montfermeil for the best part of 20 years. Most of the films were made under the banner of the Kourtrajmé collective spearheaded by Kim Chapiron, Romain Gavras and Toumani Sangaré in the early 1990s with the support of Mathieu Kassovitz and Vincent Cassel.
Ayadi and Barral had recently created Paris-based SRAB Films, which takes its name from a French slang term meaning 'mate'. The pair originally met as rookie producers at Les Films Du Worso, the production company of top arthouse producer Sylvie Pialat (Timbuktu, Stranger By The Lake), where they co-ran the short film department.
Mining talent
Setting up SRAB was a natural progression as the pair moved on to make features with many of the talents they had connected with via short films, such as Julien Guetta (The Troubleshooter) and Nadege Loiseau (A Bun In The Oven). Two of Ly's short films — 365 Jours A Clichy-Montfermeil, capturing riots that rocked his neighbourhood in 2005, and Go Fast Connection, a mockumentary about the cannabis trade on the streets of Montfermeil — caught the producer duo's attention.
"We sent him a message via Facebook and asked if we could meet for a coffee," recalls Ayadi.
Ly had always been wary about working with producers. "I wanted to stay independent but they were really keen to work with me so we met," says the filmmaker. "We're the same generation with similar objectives so it made sense."
While the idea of a feature was discussed early on, the trio decided to make a short together first. "Shorts are our research and development department," says Barral. "They help us develop ideas and get a sense of a director and whether we can work with them."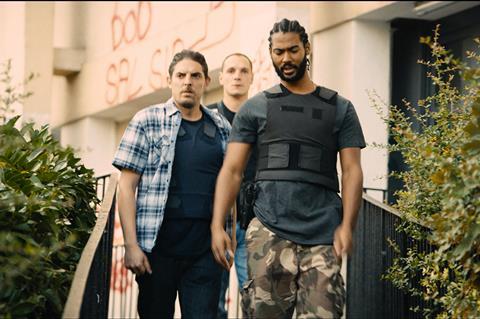 The collaboration was helped by the fact Ayadi and Barral had access to a special National Cinema Centre (CNC) funding envelope for short films on the back of their successful track-record as producers of some 25 shorts. "It is a producer-focused fund, allowing us to greenlight a short project on the basis of a two-line synopsis without having to get the script or filmmaker validated by the CNC," says Ayadi. "This meant we were able to offer Ladj carte blanche."
The pair had already carried out a similar operation with French-Colombian director Franco Lolli, initially producing his 2012 debut short Rodri before moving on to collaborate on his second feature Litigante, which opened Critics' Week at Cannes this year.
Ly spent a year writing the screenplay for the short — which would also provide the framework for the feature — with longtime friend Alexis Manenti, another member of the Kourtrajmé collective. He then cast Manenti as one of three police officer protagonists alongside childhood friend Djibril Zonga, who was working as a model at the time after a brief football career.
Manenti, who already had several film credits to his name, introduced Ly to the film's third co-star, Damien Bonnard. Ayadi and Barral also knew Bonnard because he had starred in the 2016 drama Staying Vertical, produced by Les Films Du Worso. The rest of the cast was drawn from local youngsters and adults in Ly's Bosquets neighbourhood.
The short — also entitled Les Misérables — shot in the summer of 2016 and went on to premiere at Clermont-Ferrand International Short Film Festival in January 2017. It would travel the festival circuit and be nominated in France's César awards in February 2018. Concurrently, the trio were already developing and raising finance for the feature. "Our biggest fear was not being able to raise the budget because the cast, which we really wanted to keep intact, was not well-known enough," says Ayadi.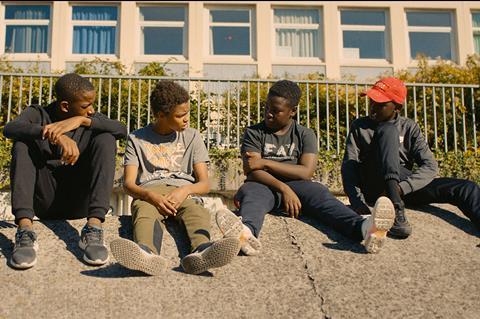 They eventually secured the support of Canal+ and Cine+, which had also backed the short and liked the result, and Ile-de-France Film Commission. When the project failed to qualify for the CNC's advance on receipts funding, Edouard Weil of Rectangle Films — whom Ayadi and Barral had previously worked with on The Troubleshooter — stepped in to fill the finance gap.
Home win
The feature finally shot over the summer of 2018 in the wake of France's Fifa World Cup victory and a blistering heatwave, elements of which Ly wove into the film. Ayadi says the brooding tensions that permeate the film bely the positive atmosphere on set as Ly shot on location in the neighbourhood. "Ladj was at home there, everyone knows him and all the local residents got behind production," says Ayadi.
He reveals that the final powerful scene, in which the stand-off between the youngsters and police officers turns violent, was shot over the course of two days in the stairwell between the fourth and fifth floors of a local block. "We shot it during the day while the residents were at work," he says.
The trio are already developing a second feature — a biopic about late socialist mayor Claude Dilain who worked to improve living conditions in the outer suburbs of Paris. Whatever the awards outcome for Les Misérables, this fruitful collaboration looks set to continue.