Una premeired at Telluride and will play in Official Competition at LFF next month.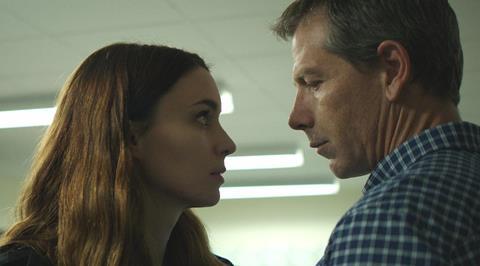 Following its Telluride premiere and a Special Presentations berth at TIFF, Benedict Andrews' well-received Una is set to play in Official Competition at the BFI London Film Festival (Oct 5-16).
In the taut UK-US-Canada drama, about the psychological repercussions of abuse, Rooney Mara plays the titular character, who at the age of 13 had a sexual relationship with a man much older than her (played by Ben Mendelsohn).
The film is based on Scottish playwright David Harrower's well-traveled play Blackbird. Backers include Film4 and WestEnd Films, who are representing international sales.
Screen sat down with established theatre director Andrews - who directed the play in 2011 - to discuss his complex feature debut.
Screen: Why did you want to put this story on screen?
Benedict Andrews: The play has entered the repertoire as one of the great two-handers of this century, it's extremely prescient in terms of having this important conversation [about sexual abuse] in our society. It's been my ambition to make films for many years, I love cinema deeply, it's been extremely influential on me.
I had to blast a hole in my theatre schedule to make a first film. When I realised the producer was looking for a director for Blackbird [as it was called then], I felt that it was a wonderful first film because of my deep love for the play.
How was the experience of making the film in comparison with your previous theatre experience?
In many ways it was a baptism of fire. I was learning a lot as I went along, in that sense it was really a beginning for me, but I felt that I was drawing on a deep well of experience from my work as a theatre maker. Working with actors, wrestling with the text, it really felt like something I'd been aiming towards throughout my artistic career. It felt like the beginning of something really exciting.
"I love cinema deeply, it's been extremely influential on me."
You have two particularly strong leads in Rooney Mara and Ben Mendelsohn. How did you attract them to the project?
My first idea had always been Rooney [for the titular role of Una]. I was fascinated by her great strength mixed with incredible vulnerability and tenderness. She has a beguiling, mysterious beauty that makes you want to keep watching. She had been shooting Carol with Cate Blanchett – who had just been directing the play Blackbird in Sydney – and I told her I loved Rooney for the role. It turned out Rooney loved the play and the conversation went on organically from there.
Ben and I worked in the theatre over ten years ago together, I adore him, he's one of the absolutely great dramatic character actors of our time – so much depth, intelligence, unpredictability, warmth and power. It's the type of character that people could write off very easily, so we needed someone who would be very brave and pull us in. He loved the screenplay. They really liked the idea of each other. It was a dream pairing for me.
The subject matter is particularly delicate. Did you have concerns about approaching that in film?
They're two very different mediums [film and theatre]. The intimate experience, the artifice of the theatre stage, versus the way cinema invites us to think about it. I felt a great responsibility. It's a very big topic that wasn't really talked about for a very long time. It touches many people's lives, has caused great pain and great damage.
Una looks into that scar tissue and invites us into this knot of a relationship in order to turn over the problem of these two characters from different angles. On a thematic level, it's important that it opens up the conversation, and the film never condones what happened between them – it's very clear that what happened was illegal and statutory rape – but it doesn't allow the audience to have easy judgments; it forces our moral compasses to spin, to engage with these characters who went through something that change their lives irrevocably, to get beyond the simple binary of abuser and victim and to look into the murky space where desire and guilt, love and abuse are mixed.
There is an ongoing and important debate about the lack of women in the film industry. How would you address someone who might suggest that this project represented an opportunity for a woman to direct this particular story?
I've spent my time in the theatre engaging with some of the great female characters in the dramatic canon. My interest is in great drama. My drama is an enquiry into the human psyche and the limits of human behaviour – an emotional research into that, raw, deeply honest storytelling.
I hope that the film is a testament to me being able to reach deeply into the psyche of both characters. I am a firm advocate of more stories being told by female film-makers and young women film-makers. It's a very important thing to me and I want to see it happen.
How have early reactions been to the film since its Telluride premiere?
Telluride was a real gift for a first-time film-maker, the audiences are very passionate. This film demands its audience engage with it – it was a real thrill to watch it with people there, and for people to come up to me and tell me how gripped they were. One woman saw it twice, and her reading of Ben's character changed drastically the second time.
"[Mara and Mendelsohn] was a dream pairing."
I knew it would be something that continues in the conversation of the audience. It doesn't have a nice curtain that comes down at the end to make you feel safe and good in how you see the world already. It hopefully sends you out into a bar to keep discussing with your friends.
What's up next for you? Back to the stage or sticking with film?
I want to make movies. I'll continue to make theatre and opera but it has become a priority of mine to make my second film. I don't know what that will be yet but Una really feels like a beginning. I loved it so much, I feel there's a lot of exciting work to be done.