In its 60th anniversary year, the BFI London Film Festival (Oct 5-16) is expanding its programme, venues and industry events. Nikki Baughan reports.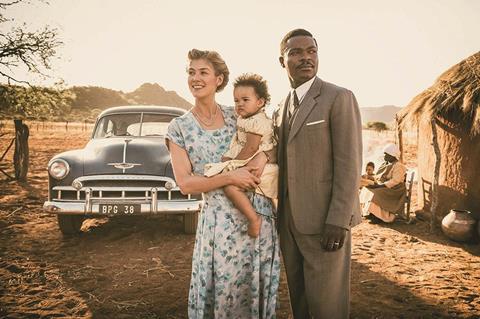 Now celebrating its 60th year, the BFI London Film Festival (LFF), which runs from October 5-16, has firmly established itself as an influential global event, something that is evidenced by this year's extensive line-up. Audiences will take in 246 features and 144 shorts from 74 countries including, across the features alone, 14 world premieres, eight international premieres, 39 European premieres and 175 UK premieres.
Despite its international standing, the festival's dedication to supporting and showcasing UK film-making is clear in its choice of opening and closing films. Kicking off proceedings is the European premiere of Amma Asante's highly anticipated Belle follow-up A United Kingdom, which tells the true story of the scandalous 1940s romance between Prince Seretse Khama of Bechuanaland (later Botswana), played by David Oyelowo, and London-born clerk Ruth Williams (Rosamund Pike). And, just a year after he brought JG Ballard adaptation High-Rise to festival audiences, Ben Wheatley's 1970s Boston-set gangland thriller Free Fire, also a European premiere, will bring things to a suitably bombastic close.
"What excites me about opening and closing with these films is that we are able to tell the story of the spectrum of British film-making, and to demonstrate just how diverse and exciting it is," says the festival's artistic director Clare Stewart. "But it's not about exclusively British storytelling. A United Kingdom has London and Botswana story elements and it feels very vitally international. That is also true of Free Fire which, even though it was shot in a big warehouse in Brighton, comes across entirely as a film that is set in the States in the 1970s. That's not to skip over the extraordinary diversity of the British work within the festival, with British productions in all our sections."
Stewart says that while programming such a plethora of British content was especially important in this anniversary year, equally essential was the need to satisfy a greatly enlarged festival audience, which will be catered for by a new, state-of-the-art 780-seat temporary cinema at Embankment Gardens. "Festival growth had hit a glass ceiling, given what has been happening with diminishing screen sizes in central London," she says. "So this exciting new venue was part of our vision for this year. It will become a home for our official competition screenings and strand galas, which frees up the Odeon Leicester Square for more headline galas than ever before, and we were able to expand the programme in that way."
Headline highlights
The expanded selection of headline galas — alongside A United Kingdom and Free Fire - includes Garth Davis's real-life drama Lion, Denis Villeneuve's lauded science-fiction film Arrival, Nate Parker's slavery epic The Birth Of A Nation, Damien Chazelle's Venice opener La La Land, Kenneth Lonergan's Manchester By The Sea, JA Bayona's A Monster Calls, Tom Ford's Nocturnal Animals, Mira Nair's Queen Of Katwe, Oliver Stone's Snowden - which stars Joseph Gordon-Levitt as CIA whistleblower Edward Snowden - and Lone Scherfig's Their Finest.
There is also a full roster of galas for each of the nine programme strands, including Rakeysh Omprakash Mehra's Mirzya (Love gala), Park Chan-wook's The Handmaiden (Dare gala), Bertrand Bonello's Nocturama (Debate gala), Maren Ade's Toni Erdmann (Laugh gala), Ben Younger's Bleed For This (Thrill gala), Andre Ovredal's The Autopsy Of Jane Doe (Cult gala), Jim Jarmusch's Paterson (Journey gala), Spike Lee's Chi-Raq (Sonic gala) and Mike Mitchell's Trolls (Family gala).
The festival will also screen a host of special presentations, including Andrea Arnold's American Honey, Ava DuVernay's documentary The 13th, Fiona Tan's The Ascent and Xavier Dolan's It's Only The End Of The World.
For the full line-up visit www.bfi.org.uk/lff.
Black Star
Alongside its extensive public-facing programme, LFF will once again present a full roster of industry events leading with an agenda-setting symposium examining the on-screen representation of black actors in the UK and US. Held as part of the BFI's extensive Black Star season (October 17 to December 31), the symposium (October 6 at BFI Southbank) will examine the reasons why opportunities for black actors remain limited on both sides of the Atlantic, and ask what more can be done to effect positive change.
Keynote speaker David Oyelowo, who stars in festival films A United Kingdom and Queen Of Katwe, will be joined by film-makers Amma Asante, Noel Clarke (Brotherhood), Barry Jenkins (Moonlight) and Julie Dash (Daughters Of The Dust), as well as industry figures Karen Blackett (chairwoman, MediaCom UK), Ramy El-Bergamy (on-screen diversity executive, Channel 4), Clare Stewart (artistic director, LFF) and Ben Roberts (director, BFI Film Fund).
"Last year was the first year we established a real talking point during the festival," says Stewart of 2015's focus on female film-makers and gender representation, "and that combination of opening with Suffragette and having the symposium with Geena Davis had a significant impact not only on how the conversations were carried throughout the festival but also in terms of a lasting impetus. One of the delightful things for me personally this year is to see how effective that has been, even in the way people have been talking about this year's programme. There's a lot of coverage of the women directors in the festival this year [there are 62 features and 58 shorts directed by women] and that feels like a legacy of the strong woman focus.
"The choice to do the talking point around Black Star comes out of the broader BFI Black Star programme," Stewart continues, "and I think the festival provides a very vibrant context for really drilling into some of the questions that underpin that kind of programme. The purpose of the symposium is not only to illuminate the issue, but to take away tangible actions that we as an industry can embrace. We're going to have people in the room who have experienced what we are talking about first-hand, and who are in a position to effect change."
"Having the LFF included within Black Star is a chance to ask how far we've come and how far we need to go," says Black Star programmer Ashley Clark. "I hope the symposium will be a high-profile, constructive contribution to the ever-developing discourse around diversity in the film industry, and that it furthers the crucial idea that diversity is not simply about visibility but about who gets to tell stories in the first place, and the quality and range of the roles that are available."
NET.WORK@LFF
NET.WORK@LFF - now in its third year - will also tie in with the festival's focus on black, Asian and minority ethnic (BAME) film-making talent. As part of the professional development programme, 15 BAME UK writers, directors and producers (five of each) will participate in a four-day schedule of masterclasses, screenings, events and meetings with international film-makers and executives attending the festival. "We felt very strongly that the [BAME] focus shouldn't just create an umbrella for how we talk about some of those films in the public-facing programme," says Stewart. "It is very important to take a role in creating those opportunities, to make sure that this year's participants reflected our diversity focus and ambition."
Connecting With The Future
While the focus is firmly on celebrating 60 years of the BFI London Film Festival, Stewart and her team are already looking at how the event can continue to evolve in line with changes in film-making and audience habits. Central to this is LFF Connects, now in its second year, which features talks and events designed to stimulate new collaborations between film-makers and creative leaders. This year's programme includes Industrial Light & Magic effects artist Dennis Muren, Charlie Brooker and Annabel Jones (creators of TV hit Black Mirror), games writer and director David Cage, Australian artist and immersive film-maker Lynette Wallworth, and a number of music and video events under the banner 'Live, Large, Loud: Adventures in Cinema at BFI IMAX'.
"LFF Connects looks at how film intersects with other creative practices, and is a very important way in which the festival is thinking not just about the future of film-making but of London as a creative centre," says Stewart. "We will remain committed to the two-pronged approach of positioning the festival internationally, as well as being a festival that UK audiences can embrace, and that is amplified by what we're doing with LFF Connects."
The UK Connection
Alongside the two UK films opening and closing the festival, the focus on homegrown talent continues throughout the line-up, with local film-makers being represented across all of the festival's multiple strands, including in competition. Both Terence Davies' A Quiet Passion, which stars Cynthia Nixon as US poet Emily Dickinson, and Benedict Andrews' Una, in which Rooney Mara and Ben Mendelsohn struggle to cope with a shared secret, are playing in official competition. (Other films in the section include Martin Koolhoven's Brimstone, Kelly Reichardt's Certain Women, Mohamed Diab's Clash, Paul Verhoeven's Elle, Francois Ozon's Frantz, Ivan Sen's Goldstone, Mijke de Jong's Layla M, Barry Jenkins' Moonlight, Pablo Larrain's Neruda and Makoto Shinkai's Your Name.)
There are also two UK film-makers in contention for the Sutherland Award for best first feature: theatre director William Oldroyd, with his Toronto premiere Lady Macbeth starring Florence Pugh (The Falling) as an unhappily married woman who embarks on a fateful affair in 19th-century rural Britain, and Hope Dickson Leach's The Levelling, which sees a young woman forced to abandon her veterinary dreams to help out on her family's struggling farm.
Elsewhere, four UK film-makers are vying for the inaugural IWC Schaffhausen Filmmakers Bursary Award, which will bestow a $65,000 (£50,000) award to a director whose first or second film is screening in the festival. Alice Lowe (Prevenge), Joseph A Adesunloye (White Colour Black) and Paul Anton Smith (Have You Seen My Movie?) join Dickson Leach on the shortlist.
Don't miss
LFF's commitment to BAME actors and film-makers can be felt throughout its programme, starting with opening film A United Kingdom from Amma Asante. That film's star, David Oyelowo, also stars in Mira Nair's Queen Of Katwe as a chess teacher helping a talented young girl escape a dismal fate. Also screening is Selma director Ava DuVernay's documentary The 13th, which looks at the link between the US's 13th amendment and high incarceration rates among the country's black men. Spike Lee's musical Chi-Raq, a hip-hop critique of US gun culture also screens, as does Barry Jenkins' Telluride and Toronto hit Moonlight, which chronicles the life of a young black man from childhood to adulthood, and Nate Parker's lauded slave drama The Birth Of A Nation.
While the furore surrounding Parker may threaten to overshadow Birth, Stewart says LFF will screen the film. "It is one of the significant films of the year, and our commitment to bring it to audiences hasn't changed. I would encourage audiences to make their own choice about whether they want to see the film, and to see the film as the film."
Where To Network
The festival is to hold several networking events targeted at industry and film-maker delegates, which will focus on topics relevant to the programme. A number of venues will also serve as delegate hubs, allowing for more informal meetings, including BFI Southbank and Picturehouse Central (Shaftesbury Avenue), along with Soho venues The Hospital Club (Endell Street), The House of St Barnabas (1 Greek Street) and Library (St Martin's Lane).