This year Locarno's annual co-production lab introduces a fresh format — a three-year focus on eight south Asian countries. Martin Blaney reports on the new Open Doors Hub.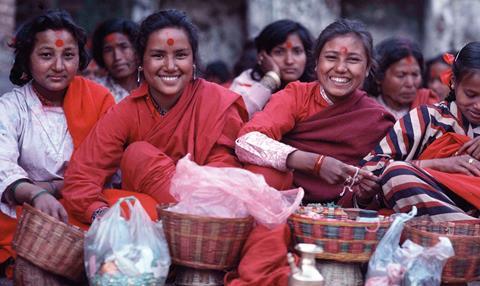 The decision to change the format for Open Doors was taken about two years ago," says Sophie Bourdon, appointed the successor to Ananda Scepka as head of Locarno's Open Doors initiative, which holds its 14th edition from August 4-9. Over the past 13 years, Open Doors has cast a spotlight on directors and producers from regions such as Southeast Asia, sub-Saharan Africa, the Maghreb and the South Caucasus. From this year, however, it will turn its attention to the cinema of eight south Asian countries.
"When we were exploring the African continent over three years for Open Doors, we realised that more could be done with more time," Bourdon recalls. "It takes time to prepare an edition by visiting the countries, meeting the professionals and getting a feeling for how their film-makers work.
"We want to be able to visit these countries every year and join forces with existing initiatives on the ground."
"Open Doors has never been solely a co-production platform," she continues. "Of course, we select projects and hope the producers and film-makers will be able to find partners when they're here in Locarno to continue working on the development of their project, but the idea is to add a networking platform and create relationships between the film-makers and professionals from Europe and other international guests."
The new concept of the traditional co-production platform, now known as Open Doors Hub — introducing eight promising projects to the international film community, with a focus on training in the newly created Open Doors Lab — quickly found favour with the initiative's main supporter, the Swiss Agency for Development and Cooperation (SDC).
SDC has committed to back the initiative for the next three years so that Open Doors can concentrate its energies on the south Asian countries of Afghanistan, Bangladesh, Bhutan, Maldives, Myanmar, Nepal, Pakistan and Sri Lanka.
"The first year will see us identifying talents, as well as the challenges facing this region, and helping to connect the film-makers with international guests," Bourdon says. "After three years, we hope there will be some positive outcomes for the film professionals from the region, and that collaborative ventures might also be developed within south Asia itself."
Long-term view
Bourdon adds that the reactions were "very positive from the outset" when professionals in the region heard about the new concept for Open Doors. "It wasn't just a case of us selecting people for a one-off edition in Locarno and that would be it," she recalls. "We are now aiming for a greater element of continuity to be able to follow up the projects. We want to be able to visit these countries every year and join forces with existing initiatives on the ground.
"Many of those countries have been practically cut off from the rest of the world, so the opportunities for their film-makers to make contact with colleagues from other parts of the world will be particularly valuable," Bourdon continues. "They can receive input and inspiration to become even more creative, and sometimes it's just a case of being able to make contacts and share experiences."
Co-productions between south Asia and Europe have admittedly been few and far between until now. Early examples include Philippe Avril of France's Les Films de l'Etranger, who was a partner on two films by the Sri Lankan film-maker Vimukthi Jayasundara — The Forsaken Land and Between Two Worlds. Fellow French producer Catherine Dussart and Berlin-based Anna Katchko co-produced Nepalese director Min Bahadur Bham's debut feature The Black Hen, which won the Fedeora Award when it premiered in the Critics' Week sidebar at Venice last year.
Bham, who will be participating in the first edition of the Open Doors Lab training platform, combines his directing and producing duties with his roles as president of the Independent Film Society of Nepal and programmer of Ekadeshma Film Festival in his native country.
Meanwhile, Dussart is already on board one of Open Doors Hub's Nepalese projects, Abinash Bikram Shah's Season Of Dragonflies, along with Germany's Michael Henrichs of Die Gesellschaft DGS. Fellow French producer Dominique Welinski has committed to another Hub project, Bangladeshi feature-length documentary Day After Tomorrow [pictured below], which is set to be the second part of director Kamar Ahmad Simon's Water Trilogy after his award-winning 2012 debut short Are You Listening!.
Traditionally, French and German-speaking producers had tended to be in the majority as potential production partners at previous editions of Open Doors, but the choice of south Asia for 2016-18 could see more professionals coming from English-speaking countries, according to Bourdon.
There has also been interest expressed from the Nordic countries, and a delegation of Danish producers is expected to attend this year.
"We received more than 100 projects for the Open Doors Hub co-production platform, with most of them being fiction feature films by first-time film-makers," Bourdon reports. "The majority of them came from Bangladesh, which is the biggest industry and market in the region, but there was also a significant number of submissions for documentary projects."
Investing in people
While some of the film-makers may have already attended other markets in Asia, such as the Asian Project Market at Busan, the opportunity to come to Open Doors in Locarno is perceived as another significant step in their personal development as film-makers as well as a way to further their projects.
"They are very curious in a positive way about looking into the unknown to see the reactions to their kind of storytelling and film-making, and also having a direct dialogue about their screenplays," Bourdon suggests. "And it also gives them a chance to become acquainted with the diversity of cultures and working practices in Europe.
"People often wrote in their applications that they hoped Open Doors would help them embark on different kinds of films because they saw the limits imposed on them by just staying at home," Bourdon adds. "Travelling abroad would enable them to see that they can take another step."
Meanwhile, the five-day Open Doors Lab has sought to select eight proactive film-makers from this year's four focus countries — Bangladesh, Bhutan, Myanmar and Nepal — to offer them a training programme to hone their producing and entrepreneurial skills.
The participants in this first edition are not only directing their films or producing those of others, but are also contributing to a strengthening and development of the film infrastructure in their various countries.
For example, the young Bangladeshi independent film-maker and producer Aadnan Imtiaz Ahmed of Kino-Eye Films also serves as the international secretary of the Bangladeshi Film Institute Alumni Association, while Thu Thu Shein of Myanmar's Third Floor Film Productions and Services co-founded her nation's first film festival — Wathann Film Festival — with her husband Thaiddhi in 2011.
"In many cases, cinema in these countries is organised within the auspices of the Ministry of Information rather than a Ministry of Culture," Bourdon points out. "So, we want to encourage the lab participants to fight for something different. In the long term, they could then have a Ministry of Culture or a department dedicated to supporting cinema."