The fourth feature collaboration between Luca Guadagnino and Tilda Swinton sees the pair reinterpret Dario Argento's 1977 horror classic. Screen talks to the partners in crime.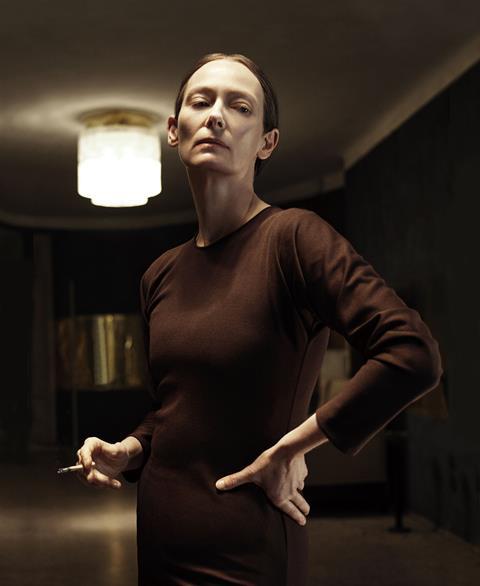 Luca Guadagnino and Tilda Swinton have fantasised about doing a 'cover' of Dario Argento's notorious 1977 giallo horror film Suspiria for as long as they have been friends, which, it turns out, is a supernaturally long time.
"Several centuries we've been talking about it," Swinton says, chuckling down the phone from Scotland. She has just wrapped Jim Jarmusch's zombie horror The Dead Don't Die and is limbering up for the grand unveiling of her latest collaboration with Guadagnino in Venice. "It's fantastically gratifying to be able to talk about it in the past tense."
Swinton reprises Joan Bennett's final screen role as Madame Blanc, a dance academy director in a divided Berlin with one hell of a secret. She imbues Blanc with zen calm amid political turmoil and the portentous arrival of American student Susie Bannion, played by Dakota Johnson.
Swinton says she and Guadagnino discussed Suspiria the first time they met, some 25 years ago, back when I Am Love, A Bigger Splash and their first film, 1999 crime thriller The Protagonists, were mere glints in their eyes. They were both obsessed with Argento's film.
For his part, the Italian director — who spoke to Screen by phone from his home in Crema, Italy — recalls the first time he watched the original at the age of 14. "I was understanding in an hour and 35 minutes that everything was possible in cinema. Everything was do-able, and [I realised] that you could really upset somebody in a beautiful way with movies."
As a teenager he drew posters bearing the legend, 'Suspiria by Luca Guadagnino', although it would be several more decades before he would be ready to pay proper homage. "There are two moments in my life," says the filmmaker. "The time when I wanted to do everything immediately — and this made me suffer a lot because I wasn't doing what I wanted — and the second phase, when I started to understand the [benefit] of time to reflect."
Guadagnino and his producing partners acquired the rights in 2008. The plan was for him to produce and David Gordon Green — who coincidentally has also rebooted a 1970s horror standard, Halloween, which is premiering in Toronto — would direct. When Green's version fell through, Guadagnino's friends coaxed him into directing his "rushed dream of youth", and he brought on David Kajganich, who had written A Bigger Splash, to have a crack at the script.
"I knew I wanted the movie to be set in 1977, the year in which the original movie came out," says Guadagnino. "I knew I wanted it to happen in a divided Berlin. I knew I wanted to have a character named Klemperer [the grieving psychoanalyst] who was a man of reason and the only [substantial] male character in a completely woman-driven film, and I knew I wanted to make sure I was going to be uncompromising in the way in which I was portraying violence, a violence that would be felt by an audience in a very psychoanalytically real way."
Primed and ready
Armed with a script, the production quickly took shape. "We wrapped A Bigger Splash in 2014, David wrote the script for Suspiria in 2015, and we were in production in 2016," says Guadagnino, who filmed Call Me By Your Name in the summer of 2016 and shot his horror feature from October through to December.
Amazon Studios had already come on board that year and co-financed with K Period Media. They will lease Suspiria in the US on October 26 in Los Angeles and New York, before it expands nationwide on November 2. FilmNation launched international sales at the EFM in 2017 and deals include the recently announced UK acquisition by SVOD service MUBI.
Prior to the Berlin portion of the shoot for exteriors and some interiors, the cast and crew of Suspiria took over an abandoned art nouveau hotel on top of a mountain overlooking the northern Italian city of Varese.
Radiohead frontman Thom Yorke's beguiling score is stitched into the fabric and complements what Italian prog rockers Goblin did on the original film. The colour palette is a different story. In contrast to Argento's lurid design, Guadagnino was inspired by the dreamlike, somewhat unsettling work of the 20th century Polish-French painter Balthus and concocted a muted palette to reflect the oppressive milieu of 1977 Berlin, when the far-left Baader-Meinhof Group was engaged in running battles with the authorities.
Guadagnino jettisoned Argento's slasher-movie vibe, although when the violence comes, it is extreme. In one unforgettable scene that played to exhibitors at April's CinemaCon in Las Vegas, Susie's gyrations possess a student in an adjoining room and leave her bloodied and crumpled on the floor like a grotesque marionette.
The collaborators and close friends had fun building Madame Blanc (sharp-eyed viewers may also detect broader mischief-making). They explored feelings of melancholy and motherhood as the academy doyenne — who presides over a coven of witches behind the scenes — attempts to reconcile her loyalties as Susie, the brilliant newcomer, shakes up the power structure. "Is she more interested in the pure magic of art or does she use the art as a means to transmit magic?" Guadagnino ponders. "Those are the questions we talked about a lot."
Suspiria is populated almost entirely by a female ensemble that rolls over anything in its path, certainly the three male characters, who are perturbed, tormented and have no bearing on the outcome. "In all my films there are very strong female characters and in the majority the centre is the female world, the female identity," says Guadagnino. "In general, the female identity is so complex, particularly because [it's] often neglected."
Guadagnino feels a great sense of responsibility in his work, perhaps heightened by the response to his beloved most recent film Call Me By Your Name, which earned four Oscar nods and won for best adapted screenplay. "I came back home recently after I had been travelling the world for a long time and I met people at my door… and I asked them what made them willing to travel the world to be here. To listen to their voices and see the impact of the movie on their lives — I don't take it lightly."
He recently pitched the sequel to a friend over breakfast in London. How did she react? "She was very happy." Can he say more? "Too soon."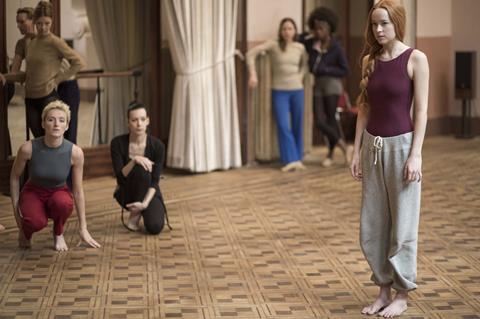 Expression of female power
Suspiria's feminist slant pre-dates #MeToo, and Guadagnino deflects the question when asked to contextualise. "It's not for me to say. I always made movies about women and always had very strong powerful women characters and I love women and my team is filled with women."
Swinton agrees. "We've been planning it for so long and like all films with humans in it, it's about humans. There are 38 women in the film and three men — it's a good balance in terms of representation and in terms of its thematics, it has a resonance way beyond this present moment."
As an amplified expression of female power, the witches are a potent symbol. Swinton treads carefully. "I wouldn't like to proscribe [what they signify] because none of us know what to do with witches — that's their power. One thing I would suggest is that old fascism does get those witches going and that in itself is an interesting thing to think about right now. There's a sense of them responding to forces that may even be darker than their own."
When asked to describe his enduring collaboration with Swinton over the years, Guadagnino pauses. "Tilda is a filmmaker, not just an actress. She has a great knowledge of the machine of the making of a movie and this is very profound, because it's like working with my DP, it's like working with someone who is actually contributing to the movie itself, not just adding her voice as a performer only, but adding her voice as a filmmaker."
Then he clams up. "I'm a little bit prudish about it because we're so united and we have such a deep bond. It's almost like talking about something very private, something very intimate."
"We're like a pair of six-year-olds in a sandbox," says Swinton, who admits to not knowing how many films they have made together "because, of course, there are films none of you know about". She continues: "We just have such fun dreaming up these adventures for each other. We trust each other.
"For me, his ability to understand the way cinema works is something that makes me feel very happy and secure because there's a safety net. And also he's prepared to be as bold as he needs to be. He's up for it — that's what I always ask for in a partner."