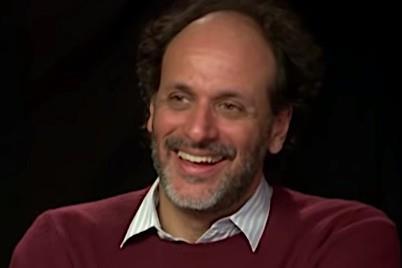 Luca Guadagnino has spoken of his interest in an autobiographical family film that intertwines his early years with the childhoods of his Algerian mother and Italian father.
"I have been circling for a long time the possibility – if it doesn't sound narcissistic – to tell a story of my childhood in Ethiopia," Guadagnino told TIFF co-head and artistic director Cameron Bailey during a virtual Masterclass.
"But doing it like Russian [dolls], to enter into the childhood of my mother in Morocco and the childhood of my father in wartime Sicily. Maybe one day we will do it."
The filmmaker, who is currently in London and whose TV show We Are Who We Are airs on BBC Three in the UK and HBO Max in the US, touched on a wide range of topics in the course of an hour, including his long collaboration with Tilda Swinton.
"I find Tilda to be the greatest humanistic performer of our generation," Guadagnino said of the British actor with whom he has worked on The Protagonists, I Am Love, A Bigger Splash, Suspiria, and a voice recording intended for a short film many years ago that never saw the light of day.
Buoyed by Toronto
And the director admitted in Friday's (September 11) session that 2009 TIFF entry I Am Love would not have had a life were it not for Toronto.
Guadagnino endured financial challenges getting the film made, and said no sales agent wanted to touch it. Some told him to focus on a male character rather than Swinton's Emma, a Russian emigré in a gilded cage who lives an unfulfilled life her in her husband's Italian mansion. Others did not see a commercial life for the film outside Italy.
He sent the film to Piers Handling [former TIFF CEO and executive director]. "We got an incredible response from Toronto who loved the movie dearly and that was like a super kick. Then we went to Venice Film Festival – and we got 300 walk-outs and massive boos… The screening was a natural, savage disaster."
Several days later in Toronto, after "three glorious reviews" in the trade press, he enjoyed "literally the opposite experience… the audience embraced the film so warmly." They got a sales agent (Mikado Film) and it went on to earn wide acclaim and sold around the world. "If it wasn't for Toronto actually I would not be here talking to Toronto."
Responding to Bailey's comment that filmmakers should not be discouraged by negative initial reactions, Guadagnino continued: "This is vital to communicate to whoever is young or not young who is doing this job… Do not believe the reactions you get in the good and the bad sense. If you think you're doing something worthwhile… wait, because sometimes the agenda [at one place] is different somewhere else.
"I'm not entitled to be chosen at festivals, I've been rejected by so many festivals, even now, last year, so what's the point of feeling low by that?"
Guadagnino cited The Vast Of Night, Andrew Patterson's low-budget sci-fi mystery that did not go to Sundance and premiered at Slamdance in 2019, where it won the audience award, earned an endorsement from Steven Soderbergh, and eventually got picked up by Amazon Studios and earned glowing reviews.
Scarface up next
Guadagnino, whose credits include Call Me By Your Name and is lining up that film's sequel Find Me, spoke briefly about his upcoming Scarface reboot at Universal, and said he was interested in exploring "the archetype of the America dream/nightmare, an archetype of the excitement of becoming and owning and becoming bigger than life and failing."
While he reserved praise for Martin Scorsese's The Departed and the film on which it was based, Andrew Lau's Hong Kong crime thriller Infernal Affairs, because both films rooted the themes of corruption and brotherhood in their specific milieus, he regarded as "stupid" the notion of remakes for the sake of remakes.
"There are so many remakes that are not worth it because they lack dramatically a point of view," he said.
On his Ferragamo documentary Salvatore: Shoemaker Of Dreams, which just premiered in Venice, he said he was impressed by the Italian artisan's "incredible determination and incredible creative energy mixed with a sense of adventure unmatched by any kids. He was 13, 14 when he went to America; he was 20 when he was making boots for Cecile B DeMille, amazing. So I thought, 'Why not?'"
Guadagnino also touched on his other great love, cooking, and said he wanted to be a chef as a youngster before he decided to become a filmmaker around the age of 12 after his mother bought him a Super-8 camera.
He used his culinary skills to considerable effect when he met Bernardo Bertolucci (the subject of his 2013 documentary Bertolucci On Bertolucci) in Rome in the early 1990s while the late master was editing Little Buddha.
A gift of an intricate pastry Guadagnino had spent all night creating did not receive much attention that day, although when they met again a year or two later, the older director recalled the sweet with affection.