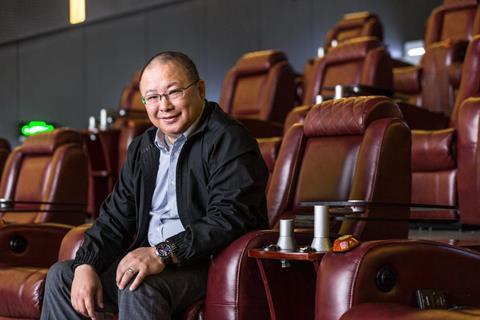 Jimmy Wu is CEO of Chinese exhibitor Lumiere Pavilions, a high-end cinema chain regarded as a pioneer in the China market for its advanced technology, strong design concepts and quality programming.
A former UCI [United Cinemas International] executive, Wu founded the chain with three other partners in 2008 and it has since grown to 43 sites with 356 screens. The company's cinema at Chengdu Raffles City was the first in the world to install a Dolby Atmos sound system and it was also the first chain to install a RealD Ultimate Screen.
The chain programmes a wide range of mainstream and arthouse cinema, including Chinese, Hollywood and other imported titles. China's arthouse sector is still in the nascent stages, with only a small volume of films able to pass censorship and secure a quota slot, but Lumiere Pavilions works with the EU, French, Italian and several other national embassies to host 20-30 film festivals throughout the year.
It is also a founding member of the National Alliance of Arthouse Cinemas (NAAC), established by the state-owned China Film Archive, which releases arthouse films across a network of around 3,000 screens.
How is China's theatrical market recovering since it reopened? [China's cinemas were closed for six months between late January and July due to the Covid-19 pandemic]
If we have enough movies then the market seems fine, because even though we were still at 75% capacity over the National Day holidays, we've had some pretty good results. The nation as a whole was only down 12.8% over the holidays, compared to 2019, and our cinemas only had a decrease of 6.8% compared with the same period last year. Our Lumiere Beijing Longfor IMAX 10 had the number one box office in China on October 8.
We were also allowed to start selling concessions over the holidays, which was a big relief, as they're a big percentage of our business – around 15% for us – which is the highest percentage in the country. China is a bit different to the US as all our cinemas are opened inside shopping malls, so we're facing a lot of competition on F&B.
Did all of China's major chains survive the shutdown?
We all survived but we cancelled a few projects. Our company was planning at least five new openings in 2020 but had to cancel a site at Beijing North Olympic Shopping Centre because the developer went bust. However, we're moving ahead with a new site at Beijing Universal Studios City, with 11 screens, including one IMAX.
We heard that more than 1,000 smaller cinema operators went out of business during the pandemic. But fortunately only a few developers would not reduce the rent. I think nearly all of our cinemas have renegotiated rental terms, so we're just waiting to see what happens next year.
How will the delay of Hollywood tentpoles like No Time To Die and Fast & Furious 9 impact your business?
Of course losing those blockbuster movies is going to have an impact, but so long as some other movies are available, it should make up the shortfall. We always hope we're going to have some blockbusters like the Bond and Fast & Furious franchises, but we can't guarantee we'll have them every year, so we're not totally dependent on them. We hope we'll have some other movies to make up the difference.
But are you expecting there to be a shortage of big locally-produced films at some point?
Yes definitely. We've just had a lot of big movies for the National Day holidays, but the production of domestic movies has suffered, so I think we'll start to see a shortage next year. That's why I suggested to the government that we open up to more non-Hollywood movies at least, so we can have enough content.
Actually, this is a golden opportunity for China to catch up to becoming the number one market worldwide. In 2019, the China market trailed the US by just 22%, but because US cinemas are not open, maybe China can increase by 15-20% and surpass the US in two years. Chinese people only watched 1.2 movies [per capita] in 2019, while US movie-goers are watching 4.7 movies annually. We should make a plan so that Chinese audiences are watching 2.0 movies per year and then we will have big numbers.
We still have huge potential to grow but the key to reaching those numbers is content. Chinese cinemas average around 300 releases a year, but other Asian markets are showing around 1,000 movies. If we only show 600 films a year, we can definitely increase the box office growth potential in China.
How can you bring more non-Hollywood foreign films into the market?
Even before the coronavirus, we'd been discussing with China Film president Fu Ruoqing and [Chinese streamer] iQiyi founder Gong Yu about creating a central server that all content approved by the government can be stored on. The idea is to build a platform that could contain new and library films, operas, many different types of content. Then any cinema could request to download a film, as long as they can guarantee an audience of 25-30 people. Currently we all release the same movies at the same time, but we could have separate circuits releasing different kinds of films on different schedules.
We've been developing an app during the pandemic – along similar lines to China's group buying apps – that people can use to identify the movies they like. So say if someone wants to watch a film like Cinema Paradiso, they can book a screening if they can get 25 people, then the cinema can download the film and get the KDM [digital key] from the China Film server. We can do this through WeChat but iQiyi has 300 million subscribers so if we can promote the service through their platform we can reach the smaller cities and towns.
When would this system be up and running?
China Film is building the server and it's working really well. We assume that after the National Day holidays we can start testing with iQiyi, beginning with some classic movies. China Film are very keen on classics but Chinese audiences are accustomed to high standards of brightness, colour and sound, like Dolby audio, so they need to be upgraded. We're thinking not only foreign classics, but also some Chinese ones, as this would not only enrich the market but help the post-production houses in China if they could work on upgrading the films.
In general, how much freedom do you have to programme what you want in your cinemas?
We have total freedom on imported films that have been approved by the China Film Bureau. For some of the domestic propaganda films, the Film Bureau will have specific instructions about how many showings to programme on the opening day. We have an evaluation team of four or five people who attend previews of all domestic and imported films and rate each movie based on their experience.
How would you characterise your customers?
Most are quality and content-driven movie-goers. They're also young – our primary audience is 18-30 years old, which is the average in China. We have a lot of work to do to develop the audience aged 30-50 years, or even older from 50-70. We know that older audiences want to see films like Green Book, not action and sci-fi movies.
What can cinemas in China do to ensure they remain competitive against streaming platforms?
China has a three-month theatrical window that is regulated by the government. Some films premiered online during the pandemic, and while we understand the producers wanted to reduce their losses, in some cases they already had a contract with the cinemas and we'd spent a considerable amount of money promoting the film.
During these times of quarantine, we've restarted talks with several cinema companies, including Wanda, Bona and Dadi, about forming a non-profit alliance to strengthen regulation and promotion, but we could also be working alongside the online companies. For example we're teaming up with iQiyi on the central server idea. They think that if they can buy all rights to foreign movies then they can get some revenues from cinemas as well.
LUMIERE PAVILIONS
Founded: 2008
Cinemas: 43
Screens: 356
Biggest capacity: Beijing Longfor, 2,137 seats across 10 screens
Smallest capacity: Beijing Parkview Green, 459 seats across 5 screens
China box office market share: 1.4%
Average ticket price: $5 (RMB35)
Average spend on food and drink: $1 (RMB6)
Top performing title in 2019: Avengers: Endgame