Scottish writer/director Lynne Ramsay tells Screen about the 'bolt of electricity' she harnessed for her fourth feature, You Were Never Really Here.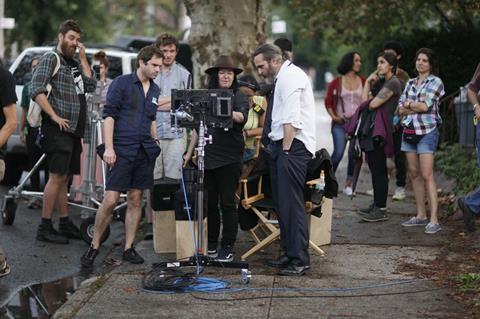 Lynne Ramsay's gritty New York noir You Were Never Really Here got its start in sunnier climes. After she made the tough decision to walk away from the production of Natalie Portman western Jane Got A Gun in the US, Glasgow-based Ramsay took herself to Santorini, Greece, for some time to rejuvenate and write. A friend recommended Jonathan Ames's 2013 novella You Were Never Really Here. "I read it in a few hours," she recalls.
"I thought this character was super interesting, he's not your typical kind of action guy. He is a damaged character and I wanted to know what was going on in his head. It felt like I could do something with it to smash up the obvious things in the genre that we've seen 1,000 times."
The story follows Joe, a veteran suffering from PTSD; he is also a hammer-wielding hitman who rescues young girls from trafficking, while also caring for his elderly mother. Even before Ramsay had the rights to the book, she wrote a spec script within a month of reading the novella. When she started emailing with Ames, he understood quickly that Ramsay had to make the story in her own way and use his novella "as a jumping-off point".
The other person making a great jump with her was actor Joaquin Phoenix, who Ramsay had admired since first seeing him in Gus Van Sant's To Die For. He was a powerful force in films like Gladiator but, she adds, "I felt he had a vulnerability about him as well."
While living in Brooklyn prepping the film, Ramsay heard explosions in the dark one night — it was July 4 and fireworks were being set off. "I recorded them on my phone, and played them for Joaquin and said, 'That's what's in Joe's head every day'," says the filmmaker, who spent two months with Phoenix in New York before the shoot started. "He really immersed himself in the part. He brought a madness to Joe, as well as an empathy."
Even the tight 90-page script had more dialogue than is seen in the final film. "There were so many things he could do better wordlessly," she says. "There was a taciturn part of his performance."
While Phoenix physically beefed up for the role, the production itself was lean. They shot for 27 days in New York in 2016 using a whopping 100 locations, and Ramsay kept honing the script "to make it more economical. We had to be really precise because we didn't have much time to shoot," she explains. A particularly hot New York summer only added to the heightened atmosphere; the entire production "had an electricity bolt in it" is how Ramsay describes it.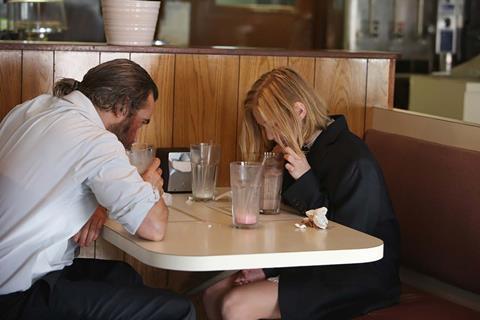 The film was also pulled together financially more quickly than usual, bringing together France's Why Not Productions, Sixteen Films, the BFI and Film4 in the UK, and Amazon Studios in the US.
Ramsay is a Cannes regular, having screened two shorts Small Deaths and Gasman, and features Ratcatcher, Morvern Callar and We Need To Talk About Kevin, the latter of which was in Competition in 2011. Her producers at Why Not had shown the festival an early cut of You Were Never Really Here in spring 2017 and Cannes Film Festival director Thierry Frémaux was desperate to have it in Competition. But that left Ramsay scrambling to get a screenable version ready in time.
"I didn't have the chance to get Cannes nerves," she says, recalling the rush. "We had to do all the sound work and mix in a couple of days — like you would normally have for a short film!"
Cannes impact
The film made a strong impression at Cannes, with Ramsay winning best screenplay and Phoenix winning best actor. After the festival, Ramsay was able to tweak the film before it went on to screen at other festivals, including Sundance this year, before being released theatrically by Studiocanal in the UK in March and Amazon Studios in the US in April.
"I barely slept making this film; it was an exercise in economy and decisiveness," she says, keen to emphasise she is speaking also for her key collaborators including DoP Tom Townend, editor Joe Bini, sound designer Paul Davies and composer Jonny Greenwood.
During the film's promotion, Ramsay has found time to write 160 pages of a new project, which she describes as "an environmental horror film" which could shoot in Alaska. "It's early days and it's still taking shape, but it's super interesting," she says.
Ramsay is also considering several other projects, and sounds like she has bottled that electricity from those hot New York shooting days. "Right now, it feels like I'm at my most creative," she says. "That's off the energy of You Were Never Really Here."