Alfonso Cuaron tells Screen why he needed to recreate his childhood home down to the smallest detail to tell the story of a torrid year in the life of the two women who raised him in ROMA.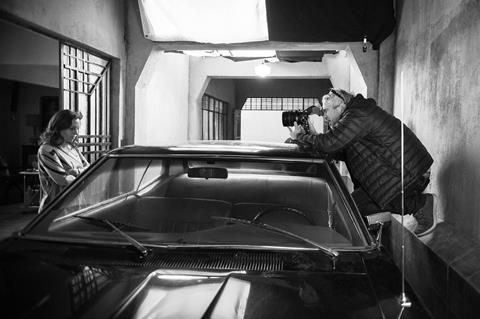 Alfonso Cuaron is a man in the middle of a whirlwind. His eighth feature, the black-and-white, Spanish-language ROMA, has dominated the industry conversation ever since Cannes refused to allow the Netflix-backed film to screen in Competition and it went on to win the Golden Lion at Venice. With Cuaron taking ROMA to global film festivals to give it as much theatrical play as possible in state-of-the-art cinemas fitted with 70mm projection and Dolby Atmos sound, a storm has raged around the unprecedented (for Netflix) brief awards-qualifying window the streaming platform is giving the film, and what this means for the future of cinema.
But as Cannes, theatres and international awards bodies all grapple with the disruptive impact of an SVoD company owning all the rights to one of the most covetable arthouse films of the year, Cuaron is the epitome of calm. As a producer of the film, he was very involved with the deal that backer Participant Media struck with Netflix. He recalls there was plenty of interest in ROMA from distributors around the world, but it was Netflix that saw beyond the commercial limitations of a black-and-white film shot mostly in Chilango, a Mexico City dialect. "Netflix understood this film," he says. "It was not only its ambition towards the film but the aggressiveness of how it wanted to do things. It has been really, really amazing."
Cuaron, who in 2014 won two Baftas (best director and British best film), two Oscars (best director and best editor) and one Golden Globe (best film) for Gravity, started working on ROMA in early 2016, scouting locations in Mexico and looking for his cast with co-producers Gabriela Rodriguez and Nicolas Celis. The film portrays Cuaron's memories of a pivotal year in the lives of the two women who raised him: his mother, Sofia, and his nanny, Libo, known in the film as Cleo, who comes from an indigenous background. It's set in the 1970s, when Mexico was undergoing a period of tremendous political upheaval that's reflected in middle-class Sofia's own troubles — her husband effectively leaves her and her four children under the guise of a never-ending business trip — and Cleo's discovery she is pregnant.
Authentic approach
Working with casting director Luis Rosales, Cuaron embarked on a search for his actors. "For this film to work, everything was on the shoulders of who was going to play Cleo," he explains. His gaze alighted on newcomer Yalitza Aparicio, discovered at an open call in her home village in Oaxaca. But Aparicio had never heard of Cuaron and initially feared the production was a human trafficking racket. Once she met the director, however, her fears were allayed, and Cuaron was impressed by the chemistry between Aparicio and Marina de Tavira, the theatre actress he had cast as Sofia.
The filmmaker's desire to realistically capture this moment in his childhood saw him attempt to shoot in his former family home in Mexico City's now gentrified neighbourhood of Colonia Roma. "The problem is, first of all, there is a whole family living there so it is going to be difficult to take them out," he explains. "But also, they have done so much work, [created] a transformation of the house. It was going to be almost impossible to make it work."
Instead, the family allowed Cuaron and production designer Eugenio Caballero to measure the dimensions of the house, and the team found a building on the verge of demolition that they managed to delay. "The great thing was we didn't need any permits," Cuaron says. "We could do whatever we wanted. A lot of what [Caballero] had to do was work out of my own memory, and a few photographs of that house. Or, as we were scouting houses of the same period, I would go, 'These tiles, these are the ones that were in the bathroom' for instance."
With the location secured, Cuaron began to "recover" as much as possible of the house's original furniture from his family now living all around Mexico. They weren't entirely happy about this, he admits. "They were like, 'Families, what a pain. Well, let's give him the furniture and live with the Ikea dining table until he returns the other one'."
Principal photography took place for a leisurely 110 days in Mexico City in late 2016, with an entirely local crew. Cuaron worked as his own director of photography, as his regular cinematographer Emmanuel Lubezki was unavailable. It was an unusual shoot, as no-one except Cuaron ever read a whole script. He instructed his actors separately each day, with none of them ever aware of what the others might be doing.
The only other person to ever see a complete screenplay was David Linde, CEO at Participant Media, who had come on board to fully finance the film. Cuaron and Linde had worked together ever since Linde headed Good Machine and distributed Cuaron's Y Tu Mama Tambien in the US in 2001. Linde also backed Cuaron's Children Of Men when he was head of Universal Pictures in 2006, and had bought Gravity for the studio before the film finally landed at Warner Bros.
"I had an informal dinner with David in London in early 2016," Cuaron recalls. "He asked me, 'What are you planning to do?', and I said 'I want to do this film.' I told him what it was about and he said, 'OK, how much it is going to cost?' And I said, 'It is going to cost around this amount of money.' He said, 'Good, do it.' We shook hands and I said, 'But nobody is going to have a script.' He said, 'Well I just need a script for the record, just for the files. No one need read it.' And I said, 'OK. You can read it.' And nobody else read the script.
"I did this film just the way I wanted to do a film," Cuaron continues. "To shoot in the time I wanted to shoot, to take the time to do my [digital imaging], the time to do visual effects and to be very specific about the sound. It's the longest mix I've ever had, longer than Gravity."
Cannes/Netflix row
Reflecting now on the moment the film was ready to show to festivals, Cuaron expands on the subject of the Cannes/Netflix imbroglio. He explains he had plenty of conversations with Cannes' artistic director Thierry Frémaux throughout the process, as the two are good friends. But Cuaron is very wary of those — not Frémaux — who he believes are shutting down any discussion of widening the notion of cinema in the very name of cinema.
"It's very clear it's two different economic models that at this point are at odds. It has nothing to do with film," he suggests. "I believe there is a way of a very, very productive coexistence of the two economic models. I hope that sooner rather than later those differences are going to be resolved because it is going to help cinema. It is going to help the diversity of cinema."
ROMA's limited theatrical release run began in select cinemas in Los Angeles, New York City and Mexico on November 21, extending to one cinema in London on November 29 and two from December 6. It then starts streaming on Netflix on December 14 and will simultaneously play in further cinemas around the world. Cuaron believes "there is a way things can co-exist".
"On the one hand I believe in the theatrical experience," he says. "But at the same time, what is also important is diversity, and platforms like Netflix are bringing a diversity — a diversity that was getting lost in our theatrical experience. I just hope the combination of the two worlds is going to create something very interesting. Let's remember the theatrical experience is a very short window in the life of our films.