Aardman's second feature-length Shaun The Sheep movie gambols into the sci-fi realm.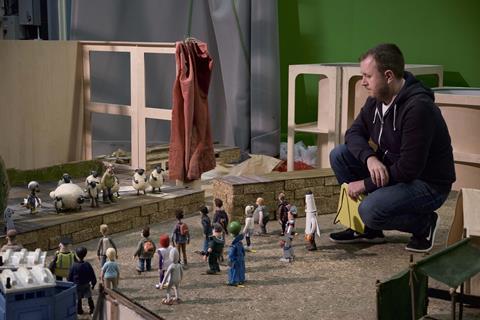 Turning Aardman Animations' TV show Shaun The Sheep into a feature-length film was always going to present a creative risk. In the first place, the original TV episodes were notably brief — just seven minutes long — and the stories they contained proportionately modest. And in the second, the world of Shaun the Sheep — in which the titular farm animal and his pals continually test the patience of dog Bitzer, while the Farmer remains largely oblivious to the unfolding mayhem — is one that is free of dialogue.
"It was a leap and we had our concerns about whether we could execute it," says Paul Kewley, who produced the first Shaun The Sheep Movie with Julie Lockhart. But thoughts were turning to a sequel even before the original film spin-off became a creative and commercial success, earning $106m at cinemas worldwide in 2015. "We were drawn to the idea that you could put Shaun and these characters into any kind of genre," continues Kewley, returning as producer for A Shaun The Sheep Movie: Farmageddon.
Farm hands
The creative braintrust that met to discuss story ideas for the sequel — which included Kewley, Nick Park, Aardman co-founders Peter Lord and David Sproxton, Shaun The Sheep Movie co-writer and co-director Richard Starzak, plus Will Becher and Richard Phelan, a pair of Aardman creatives who are jointly making their directing debut with Farmageddon — zeroed in on an alien sci-fi premise. "The isolated farmstead is part of UFO folklore," explains Phelan, who has previously worked as a story artist on Aardman productions including Shaun The Sheep Movie and Early Man. "We realised we could parody lots of sci-fi tropes, including secret government organisations and crop circles."
With Park and Mark Burton (Shaun The Sheep Movie) earning story credits, and a screenplay attributed to Burton and Jon Brown, the team saw a way to take Shaun to a place he had never been before: adult responsibility. As he comes to learn just how young and helpless alien visitor Lu-La truly is, he must step up to help her outrun the government agency in pursuit, find her spaceship and return home to her worried parents.
"Shaun is the younger brother — reckless and carefree," explains Phelan. "He is always getting into trouble for that. We wanted to give Shaun a taste of his own medicine."
The film spent a full two years in story, and was storyboarded countless times. Aardman films are fully shot and edited as storyboards, and only when the story is deemed to have reached its full potential are the teams of painstaking stop-motion animators unleashed. As co-directors, Phelan and Becher drew up wish lists of the sequences they most wanted to work on, and divided these up between them, supervising 35 separate shooting units working on 70 custom-built sets. The shoot took just over a year.
One of the key creative decisions of Farmageddon was the conception of the Lu-La character, who enjoys equal screen time with Shaun. "The Aardman universe has a distinct look, and she needs to feel she is of that world," says Becher, whose background is in animation — beginning at Aardman on work placement on its first feature Chicken Run, and going on to work on many of its titles including as animation director on Early Man. Initial story drafts required Lu-La to be mistaken for a sheep or a dog, and she was white in colour. Jettisoning that idea created the opportunity for a more vivid colour palette. "We wanted her to be a bit edgy — she does things you aren't expecting — but we also wanted her to be visually appealing," adds Becher.
Building Shaun's world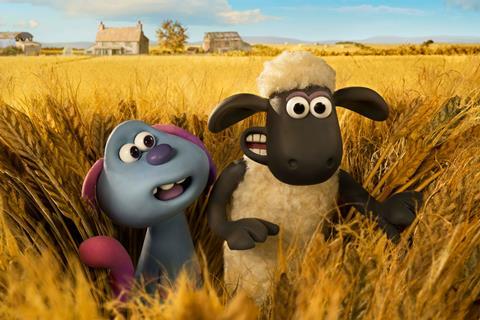 The character of Shaun has been a merchandise and licensing hit since first appearing on TV screens in 2007, and there is obvious potential for Lu-La to follow in his hoof-steps. "Some people look at Lu-La and say, 'Maybe she was designed with merchandise in mind?'" comments Kewley. "I can categorically say that wasn't the case. We designed her very clearly to fit Shaun's world, and it wasn't discussed until we showed the merchandise and licensing team what we'd created. They thought she was exciting."
To prepare for the project, the two directors immersed themselves in sci-fi films — initially the 1980s fare they had grown up on, such as Steven Spielberg's Close Encounters Of The Third Kind and E.T. The Extra-Terrestrial, but also Christopher Nolan's Interstellar, Denis Villeneuve's Arrival, Earth Vs The Flying Saucers (1956) and the B-movies of stop-motion pioneer Ray Harryhausen. "We wanted to research the whole century of sci-fi cinema," says Phelan.
Studiocanal — which financed both Shaun The Sheep movies, offlaying risk by partnering with Amazon Prime Video and Anton Capital, and releasing them in their own territories including the UK, France and Germany — will be forgiven if it experienced a moment of anxiety when Farmageddon opened in its home market in mid October with $1.5m (£1.18m) plus previews, significantly down on the first film. However, word of mouth propelled it to a much healthier $8.8m (£6.75m) after seven weeks — 5.7 times the opening number.
Total international box office is $31m at press time, with several key markets including Australia and New Zealand yet to open. In North America (where Lionsgate released the first Shaun The Sheep film) and Latin America (where Universal Pictures International had a lot of rights first time around), Farmageddon will go out via Netflix in January, and was not submitted for this year's Oscars. Instead, the film's stakeholders are pinning awards hopes on the Baftas, where Shaun The Sheep Movie earned an animated film nomination in 2016. Farmageddon was also nominated for two British Independent Film Awards, winning for best effects.