Renée Elise Goldsberry was always clear that it is her character's stepdaughter — played by Taylor Russell — who is the saviour in intense family drama Waves. The two actresses talk to Screen.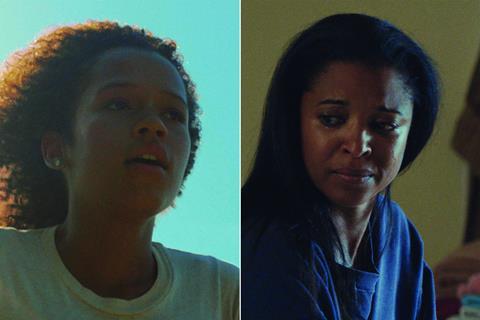 Taylor Russell was FaceTiming with actor Kelvin Harrison Jr when he told her about Waves and started speculating that she would be a perfect candidate to play his sister, Emily. "We kind of just laughed about it," says Russell. "That night, I went home and I had the offer to audition in my inbox, completely unrelated to what he said."
Director Trey Edward Shults had sent her just a few scenes so she could audition — he wanted to keep the whole screenplay secret at this stage. But Russell had other ideas and made another call to Harrison Jr: "I pressured him into sending me the script without telling anybody, which he did, which he wasn't supposed to do."
The screenplay — which depicts an affluent African-American family in Florida, focusing initially on the teenage son and then the teenage daughter — was full of surprises, as Russell saw that Emily's character only develops in the second act. The splitting of the film into two mirroring narratives is an homage to Wong Kar Wai's 1996 classic Chungking Express. "Reading the first half, I was kind of like, 'What's going on? Where's her stuff?'" she says. "Then, gosh, when you got to the second half of the movie, the build-up is incredible. It was unexpected and more than I could have dreamed of it turning out to be."
The Vancouver-born star of Net­flix's Lost In Space TV series has a steely determination once she sets her heart on something: "After that, I just clawed my way into the role and told them nobody else could do it but me."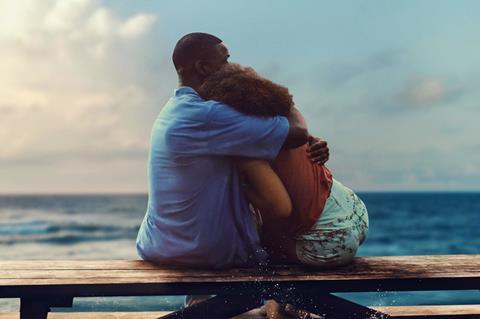 Renée Elise Goldsberry chimes in: "And she was right." The actress, who received Tony and Grammy awards for her performance in stage musical megahit Hamilton, plays Emily's stepmother Catharine. "I was a little later to the game," says Goldsberry. "I think there was a fully-formed script and it was sent to me. It was just a question of, do you want to do this? I have a very beautiful and intelligent agent [Shani Rosenzweig at UTA], who's a huge fan of Shults. She thought it was special, not even from reading the script but from watching his earlier movies." Waves producer and US distributor A24, which released the film on November 15, also released Shults' previous two features, 2016 SXSW award-winning Krisha and 2017 horror It Comes At Night.
"What I loved about the script is that the parents are a little bit more fully developed than I think is the case with most films about children this age," says Goldsberry. "Even though the film is very specific in being told from the perspective of one child and then the next, there are still interesting moments that show the development of the parents."
Goldsberry was a big fan of Sterling K Brown, who plays her husband. She said yes, even though she thought: "Quite honestly, Catharine wasn't the most developed of characters. So I didn't feel a lot of pressure coming on board because I wasn't exactly sure what role this character would have in this family, which I think also parallels how the character feels. What I found when I arrived to do it, working with Trey and the actors, is that there was a lot of room for me to have a presence."
"Our characters have such an interesting relationship," says Russell of the daughter-stepmother dynamic. "They're finding their footing. I had a strange relationship with my mother when I was 15, 16, and we would get into fights. She was an easy person to unleash angst on. Due to the nature of certain relationships, there's a communication barrier."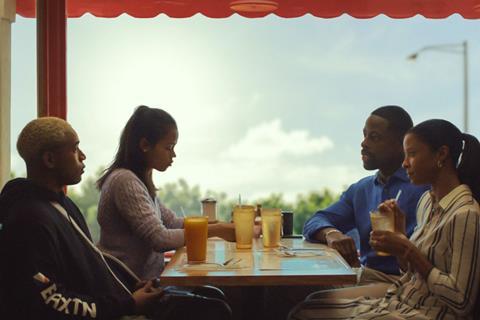 "It helped me being the stepmother, to be married-in," says Goldsberry. "When you're parenting children of this age, your role as mother changes anyway. It has to because they're changing, which is what's interesting with Taylor - the presence of the mother in her life. In the first half of the movie, it's really about that child's journey within a family structure and everything else they're going through; and the second half is about the child's journey outside the family structure."
One aspect of Waves that stands out is its depiction of an African-American family of wealth and privilege. "There is a value in seeing stories from families that seem to have advantages," says Goldsberry. "A two-income household, smart children, where there is nothing perceivably wrong. It's specific seeing a black family in a situation where they're not focusing on how society makes it hard for us. We're talking about the choices we make and the mistakes. By being a middle-class family, we've taken away some of the things that dominate most stories about black people."
As Emily breaks away from the family unit and forges her own identity, she discovers herself through romance, falling for Luke, one of her brother's wrestling cohorts, played by Lucas Hedges. Given the race element, it was necessary for the filmmakers that Luke did not come across as the 'white saviour' figure, whose arrival coincides with better times.
"Of course, we discussed it," says Russell. "But he isn't the white saviour. Emily is the saviour of the movie. If someone takes away that it's the black boy doing a bad thing and a white boy doing the right thing, then they've missed the whole point of the movie. He's not the reason the healing is happening. He needs healing too."