SCREEN SUBSCRIBERS: Ian Sandwell talks to StudioCanal's Hugh Spearing about the marketing campaign of Legend, including capitalising on Tom Hardy's dual roles and the viral Guardian review.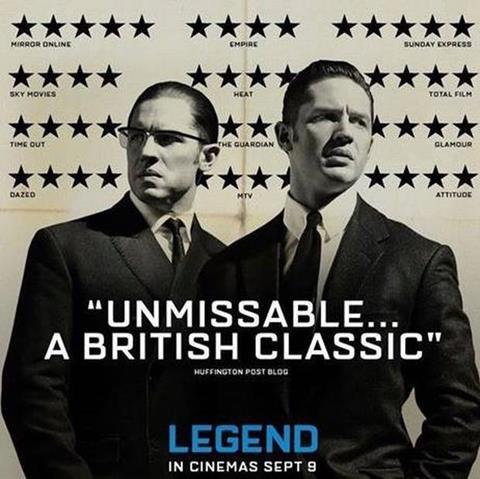 Having posted StudioCanal's biggest-ever opening, Legend hit the £10m ($15.2m) mark at the UK box office this week. While it has surpassed all expectations for the distributor, the signs were there early on that it had strong potential.
"From when we started working on the film, we wanted to put the film in the period so we used period music in the first trailer in the UK to create that distinctive feel," outlines Hugh Spearing, head of UK marketing at StudioCanal.
"At the time it was our biggest trailer launch to date and that gave us a good indication that people were interested in the movie and the concept."
Interested is an understatement. Having opened on Sept 9, Legend went on to enjoy a five-day opening of $8m (£5.19m) from its 522 sites, surpassing Paddington's $7.97m (£5.18m) from 518 sites.
As well as setting a distributor record, it was the biggest ever September opening and the biggest British 18-certificate opening at the UK box office.
From a marketing perspective, the hook of Legend was obvious. "The idea of Tom Hardy playing both roles in the movie was something that made people think this is going to be something very special because he is an amazing actor," explains Spearing.
"When you get a very unique selling point like that for a movie, it is very hard to resist."
Double the Hardy meant double the opportunity. As well as the ubiquitous image of back-to-back Hardy on the posters, the creative for the campaign also included TV spots that specifically focused on Ron or Reggie and an innovative cascade advert in the Metro that revealed the two Kray twins.
It was a campaign aimed to be "unmissable", especially during its opening weekend.
Guardian review
For many though, there was one particular aspect that caught the attention. On the day before release, Guardian reviewer Benjamin Lee had noticed that his two-star review of the film was 'hidden' in a new social card for the film.
"The most interesting thing to come out of it was how big a thing like that, which wasn't even a poster, can become these days and be something people talk about," recalls Spearing.
"It's interesting to see what people respond to. You can never really tell."
Arguably it led to a positive outcome as the general response praised the ingenious aspect of the use of Lee's two-star take, but Spearing isn't too sure how much of an impact, either way, it had on the opening.
"Before it started, we had really amazing advance ticket sales from all the major circuits so we knew the film was hopefully going to do well," he says.
"These stories come and go very quickly. On that day, there was a big mass awareness but you have to put it alongside the fact that it's actually highlighting a negative review we received, so how much you can actually take from it is very hard to say."
Either way, the enhanced online presence for the film is unlikely to have hurt, potentially among a younger audience than many might have predicted for a film about infamous 1950s/60s gangsters.
It certainly could have contributed to Legend's excellent opening day of $1.4m (£887,050), a result Spearing is particularly pleased by as "you don't get those numbers on a midweek opening anymore unless you're a blockbuster".
Sustaining success
The next challenge for Spearing and his team was to ensure Legend wasn't just a fast burn at the UK box office. A second weekend drop of just over 30% (excluding previews) showcased that audience interest was still there, and put the biopic in touching distance of the £10m mark.
Bolstered by some of the highest exit polls StudioCanal has had for a film, Legend might have lost the top spot to Everest but Spearing was particularly heartened by the audience the film seemed to be attracting:
"It's an 18-rated period movie about characters some of the audience might not know, but it seems like it was a really mainstream audience that embraced the film," says Spearing.
Embrace it they have, and Legend has already "comfortably" surpassed the distributor's expectations, which have since been revised upwards. As of Sept 21, the film had grossed $15.8m (£10.31m).
The next target, which could well happen by the end of this coming weekend, is to become the biggest British 18-rated film of all time, currently Trainspotting's $19.1m (£12.43m) result.
Spearing believes the success of the film, following so closely on from similar 18-rated hits like Gone Girl and Fifty Shades of Grey, shows that a clear audience appetite for adult-orientated films.
"The adult audience is there for the right film and they'll definitely respond to it. It's very encouraging as there are stories like the Krays that you couldn't tell unless it was an 18 because you wouldn't do it justice."