Ian Bonhote and Peter Ettedgui, the UK co-directors of McQueen, tell Screen why documentary was the perfect medium to tell the story of the mercurial fashion designer.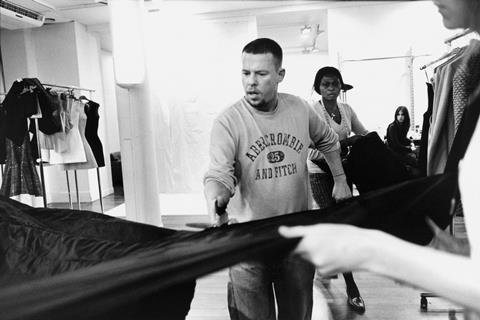 It is an inspiring but ultimately tragic tale of one of the UK's greatest designers: a child from the East End of London who began as a tailor's assistant on Savile Row, stormed the world of fashion but then died aged only 40. McQueen, the feature documentary co-directed by Ian Bonhote and Peter Ettedgui and written by the latter, is a celebration of Alexander Lee McQueen, a figure the filmmakers compare to Picasso in his brilliance and versatility.
The project was originally intended by producers Salon Pictures to fit into their series about "great Britains" — Salon's Nick Taussig and Paul Van Carter had made films about Winston Churchill and Falklands War Army veteran Simon Weston. When brainstorming potential directors, Van Carter remembered Bonhote, with whom he had worked at Pulse Films on commercials and music videos. He knew Bonhote was "very into fashion" and that his wife had worked with McQueen and owned a fashion label. "It wasn't an obvious choice but I really liked Ian, I trusted him and we had a friendship that was 10 years old," Van Carter says of why he approached Bonhote to direct.
International distributors were intrigued: at an early stage in the film's gestation, sales agent Embankment Films started pitching it to buyers at Berlin's European Film Market in 2017, and it went on to sell to several major distributors on the basis of a teaser and a script including Lionsgate UK and Bleecker Street for the US.
At that stage, the filmmakers had not yet secured access to any archive material other than what was available on YouTube. They also had not yet managed to recruit any of McQueen's relatives to the project and had to contend with the knowledge Pathé was developing a dramatic feature about the designer. But the filmmakers were confident they could tell the story equally well, if not better, in a feature documentary. Bonhote, who co-founded Pulse Films before going on to set up Misfits Entertainment with McQueen producer Andee Ryder, and Ettedgui, who made McQueen after co-writing the Oscar-nominated Marlon Brando documentary Listen To Me Marlon, describe themselves as being like "private detectives" as they set about investigating their subject's life and working out how to tell his story on screen.
"At first, very few people wanted to speak to us," Ettedgui recalls. However, it was also apparent McQueen was becoming part of the zeitgeist. The designer was the subject of a successful retrospective at London's Victoria & Albert Museum in 2015, and the media's fascination with him had only intensified since his suicide in 2010.
One early idea was to structure the film around a series of McQueen's fashion shows. The filmmakers were also determined their project should have the scale and ambition to play in cinemas. Ettedgui describes it as "a wonderful rags-to-riches story that has a real sense of a rise and a fall to it as a narrative".
There is also the mystery as to why, at the peak of his profession, McQueen decided to end his life.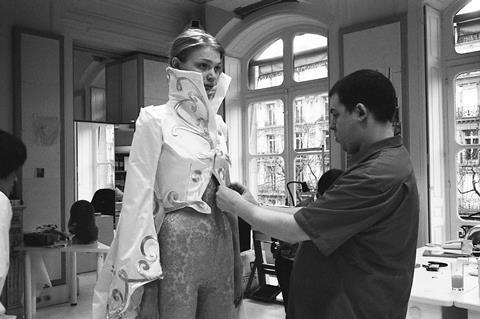 "We saw it as a universal story with McQueen not just being a fashion designer but someone connected to the art world, the world of film and to the whole cross-currents of that so-called Cool Britannia and Britpop period," says Ettedgui.
Bonhote had never made a documentary before — his directorial debut was the low-budget thriller Alleycats — but he says he "fell in love" with the genre while making McQueen. "You can do whatever you want," he says. "It is the most open format to tell a story."
"It is fantastically versatile," Ettedgui agrees. "The sky is the limit in what you can do with the medium and how you can combine different formats to create a very strong emotional reaction."
Family insight
The filmmakers were eventually able to persuade McQueen's sister Janet and his nephew Gary to participate in the documentary. "In our case, our technique, Peter and I, was to be very, very patient and hands off," Bonhote says of how they won the trust of McQueen's family.
They met Janet in a "very informal, cup-of-tea setting" and struck up an immediate rapport with her. She and Gary realised the filmmakers were trying to "do something authentic", as Ettedgui puts it.
When Janet and Gary finally appeared on camera, they spoke very frankly about what was often very painful subject matter, including the abuse McQueen had suffered as a child. The film touches on Aids, mental illness and the breakneck pace of the fashion world.
Nevertheless, Bonhote and Ettedgui were apprehensive when they showed a cut to McQueen's close collaborator Sebastian Pons. The designer came dressed as if for a premiere only to discover he was being shown the film in an editing suite. "In the end, he got up and hugged us both," said Ettedgui. "He was in tears. He said this was the film Lee would have wanted."