As content platforms proliferate, the focus of this year's MIPCOM market (Oct 17-20) will be the rewards and challenges of The New Television era - one in which Netflix and Amazon's future domination may no longer be a given.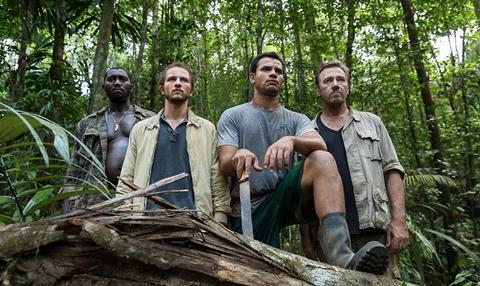 Scroll down for 'MIPCOM Hot Projects'
Sony Corporation chief Kazuo Hirai, actor Kiefer Sutherland and Participant Media CEO David Linde will be among the speakers at the upcoming edition of global content market MIPCOM, unfolding October 17-20 in Cannes. This year's packed conference schedule is grouped around the banner theme of The New Television, exploring the notion that TV has never been so in demand as content platforms proliferate around the world, alongside sidebars on Japan, which is the country of honour this year, and virtual reality. Other speakers will include 20th Century Fox TV veteran Marion Edwards and YouTube's head of original content Susanne Daniels.
As the lines between new digital players and traditional broadcasters blur in a world where viewers increasingly cherry-pick content from a variety of sources, this focus on a new era of TV is a timely one. Media scrutiny of the impact of US digital giants Netflix and Amazon on global TV and film production and distribution has hit fever pitch in recent months, with many in the business concerned traditional players and niche newcomers could be squeezed out.
But a joint report by MIPCOM and Beverly Hills-based data science company Parrot Analytics on who will be the winners in this world of The New Television suggests that neither Netflix nor Amazon's future domination is a given. "The situation is very chaotic right now," says Parrot Analytics CEO Wared Seger. "When we look at our global demand data, it's clear some players have an advantage in certain markets around the world. Things change quickly, however, particularly in the TV industry, where content rights are almost as fragmented as audiences across channels and OTT platforms."
Seger also notes that Netflix's strategy of producing original content it can distribute globally without getting mired in competition for rights has also had "hit and miss" results. "We saw The Get Down fail to reach significant audience demand levels globally, while Stranger Things was the first Netflix original series to achieve consistently high demand levels globally," he says. "It was Netflix's first real challenger to HBO's Games Of Thrones."
Guy Bisson, research director at London-based TV and new media research company Ampere Analysis, suggests the industry's vision of Netflix as a disruptive and future-dominating global force does not necessarily add up. "All the evidence so far points to it being supplemental to pay-TV in all but a few markets," says Bisson. "It's all about positioning in the value chain. That value chain in the TV industry goes from production to distribution to aggregation through to the consumer. That has not fundamentally changed structurally for 50 years.
"If one considers Netflix and others to be platforms, one can see that part getting disrupted," Bisson continues. "If one sees them as channels, then as far as I'm concerned there is no disruption. Everything in Netflix's strategy is the strategy of a channel - acquiring content initially, moving into original production and then refining the content. Even the price point is in line with that of HBO, and now we've seen an evolution of it moving onto platforms with the recent Liberty deal."
That deal, announced in mid-September, integrates the Netflix app into Liberty Global platforms in 30 countries, and follows a similar accord with Liberty's Virgin Media in the UK in 2013. Bisson expects it to be the first of many such ties-ins for Netflix.
Multinational gatekeepers
If anything, Bisson suggests, the real gatekeepers of the future will be multinational companies such as Liberty Global and Altice, that are increasingly bundling high-end entertainment and sports content with telecommunication services. In the backdrop, traditional broadcasters, in both the free-to-air and pay-TV space, are increasingly involved in the over-the-top (OTT) arena, taking on Netflix and Amazon at their own game.
The UK's Sky, for example, has been aggressively pricing its Now TV SVoD offering to compete with Netflix in the UK, and, according to reports, is gearing up to launch the service in Spain. It also recently rebranded its UK subscription film channel as Sky Cinema, from Sky Movies, to bring it in line with its film packages in Germany and Italy as part of its strategy to push for pan-European first-run feature film deals with the Hollywood studios.
On a local level, broadcasters across the globe are getting increasingly savvy about exploiting content across multiple in-house platforms in their territories. France's leading commercial free-to-air channel TF1 has recently gathered its acquisitions teams under the single roof of TF1 Studio in a bid to bolster its acquisitions clout across multiple windows, and has aggressively been building up its VoD and SVoD platforms. "Companies now have to take a hybrid approach that caters both to existing customers via traditional distribution models, as well as a rapidly growing new market segment of the so-called 'cord-cutters' and 'cord-nevers'," says Seger.
Multiple windows
Beyond this, there are signs TV and film sellers, who were initially tempted by lucrative Netflix deals for their titles, are looking at what is on the table beyond the money upfront. "What's important for us beyond Netflix is to accompany our present clients towards the digital era," says Julien Leroux, deputy managing director of TV sales unit Newen Distribution, whose MIPCOM slate includes Ouro and Witnesses. "A lot of our work revolves around rights management and helping our long-time partners exploit our shows across multiple windows.
"There's a battle right now between the global players like Netflix and local broadcasters, but, as a general rule, we prefer to work with our long-time partners in local markets who will better promote our shows," he continues. "Netflix has a tendency to put things on its platform without too much support. A show like Ouro, for example, needs a broadcaster that will get behind it."
"What's important for us beyond Netflix is to accompany our present clients towards the digital era," Julien Leroux
The battle for TV content and eyeballs across the globe only looks set to heat up in the coming months, and it is still far from clear who or what will come out on top. The "dominant television", suggests Seger, will be a hybrid of all the current options: "It will use all popular content consumption mediums, aggregate content at both title and platform levels, and serve the right content to the right consumer at the right time."
Country of Honour Japan shines at Mipcom
Japan will be out in force at MIPCOM this year as the country of honour. Sony Corporation president and CEO Kazuo Hirai will kick off the content market's Media Mastermind Keynote programme on October 17. His MIPCOM trip will be just four days after the launch of Sony's PlayStation VR on October 13, which could be a game-changer in the VR space due to its lower competitive price and compatibility with existing PS4 gaming consoles. Linked to this, the company is a partner on MIPCOM's VR strand running throughout the market.
Hirai will also stop by MIPCOM's Japan-themed opening-night party and, that same evening, there will be 4K HDR world premieres of NHK's live-action fantasy series Moribito II: Guardian Of The Spirit, for which cast member Kento Hayashi is flying in, and the Japanese version of Cold Case, produced by pay-TV group WOWOW. Popular Japanese actress Yo Yoshida, who plays detective Yuri Ishikawa, the equivalent of the role played by Kathryn Morris in the original, will attend. The country of honour programme will also feature the Treasure Box Japan event on October 17, showcasing new formats from top TV players including TV Tokyo, TV Asahi, NHK and Nippon TV. There will also be focuses on upcoming Japanese dramas, animated series and documentaries on October 18.
MIPCOM Hot Projects
World Premieres
Mata Hari (Rus-Port)
French actress Vahina Giocante will attend MIPCOM's red carpet for Mata Hari, in which she stars as the infamous dancer, courtesan and First World War spy, alongside fellow cast member Christopher Lambert. Star Media produced the 12-part, English-language series in partnership with Channel One Russia and Inter Ukraine. Dennis Berry, whose credits include the Highlander and Stargate SG-1 TV series, directs with Julius Berg.
Contact Red Arrow International: redarrowinternational.tv
The Halcyon (UK)
Following Netflix commission The Crown and Wallander for BBC One, the UK's Sony-backed independent production powerhouse Left Bank Pictures has created this glitzy historical drama for ITV. It follows the staff and guests of a luxury London hotel at the beginning of the Second World War. Charlotte Jones created and lead-wrote the series; Sharon Hughff executive produced with Chris Croucher (Downton Abbey) producing. Cast includes Steven Mackintosh and Olivia Williams.
Contact Sony Pictures Television: info@sony.com
The Rocky Horror Picture Show (US)
It is unlikely MIPCOM delegates will turn up with Mars bars and water pistols, but the world premiere of Fox TV's reboot of the 1970s cult stage show and 1975 film The Rocky Horror Picture Show promises to be one of the funkier world premieres. Laverne Cox takes on the role of Frank-N-Furter, with Tim Curry, who originally played the character, acting as the show's criminologist narrator. Fox 21 Television Studios and The Jackal Group produced the two-hour TV movie, due to broadcast in the US on October 20.
Contact 20th Century Fox Television Distribution: foxtvd@fox.com
The Same Sky (Ger)
Set in Cold War Berlin in the 1970s, The Same Sky follows the relationship between an East German agent and his female target in the West. Oliver Hirschbiegel (Downfall) directs from a screenplay by respected UK writer Paula Milne. Co-stars Sofia Helin (The Bridge) and Tom Schilling will attend the MIPCOM world premiere alongside Milne and producers Jan Mojto (Beta Films) and Nico Hofmann (UFA Group).
Contact Beta Film: beta@betafilm.com
In the Market Completed
Below The Surface (Den)
Danish film-maker Kasper Barfoed takes creator, head writer and concept director credits on this eight-part thriller about attempts to rescue 15 hostages from a Copenhagen subway train. Morten Kjems Hytten Juhl produces alongside Soren Sveistrup (The Killing) and Adam Price (Borgen) as creative producers, and Meta Louise Foldager Sorensen (A Royal Affair) as executive producer.
Contact Studiocanal TV: sales@studiocanaltv.com
Designated Survivor (US)
Will conspiracy thriller Designated Survivor put 24 star Kiefer Sutherland back on the mainstream map? Sutherland plays a low-ranking Cabinet member catapulted into the role of US president after a terror attack during the State of the Union address wipes out his fellow statesmen. The show opened on ABC in the US on September 21 to strong ratings and even better catch-up scores. Under a Netflix deal, it is now airing on a one episode-per-week basis globally. Sutherland flies into MIPCOM to give a keynote address on the show and his wider views on the state of the industry.
Contact Entertainment One Television: tvinfo@entonegroup.com
Emma (Fr)
Paris-based Mandarin Television - sister company of Mandarin Cinema, maker of features such as Frantz and The Innocents - brings a new twist to the detective partnership genre. French actor Patrick Ridremont plays police detective Fred Vitulo, who is assigned the human-looking Artificial Intelligence android Emma (Solene Hébert) as a trainee.
Contact TFI International: sales@tf1.fr
Midnight Sun (Fr-Swe)
Billed as the first Sweden-France co-production, Midnight Sun is the latest collaboration between The Bridge creators Mans Marlind and Bjorn Stein. France's Leïla Bekhti plays a French police officer, sent to a remote mining community in Sweden to investigate the murder of a compatriot, opposite Gustaf Hammarsten as her Swedish counterpart. Based on an idea by Henrik Jansson-Schweizer and Patrick Nebout, it was produced by Atlantique Productions and Nice Drama for Canal Plus and Swedish state broadcaster SVT. Bekhti and Hammarsten will be at MIPCOM for a press conference and the official buyers launch on October 17.
Contact Studiocanal TV: sales@studiocanaltv.com
Swedish Dicks (Swe)
Featuring a guest appearance by Keanu Reeves, Los Angeles-set Scandinavian comedy Swedish Dicks co-stars US-Swedish actor Peter Stormare and popular Swedish comedian Johan Glans as a former stuntman and failed DJ who set up a detective agency. It is the first original production of Swedish online streaming service Viaplay, which announced record viewing figures for the Nordic region premiere on September 2. Lionsgate Television will kick off international sales at MIPCOM.
Contact Lionsgate TV: general-inquiries@lionsgate.com
The Verdict (Ger)
The innovative German-language piece The Verdict is adapted from Ferdinand von Schirach's play Terror, which follows the trial of a pilot being prosecuted for shooting down a hijacked airliner to prevent a terror attack. Lars Kraume (The People Vs Fritz Bauer) directs Burghart Klaussner, Martina Gedeck, Florian David Fitz and Lars Eidinger. The one-off is due to broadcast during MIPCOM on October 17 to audiences in Germany, Austria, Switzerland and Cannes, who will then be asked to vote on whether the pilot is guilty or not.
Contact Beta Film: beta@betafilm.com
In development or production
Central Bank - The Takeover (Sp)
Following The Red Band Society and I Know Who You Are, Spanish director, writer and producer Pau Freixas' new thriller delves into a real-life bank robbery in Barcelona in the 1980s - shortly after the end of Franco's dictatorship - which took on more sinister dimensions. The four-part series is in development and will go into production in 2017.
Contact Filmax International: filmaxint@filmax.com
Close Murders: Season 2 (It)
Former Miss Italia-turned-actress Miriam Leone plays Valeria Ferro, a homicide investigator specialising in domestic violence with a dark family secret of her own. This gritty drama, set in the northern Italian city of Turin, launched in September 2015. Since then the show's fanbase has grown steadily at home and abroad. Netflix was reported to be circling the second series over the summer.
Contact Rai Com: mattia.oddone@rai.it
The Exchange Principle (Isr)
Respected Israeli actor Lior Ashkenazi plays a talented forensics officer who ends up living on the streets of Tel Aviv after suffering a nervous breakdown. Oded Davidoff directs the 10-part Hebrew-language series from a script co-written with long-time collaborator Noah Stollman. They previously worked together on the Golan Heights-set mystery drama Pillars Of Smoke (Timrot Ashan), for which NBC picked up the remake rights.
Contact Wild Bunch TV: aporret@wildbunch.eu
Hamilton (Fr)
The bestselling books of Swedish author Jan Guillou are soon to reach the small screen. Hamilton is one of the first productions Patrick Nebout - producer of the Canal Plus/SVT show Midnight Sun - is developing under his new Dramacorp company, launched in April with Beta Film's Jan Mojto. Petter S Rosenlund, whose credits include NRK's record-breaking thriller The Heavy Water War (Saboteurs in the UK), has been attached as head writer. Swedish and international broadcast and co-production partners are expected to be announced in the lead-up to MIPCOM.
Contact Beta Films: beta@betafilms.com
Ransom (US)
Experienced show-runner Frank Spotnitz (The Man In The High Castle) and UK actor Luke Roberts will be in Cannes for a presentation of Ransom, which was first announced at MIPCOM in 2014. Spotnitz and co-creator David Vainola based the 13-part series on the real-life crisis negotiator Laurent Combalbert. Roberts stars as fictional crisis and hostage negotiator Eric Beaumont. The pair will be taking a break from shooting to attend.
Contact Entertainment One Television: tvinfo@entonegroup.com
Striking Out (Ire)
Irish actress Amy Huberman stars as a solicitor who sets up her own practice specialising in family and divorce law after catching her fiancé and colleague cheating on her. Katie Holly and Yvonne Donohoe of Blinder Films (Love & Friendship, The Queen Of Ireland) are producing for state Irish broadcaster RTE, which will premiere the show early next year.
Contact DCD Rights: distribution@dcdrights.com
Versailles: Season 2 (Fr)
Fabrice Larue's Paris-based production powerhouse Newen broke into the international English-language drama market with its racy, historical drama Versailles late last year and looks determined to keep up the momentum. Newen subsidiary Capa Drama started shooting the second series in January, and it is in post-production. Season one's raunchy depiction of Louis XIV's court in the 1660s prompted a media storm in the UK, but Larue has told the UK media the second series - set some four years later - will be toned down, adding: "It is more about intrigue."
Contact Zodiak Rights: contactus@zodiakrights.com
Witnesses: Season 2 (Fr)
The first season of crime series Witnesses was a surprise international breakout, selling to more than 45 territories. Audrey Fleurot joins the second series, to play a woman with romantic links to 15 men found murdered on a bus. Marie Dompnier returns in the role of police lieutenant Sandra Winkler.
Contact Newen Distribution: info@newendistribution.fr
International Drama Screenings
Ouro (Fr)
French film-maker Kim Chapiron makes his small-screen directorial debut in this tropical forest adventure series alongside creator and showrunner Fabien Nury. Mathieu Spinosi stars as a young geologist in French Guiana who makes a dangerous discovery in an abandoned mine. Bénédicte Lesage and Ariel Askénazi of Paris-based Mascaret Films produced the show for the Creation Originale label of Canal Plus. It will air in France in early 2017. Prolific graphic novelist Nury's The Death Of Stalin has just been adapted to the big screen by Armando Iannucci.
Contact Newen Distribution: info@newendistribution.fr
Prisoners (Ice)
After the TV comedy-dramas The Night Shift and World's End, popular Icelandic director Ragnar Bragason's latest series Prisoners (Fangar) is an altogether darker work about a woman serving time in Iceland's only female prison. Bragason will attend MIPCOM with writer Nina Dogg Filippusdottir, who documented the lives of women in an Icelandic prison as part of the development process for the series.
Contact Global Screen: info@globalscreen.de