As Jimmie and Swedish Candy premiere in Rotterdam and Tweeners is selected for the Berlinale, Moving Sweden confirms commissioner Helen Ahlsson for two more years.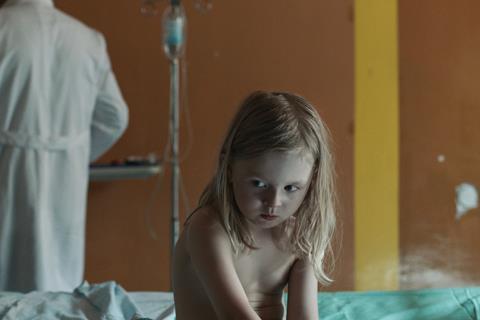 Rotterdam's opening film Jimmie is the most innovative project yet backed by Moving Sweden, a Swedish Film Institute initiative whose very DNA supports innovation.
Moving Sweden was launched in 2013 by SFI film commissioner Andra Lasmanis to help Swedish filmmakers experiment with new formats and bold creative moves. Although it backs many new talents, Moving Sweden is also committed to supporting established filmmakers – like Jesper Ganslandt, who made Jimmie as his fourth feature.
The usual formats backed by Moving Sweden are 30, 45 or 60 minute films, or short series of 6-8 episodes of 12-15 minutes each. That's where Jimmie is different, as it's a full feature film of 91 minutes.
The Fasad-produced film, told through the perspective of a four-year-old boy, stars Ganslandt and his real-life son Hunter, as a father and son fleeing Sweden for a safer land during an unnamed conflict.
Ganslandt says working with Moving Sweden meant a much quicker process to get the film greenlit. He says, "We could get, essentially, a greenlight from one financier. In Sweden, normally it is always a few or many co-producers you have to win over and that takes time. The disadvantage here can be that the budget is fairly small. But we could go from script to prep in a very short time. And that's great for creativity."
Helen Ahlsson, Film Commissioner for Moving Sweden, didn't hesitate to back this unique feature. She says that with Jimmie, the film's themes connecting the refugee crisis felt "so urgent that the film would have suffered waiting for the usual years of development and financing.
Ganslandt say working with Ahlsson is unlike working with most commissioners. "Helen is 100% supportive of anything that challenges a filmmaker. To break patterns and try it on for the first time. She is also very passionate about the filmmaking process and having the films come out as unique as possible. Not so common, I can say, so I appreciate her a lot!"
Ahlsson is a creative collaborator, not an overlord. "We give filmmakers the money and a lot of trust," she says. "Once they have a greenlight, they have total artistic freedom."
The advice they give is sometimes very different than most financiers: "We really push them to be courageous, don't go the safe way. A lot of filmmakers and producers aren't used to this!"
Encouraging new formats
Ahlsson, who had previously produced films like Lisa Langseth's debut feature Pure, joined the Swedish Film Institute in 2014 as Film Commissioner for Moving Sweden. As Screen can exclusively reveal, she has now had her post confirmed for a further two years.
Moving Sweden has an annual budget of about $2.6m (SEK 21m), to back usually 8-11 projects per year, chosen from about 200 applications annually. The scheme works across fiction, documentary hybrid, animation and children's films.
Moving Sweden backs 90% of budgets, with filmmakers chipping in the other 10% (usually as fees and time, not as cash) so that they have an investment in the film and are the majority owner of the rights. Producers can also go out to market to 'top up' the budget by 20%
Broadcaster SVT is a key partner in the scheme, involved from the development process and guaranteeing a broadcast slot for the finished films.
In summer 2017, eight Moving Sweden projects aired on SVT, and audience numbers picked up. "Three of them had a quarter of a million audience, that's great for a single film not as part of a series," she adds.
The audiences for the projects on SVT (and its online platforms) is growing. Political satire Bauta (8x15') has been a critical and audience hit.
Some of the films also launch in cinemas, even with their shorter running times. My Aunt In Sarajevo, Alena, I Remember When I Die, and Small Town Curtains have all had theatrical runs.
And one early Moving Sweden film has become one of the world's most-seen short films: Kung Fury, a Cannes 2015 selection, has now racked up an incredible 29 million views on YouTube. It also confirmed that the Moving Sweden team wasn't afraid to explore comedy and other audience-friendly genres.
As local filmmakers and the international film world have seen more types of work coming through Moving Sweden, the profile of the scheme is growing. "Because of the good ratings this summer and because of Jimmie opening Rotterdam, the festival circuit is now looking at our films, we see something happening," Ahlsson adds.
Daring to become even more radical
Ester Martin Bergsmark is an established director of features including 2012 documentary She Male Snails and 2014 festival hit and IFFR Tiger Award winner Something Must Break, who wanted the freedom to experiment more with their Moving Sweden project, the 45-minute Swedish candy, some violence and a bit of cat, which will have its world premiere in Rotterdam.
The Garagefilm production is described as "an existential sugar shock which takes us on a fun, candy-filled roller-coaster ride between cruel violence and extreme cuteness - which prove to be disturbingly close together."
"I think it's extremely important that we constantly remind ourselves of what movies can be," Bergsmark says. "And that too tight forms make the film stagnate. There is a need for initiatives like Moving Sweden to make the whole field flourish."
The director was keen to work in a 45-minute format, which they say has to the potential to be "be the main film format at festivals in 10 years."
Bergsmark wants to "develop an inner logic where quotes, pictures and memories make sense together. I want to find a form that comes closer to how the movie idea looks inside me."
Bergsmark adds that Ahlsson "pushed the movie to dare to become even more radical in its theme."
Another new Moving Sweden project, Julia Thelin's Tweener, will have its world premiere in Berlinale Generation Kplus. That story, told over 30 minutes, is about teenage wrestlers whose friendship changes.
The stories and approaches are varied, but each filmmaker has a passion that Ahlsson and her colleagues recognize. "What we're looking for is a ticking heart in a filmmaker."
Projects in the works next include John Skoog's feature Ridge produced by Ruben Ostlund's producer Erik Hemmendorff; and unconventional love story Bacha Posh about an Iranian refugee girl on the run to be directed by A Man Called Ove actress Bahar Pars; and a few from total newcomers.
Ahlsson says she's very happy for Gandslandt and his team as the film gets big attention as IFFR's opening film. "It's such an ambitious project they really put their heart on a plate for the audience to look at."
Ahlsson expects to also greenlight (together with Moving Sweden partners SVT and the Swedish regional film funds) more feature-length projects in future which on one hand means less funding available for shorter formats, but on the other hand "more chance of finding an audience."
She's encouraged that the Swedish Film Institute has now classified a feature as any project 60 minutes or over, and she hopes more festivals programme work no matter what the length. "I hope in the future it's about the story and the way you tell it that's most important, not the minutes. But that's going to take some time."