The head of the International Sámi Film Institute talks about the energy of her lakeside office, transcendental meditation with David Lynch and the necessity of climate change stories.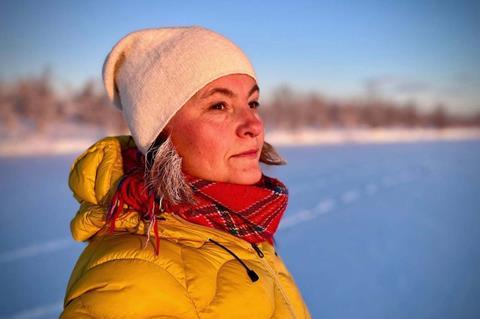 Anne Lajla Utsi is the managing director of the International Sámi Film Institute (ISFI), based near Kautokeino, Norway (part of Sapmi, the multi-country lands of the Sámi people). The institute provides Sámi filmmakers with skills training, mentoring and funding, as well as distributing films on its own streaming platform. ISFI is a partner in the Arctic Indigenous Film Fund, which is also backed by the Canada Media Fund and Telefilm Canada.
What is your office like?
My office is three kilometres outside the centre of Kautokeino village, in the middle of the tundra by a lake called Buletjavri. It's so beautiful, even when it's 35 below zero. We used to have a reindeer called Ena, but he walked away during a snowstorm in autumn 2020, going back to where he belongs. We miss him, but he was also annoying because he used to eat everything. In January 2022, we're about to open a small studio with an edit suite and Dolby Atmos sound mixing.
What is the first thing you do when you arrive in the office?
I stop and feel the good energy in the room. I am always the first one at the office in the morning because I live nearby. I make coffee with oat milk, and sit and read and answer emails in total silence.
What was your first job in the film industry?
I was a co-ordinator for a 2003 feature called Bázo. I became interested in film in 1987 when I was 14 and Nils Gaup premiered Pathfinder here in Kautokeino. It was the first time we saw our people and heard our language on a big cinema screen. After hundreds of years in silence, this was so powerful and symbolic. Pathfinder changed my life and showed that we Sámi people can tell our own stories in films. After that I went to film school in Lillehammer to study documentary, and then I formed a film company with my father. He was so important to my career and to the founding of the International Sámi Film Institute. He is retired now and spends his time fishing and hunting.
Who do you look up to in the industry?
There are so many brilliant people in the Indigenous film world, but to me personally Bird Runningwater has always been a shining star. He was the head of the Indigenous department at Sundance for 20 years and has supported and built up many generations of Indigenous filmmakers globally, and now we're so proud he is on the board of the Arctic Indigenous Film Fund.
Who is the most famous person in your contacts book?
David Lynch. He visited Stockholm in 2010 and led a transcendental meditation session that I attended. I met him there and he was very interested in what we do. He's been a supporter to us in different ways since then.
With whom would you most like to take a meeting?
Leonardo DiCaprio, because he is supporting Indigenous people and working on climate change and I would love to talk with him about how important Arctic Indigenous voices are in the fight against climate change. We have something valuable that the world can be inspired by. Call me, Mr DiCaprio!
What is your favourite festival?
Skabmagovat in Inari, Finland. They have the most beautiful snow theatre and have been doing the festival for over 20 years. ImagineNATIVE in Canada is my second favourite, then Maoriland in Aotearoa, Sundance, Berlin, Cannes and Venice.
What's the one TV series everyone should watch?
Everyone needs to see Breaking Bad. I have watched it twice. I usually don't like crime series or anything too bloody. But I love the character of Walter White. It's so interesting how you sympathise with him even though he does terrible things. That's so clever.
What are you working on next?
At the moment we are working on ÁRRAN 360 — a presentation of innovative immersive Sámi and other Indigenous stories on an international stage in 2022, in a 10-metre-tall tent. With [Nor­wegian public broadcaster] NRK we are developing the first Sámi drama series, and we are developing the feature films of Sara Margrethe Oskal and Egil Pedersen. We continue working on the Arctic Indigenous Film Fund — we've just added Nikolaj Coster-Waldau, Nukaka Coster-Waldau and Baltasar Kormakur as ambassadors.