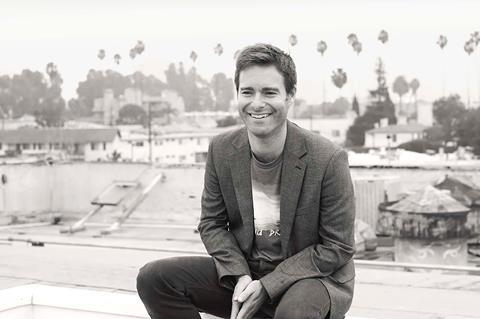 British composer Tom Howe is on a roll, providing the music for Prime Video's 10-part adaptation of Taylor Jenkins Reid's bestseller Daisy Jones & The Six, about a fictional 1970s rock band, all three seasons of Apple TV+'s Ted Lasso and the same streamer's Harrison Ford/Jason Segel psychiatrist series Shrinking.
On the film side, his recent scores have included Book Club: The Next Chapter and The People We Hate At The Wedding. Based between the UK and Los Angeles, Howe's long list of credits also includes The Great British Bake Off, The Lodge and Taskmaster.
What is your office like?
I have a couple of home studios, one in London and one in Santa Monica. When I'm doing a show like Shrinking or Ted Lasso, I try to record as much as I can real, so I have my drums, piano, guitars and things like shakers and percussion. Sometimes you need other sounds on top, but I try to get as much done here in the demo process.
What is the first thing you do when you sit down at your desk each morning?
Drink a lot of coffee to get myself revved up. But no matter where I am in the evening, I try and start the following day's cue, so when I come in in the morning I don't start with a blank page. I tend to start about five or six, do a couple of hours, break for breakfast, then come back.
What was your first job in the film industry?
Just before [the UK broadcast of Australian soap] Neighbours every day there was a thing called Your Shout, three- or four-minute films, and they needed music. In those days you kept your publishing, so I was able to get a deal with somebody who had a big address book of composers. I was on the Christmas party list and one of the other composers, Dru Masters, hijacked it to send an email saying he was selling a load of studio equipment. I couldn't afford any but wanted to meet him. I found the cheapest item, met him for lunch and ended up doing some things for him. He passed me a documentary called The Games That Time Forgot. Its director Andy Devonshire went on and did The Great British Bake Off. That was a big enough success [to get me] hired for other TV shows.
Who helped you most when you were first starting out?
In film and high-level drama it's Harry Gregson-Williams, who became a mentor and is a great friend. In terms of TV, Andy was the most important.
What do you like best about your job?
Being part of a team. Over three seasons of Ted Lasso, you form real relationships with people and they become great friends. I love that side of it, in that you get comfortable enough for everyone to have opinions and everyone's trying to make the best thing they can. I'm up for taking notes all day until it's right.
What was your favourite film growing up?
The original Superman. From a musical standpoint, [John Williams' score] has almost everything. As a film, you always look for something to get into and Christopher Reeve's performance was fantastic.
Where do you want to be in five years from now?
Doing very much the same thing I'm doing. One of the things I've enjoyed recently is doing a few more live things. I've got an opportunity next year to go to a couple of film festivals and conduct and play.
What is the biggest challenge facing the business today?
Probably AI. I don't know enough about it to know exactly how it's going to shape things. But when you're starting out, you need to work on things that allow you to grow and get better. I worry that some of the things I had the opportunity to work on, like a daytime show on the BBC, where it might be musically quite simple, will be sucked up by machines.
What would you do if you didn't work in the industry?
I used to teach music, and I like that nurturing side of things. I would have liked to have been a doctor. I like human interaction. I couldn't do anything that involved being on my own 24/7.
What book are you reading?
I just finished Dave Grohl's [The Storyteller: Tales Of Life And Music] and before that Bono's [Surrender: 40 Songs, One Story]. I love hearing about other people's journeys in entertainment.
What are you working on now and what is next?
Knuckles for Paramount, a Sonic The Hedgehog TV spinoff. And I've got a natural history thing I might do next year.
What is the biggest mistake you've made and learned from?
When I was starting out, I would overwrite. I would listen back and think, I don't know if I've got enough going on, then layer something on. But maybe it would have been better to do less. I think I've gotten better at being more aware of the thing as an overall package rather than music and whatever it is.