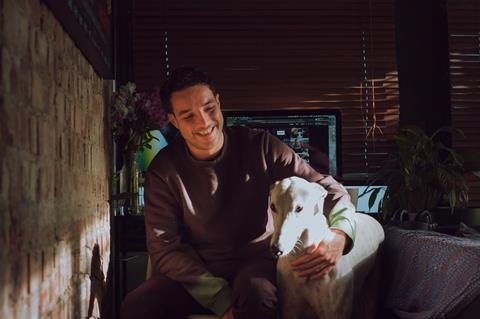 Jason Bradbury runs London-based creative agency Hello Mozart, working with film companies including Peccadillo Pictures and Protagonist Pictures on Monsoon, Dogwoof on Martin Margiela: In His Own Words and the BFI for the re-release of The Umbrellas Of Cherbourg.
Bradbury also works as a filmmaker. His short films include Isaac And The Ram, part of the Uncertain Kingdom collection which will now be released digitally on June 1, and My Sweet Prince, which was selected for BFI Flare. He is one of six filmmakers selected for this year's BFI Flare X BAFTA Crew mentorship programme and is developing his debut feature.
How are you and your team working from home?
We're a small core team of two full-time editors and an expandable team of freelancers of which there are presently three working across a variety of projects. Our focus has been on working closely with our clients to help transition their theatrical campaigns online and developing creative ways to push back catalogue and digital releases. For example, we had created a number of social assets for Dogwoof's release of Cunningham which hit cinemas just before they were closed – we repurposed them for digital when the release was moved online.
How are you maintaining a daily routine?
I live by my sense of routine, which is perhaps why I adopted Romeo – greyhounds love routine! So initially working from home was quite challenging. At Hello Mozart we check in most mornings, usually via video call. We then keep the chat box open on Hangouts for anything urgent during the day. I have found early mornings are the best time for my film projects. I'm working towards my debut feature and starting the day with development helps kickstart my creativity.
What contingency plans are you making for the next few months?
We have seen an increase over the past couple of weeks as distributors firm up their digital slates, and requirement for cost effective and engaging marketing assets increases. We're also developing creative ideas that could help exhibitors position the cinema-going experience as an integral activity once the lockdown has been lifted. At the start of lockdown, everything was put on hold but now there's a real desire to get releases to audiences at an ever increasing pace. We've had to be accommodating to shorter turnarounds, often with less lead time and be more flexible on costing as there is less potential for breakout success when relying solely on digital releases.
In what ways are you and your colleagues keeping up team morale?
We're trying to uphold longstanding traditions including 'Trailer Tuesdays' where we present new and classic trailers that we've seen during the week. We're also being mindful of workload and encouraging regular breaks throughout the day.
What advice do you have for home working?
I try to 'walk to work' from my bedroom to the living room via the park. I recommend taking a bag or backpack for that authentic in-transit experience! I've also spent a lot of time creating a welcoming space in which to work – for me it's a corner of the living room, an area that I try to isolate my work activity to.
What are you listening to and reading and watching to inspire you through this period?
I'm currently reading Unclaimed Experience by Cathy Caruths. I've also been making my way through James Baldwin's body of work. My flatmate and I have set ourselves the challenge of watching a film a day. Recent highlights include Water Lilies and Uncut Gems.
What advice would you give to people in the business who are worried about the future?
I would encourage people to try and let go of the notion of what could have been and embrace what could be. This is something I've struggled with myself, especially with my own film projects. But if we rise to this challenge, we may find that new opportunities open up that we couldn't have envisioned before.
How do you differentiate the weekend from the week?
I'm mindful to use the weekend for self-care activities; a longer run or exploring a new walk with Romeo for example. There are also some great virtual group activities that have emerged out of need for community. My favourites include feminist art lectures organised by Luisa-Maria MacCormack and the London Drawing Group and Queer House Party which takes place on Zoom every Friday evening.
What is the first thing you will do when the lockdown is lifted?
I miss the cinema so much. However, my first port of call will probably be the pub to see my friends… Oh, and a haircut!
What positive change might this bring to the industry?
We must take this opportunity to see where support systems in our industry are failing those who need them the most. There is the possibility that years of hard work diversifying the industry could be undone if we don't ensure support reaches everyone. I hope that we'll be more open to alternative working arrangements and move away from a 'one size fits all' approach. If the past few weeks have taught us anything, it's that we can adapt.