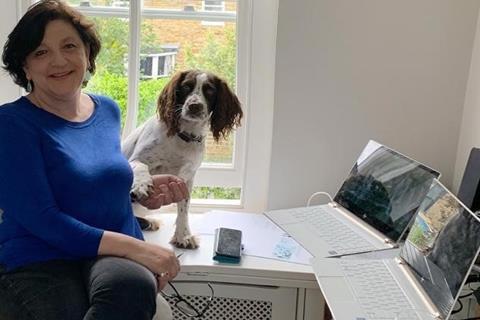 Sarah Smith is co-CEO with Julie Lockhart of London-based Locksmith Animation. They launched the company in 2014 with backing from Elisabeth Murdoch and signed a multi-year film deal with Warner Bros Pictures in 2019 for the studio to co-develop and distribute Locksmith's slate of films.
The company's first feature, Ron's Gone Wrong, about an 13-year-old boy who attempts to teach a digital bot what friendship means in a world of algorithms and social media, is being made under Locksmith's previous deal with 20th Century Fox and will be released by Walt Disney Studios on Apri 23, 2021.
Smith, whose credits include Arthur Christmas, co-wrote Ron's Gone Wrong with Peter Baynham. The film is being directed by J.P. Vine and co-directed by Octavio Rodriguez,
How are you and the team all working on Ron's Gone Wrong from home?
We have moved our operation entirely online. We have over 250 crew members working from home, predominantly in the UK. They are making Ron's Gone Wrong from attics and living rooms. They use remote dial-ins to the CG pipeline, with directors and producers reviewing on Zoom.
It's massive and in some ways absolute madness. Yet it's also kind of wonderful. The patience, humour and diligence of our team is amazing and touching. It feels like we're in the trenches together and there's huge camaraderie. At the same time, we are in development on a theatrical slate for Warner Bros and a Christmas feature, which is much easier to do remotely.
Do you have a daily office routine?
We have morning Zoom meetings for our team and go through an entire day of scheduled meetings all on Zoom. We always have video on, to make it feel human.
We are discussing the acting of characters or the way a camera moves – you have to stand up and use your hands. During our recent screening crunch, each editor had a Zoom [breakout] room and you could drop in and out through the day to check in on their progress. Like being in a weird virtual office block where you can drop in on colleagues. It was friendly and cheering, in these isolated times.
Which systems are working best for you to keep in touch?
Zoom for group sessions, some Skype calls, FaceTime. Phone calls, email, chat features. The crew use Slack. The digital team have VPN dial-in so the shots can be shared and played back from the server, and their own chat.
Today we screened the latest cut of the movie for the Disney chairmen – and for our crew, using Pix. We introduced the crew screening on a Zoom call to 237 crew members – 10 pages of faces we haven't seen for weeks, all coming together. That was fantastic.
How are you keeping up team morale?
Our associate producer started our now famous themed production Zoom meetings every Friday. The first week was newscasters – the whole team dressed as news readers, weathermen etc, with appropriate backgrounds. Then we went on to album covers, sci-fi, famous art. They are incredibly funny and creative people so the results are fabulous – you can't wait to sign in on a Friday and see everyone.
What advice would you give to people in the business who are worried about the future?
It is the unknown that is so difficult. But this too shall pass. I'm not a natural optimist but I believe our industry will bounce back. People will want movies and TV shows and escapism and entertainment, and our businesses will recover and flourish again. For those not working now, hang in there, it will come – and try to enjoy time, with partners, kids, the spring, Netflix.
What contingency plans are you making for the next few months?
We have furloughed a few people who can't do their jobs, such as our reception/front of house team. But mostly we are working very long hours to try and keep up productivity on the film and keep development moving. We want to come through this having preserved our people's jobs. We managed to complete negotiations for a project with Netflix in the last couple of weeks, which keeps us all looking forward to a positive future.
What advice do you have for home working?
Get dressed. No PJ's. And sort your home internet. First, when it crashes, check if your kids are on RoBlox. Second, have alternative internet solutions. I have ethernet broadband, a 4G router and my neighbours' wifi password as they are away.
If you have young children, how are you managing to keep them entertained and educated while you work?
OK, that bit is nuts. Trying to make a film with every crew member in isolation, keep a company moving forward, preserve jobs – and then be a full-time teacher/childcarer? Are you kidding me?! In the first two weeks it was pretty much chaos and tragedy, which I barely survived with the use of mum WhatsApp groups and wine. On one occasion, my delightful, helpful 10 year old punched me for taking another work call. I deserved it.
Luckily I then had my child-carer agree to come back to work isolating alongside us. She has turned herself into nanny, PA, cook, cleaner, teacher, dog walker, IT support and diary liaison with the office. And she dyed my hair. Life would be wholly impossible otherwise.
What are you listening to and watching and reading during this time?
Radio 4 in the morning, the 10 o'clock news. Most of my scant time to watch TV is with my kid – her choices are always You've Been Framed and Would I Lie To You?. We've seen a lot of Rob Brydon in lockdown. Britain's Got Talent at the weekend. I managed to sneak a couple of adult hours to watch Quiz, which was great, but that's it. So many box sets, so little time.
How do you differentiate the weekend from the week?
Weekend? Oh yeah – those days when my kid gets even more fed up that I have to work. We go out for a cycle Saturday morning and do a movie night. And I pick up the dog poop in the garden. The rest is a blur.
What is the first thing you will do when the lockdown is lifted?
Get a pedicure. I can't even bear to look.
What positive change might this bring to the industry?
Everyone talks about the fact that we have proved homeworking works. But I think on the contrary we will value the company and presence of our colleagues so much more. I hope we will never take that for granted again.