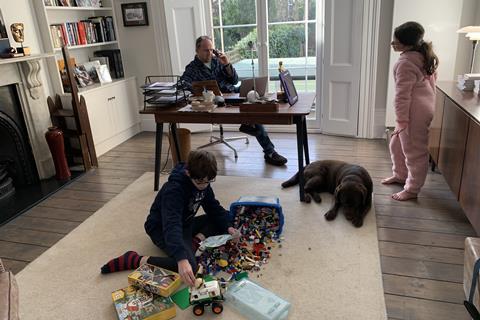 London-based Simon Chinn set up documentary production company Lightbox with his Los Angeles-based cousin Jonathan Chinn in 2014, with offices in both cities. He won Oscars in 2009 and 2013 for producing Man On Wire and Searching For Sugarman, via his previous company Red Box Films.
More recent productions include Ed Perkins' Tell Me Who I Am (2019), Kevin Macdonald's Whitney (2018) and Dan Lindsay and TJ Martin's LA 92 (2017). In 2015, the Chinn-produced, Louis Theroux-fronted My Scientology Movie was a notable UK box office hit, grossing £1.1m at UK cinemas.
Two of Lightbox's feature documentaries are close to completion and Chinn is confident they will be finished "more or less" on schedule. They are: Tina Turner, directed by Oscar-winning duo Dan Lindsay and TJ Martin for HBO and Universal, with Altitude handling international sales; and Torn, a film for National Geographic about the late legendary climber Alex Lowe, directed by his son Max.
Is it business as usual for you and your team as you all work remotely home?
Well, it's definitely not business as usual but, fortunately for us, we'd got a lot of filming under our belts on all our feature docs and series before the lockdown and Lightbox's amazing teams scrambled with great nimbleness and efficiency to move all our cutting rooms into editors' homes and so work on all those productions is continuing.
There's a lot going on in development and the buyers are making positive noises – but there's the big question of what people are going to want to watch when we're on the other side of this. Nobody quite knows.
How are you maintaining an office routine?
We are sticking pretty religiously to all our routines and regular company meetings – it feels incredibly important to maintain contact among our teams. We're actually in the process of convening a senior management group across both our LA and London offices – which we were planning to do anyway but the crisis has only made this more urgent.
We have around 20 staff between our offices in London and LA – including a development team of six, split between the two offices – and we get together regularly for brainstorms.
Which systems are you using to talk to one another and clients?
We seem to favour Bluejeans for company video calls – don't ask me why but it seems to do the job! For one-on-ones, I tend to go for Facetime – but actually I'm beginning to wonder why we now feel video conferencing has suddenly become the obligatory form of communication… I'm starting to go back to the trusty old dog 'n' bone!
How are you and your colleagues keeping up team morale?
We're lucky to have a great team of optimistic and pragmatic people in the Lightbox family and I personally gain strength and resilience just by talking to them. I'm also lucky that my business partner in LA, Jonathan Chinn, is also family, so we always find it easy to share our deepest fears and anxieties alongside all the good stuff. I'd be a bit lost without that right now.
What advice would you give to people in the business who are worried about the future?
Content is and will remain king – and I think documentaries will continue to be seen as a highly adaptable form of storytelling and production. So as challenging as these times undoubtedly are for so many, the demand for content is not going to slow in the long run – though aspects of how it's made, what's made and how it's distributed could well be affected.
I would say that now is a good time to take stock creatively and really start thinking about building a slate for the post-corona world.
If you have young children, how are you managing keeping them entertained/educated while you work?
As I'm busy working for most of the day, my wife is bearing the burden of the home schooling for our seven-year-old daughter and 11-year-old son. My other son, who's 24, works with very vulnerable people in a homeless shelter, and he's obviously having to continue working through this, which is somewhat concerning – but I'm very proud of him.
I offer respite to my wife in the form of long daily walks on Hampstead Heath with the children and dog and cleaning the kitchen rigorously. But I'm going to have to start doing more!
What advice do you have for home working?
Keeping one's work space separate from the rest of the daily household activity feels very important. Fortunately, I have a light and airy home office which I love and which makes a huge difference. But I realise plenty of others don't have that luxury! The more you can compartmentalise and preserve agreed boundaries, both physical and temporal, the better.