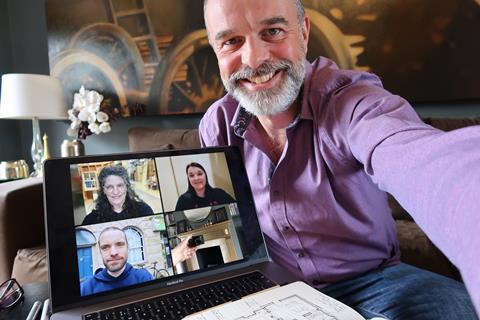 UK production designer Simon Bowles, whose credits include Belle, The Descent and Dad's Army, was working on the second series of Armando Iannucci's sci-fi series Avenue 5 for HBO when the UK lockdown came into effect.
He then started work dressing 34 different rooms for a new version of Alan Bennett's 12 Talking Heads monologues for BBC TV. After four weeks prep, the production is now shooting two monologues a day over six days, with a rehearsal day between each. It wraps on Wednesday May 13.
The monologues star Jodie Comer, Monica Dolan, Martin Freeman, Tamsin Greig, Sarah Lancashire, Lesley Manville, Lucian Msamati, Maxine Peake, Rochenda Sandall, Kristin Scott Thomas, Imelda Staunton and Harriet Walter, and the directors are Josie Rourke, Nicholas Hytner, Jeremy Herrin, Marianne Elliott, Sarah Frankcom and Jonathan Kent.
Bowles has passed on what he has learned on shooting while social distancing to fellow members of the British Film Designers Guild.
How far into Avenue 5 were you when the UK lockdown began?
I was designing and building the sets at Warner Bros Studios Leavesden. We were three months away from shooting so had sets partially finished. The production was put on hiatus with a few weeks' pay to allow everyone to move their belongings home (scheduled so only one person at a time was in the large open-plan office), finish off what they were drawing at home, and file it on the shared HBO cloud system.
Did you continue working on it from home?
It was at this point Avenue 5 producer Kevin Loader approached me to work on an extraordinary project planning to film Alan Bennett's 12 Talking Heads monologues during lockdown, in conjunction with the BBC and the London Theatre Company.
The BBC had suggested we use their range of standing sets at Elstree studios just outside London. Within two hours of finishing my first Zoom call, with Kevin Loader, director Nicholas Hytner, producer Steve Clark-Hall and all the BBC producers based at Elstree, I was driving to the studios to recce all the standing sets. We embraced the fact these well-loved soap sets were going to have new inhabitants created by Alan Bennett.
What happened next?
Working with six directors on over six hours of drama is quite a feat. The amazing art department, props and construction team at BBC Elstree and I have been kept very busy, Because of lockdown we couldn't go shopping or hire any furniture or dressing from prop houses, our usual source. We have been restricted to using the objects already on the standing sets, their small props store of continuity props and whatever we could find using online sales sites.
What have you had to do differently?
I'd normally create pencil sketch or computer-generated rendered visuals of how I see the sets. On this project I have had to work with exactly what was available. My supervising art director India Smith at BBC Elstree and I spent time walking the sets, spotting pieces of furniture and ornaments that would work well for each monologue. We'd then have those items gathered up and dressed onto the particular set.
How are you and your team working within the social distancing rules?
To move large props, furniture and scenery we have had to create clear guidelines. No piece of flattage can be moved if wider than one metre. Anything over this measurement will be unsafe for one person to move on their own. Anything larger requiring two people to carry it could be seen as being risky as possibly damaging backs or injuring someone if falling and they'd be a drain on NHS resources at A&E.
Moving furniture has the same restriction. A dining chair ca be moved by one person, a long settee can be moved by two as they will be more than two metres apart. The issue comes with something like a heavy old armchair or a piano which would need two to carry it but they'd be nearer than two metres. To get over this restriction we have cleared areas on the stage so we can get a forklift truck in to move such items. It seems ridiculous to carry furniture like this but it has actually worked very well thanks to the precision of the drivers.
How are you balancing your work on Talking Heads with your home life?
A week into the preparation period my wife Alison tripped on a wonky paving slab by our house and had to go to hospital with a severely broken arm. As she and I were potentially exposed to the virus at the hospital I decided I should explore how much steering of the set dressing I could do via video link with my team at Elstree. supervising art director India Smith propped her iPad up on a mantlepiece so I could see the whole set from my home office. I chose and positioned the furniture, rugs, ornaments, pictures and action props via FaceTime. Dressing all the sets this way was obviously much slower than if I had been there in person but the process had already slowed to a crawl anyway for the props team as they were working under social distancing rules.
And what about keeping your children entertained and educated?
Using the video link from home to attend the myriad of meetings with directors, producers and my team at Elstree works well. I sit with our 12-year-old son Indy and eight-year-old daughter Pippa while working on Talking Heads as they complete work given to them by their schools. As any parent will tell you, this is of course a very relaxing and productive environment…
What are the shooting days like?
We realised we'd need lots of space for the camera operator, focus puller, camera assistant and boom operator to work on set while keeping distance from the actor. We'd need to remove as much scenery as we could to facilitate the social distancing of these crew members.
The day before filming the sets are scrubbed and sterilised by our props team. All action props and prop food are put in sterilised plastic boxes for the cast members to retrieve.
Two episodes are filmed on each shoot day with two crews. We have a standby art director and a standby prop with each unit with my supervising art director leading a small props team dressing ahead.
Between each shoot day we have a tech rehearsal day which gives the director and DoP Zac Nicholson time to get onto the sets with a stand-in, light the sets and find a good position for the character in each scene of the monologue. At this time the positions of each crew member on the set are agreed and marked on the floor, ready for the following day's filming.
How have the different departments adapted to the shoot?
The directors rehearsed with cast members via video link, the sound department is using boom microphones rather than clipping radio microphones to the cast, hair & makeup designer Naomi Donne is advising on styling via video link in prep and in person from a distance on shoot days, and costume designer Jacqueline Durran sent costumes to the actor's home address and carried out fittings via video.
Do you feel your creativity has been compromised by making the dramas this way?
Not at all. As the monologues consist of a few long scenes in each episode the rushes are edited together very quickly meaning we are seeing the fruits of all our labour and social distancing appear in front of our eyes within a few days while yet to shoot others. We are all delighted with how they're looking. My only regret due to social distancing is not having a chance to meet Alan Bennett.
When do you hope to resume work on Avenue 5?
I'm taking the lessons we have learnt making Talking Heads and from that creating guidelines for restarting the physical design and construction of Avenue 5… but at this point without any dates attached.