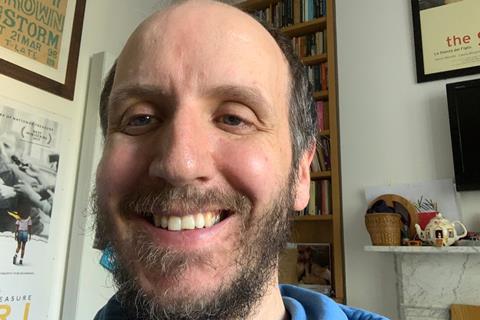 London-based writer Jack Thorne works across film, TV and the theatre on both UK and US projects. His most recent credits include His Dark Materials for the BBC and HBO, Marc Munden's The Secret Garden, which was due to be released in the UK in April but has been pushed back to August 14 by distributor Studiocanal and Tom Harper's The Aeronauts.
His upcoming completed projects include Warner Bros and Netflix's feature Enola Holmes, starring Millie Bobby Brown, and Netflix's eight-part series The Eddy which starts streaming on the platform this Friday, May 8.
Thorne has also written upcoming features including Working Title Films' The Swimmers, to be directed by Sally El Hosaini.
Is it business as usual for you as you work from home during this time?
No, far from it, the main issue being a four-year old who is used to having a lot of stuff to do. There's a constant switch between writing a dark script and making paper dolls at the moment. Obviously, can't complain at all.
How are you maintaining an office routine?
This is an interesting one because obviously writers are the ones who are supposed to be OK through all this. And I do think writers are lucky generally and particularly lucky at the moment that we can produce work on our own.
But it is weird all the writers I follow on Twitter are basically saying the same thing, which is our concentration is shot. So the routine is the same, when not with my kid, which is talking to myself and generally being a madman, but the results are disappointing. I still use Freedom to shut down the internet, I still swap between long-hand and computer. But it's just not quite good enough. I feel like writing at the end of each of these obviously I can't complain at all. Please take that as read.
Which systems are you using to talk to others for work?
Zoom seems to be able to cope best even when the internet is shoddy. I have no idea how that works. I've actually taken part in my first Zoom readthrough. Though I was quite severely ill during it, I lay on the sofa listening and taking puffs of my inhaler and thought the actors were all amazing (even if the script needed work).
In what ways are you and the partners helping to keep up each other's morale?
A lot of talking and support. A realisation that everyone's time is different. Delivery times have had to stretch and people have been kind about that. In return, when I don't receive a response to something at the same speed, I hope I'm showing the same patience.
What advice would you give to people in the business who are worried about the future?
I'm scared too. Not just for our business, for all of us. I feel like there's no one who has a sense of what the future of all this will be. Cinema and theatre are undoubtedly going to take a hammering as people will not have the money or the inclination to go into communal spaces. The readjustment is going to be incredibly painful. I hope the government are going to be willing to support what is a very valuable industry for this country. And that they won't waste all their money bailing out non-tax-paying billionaires.
How are you keeping your four-year-old son entertained and educated while you work?
Rach [Mason, Thorne's producer wife] is doing a bit more than me because her work is quieter. But we're both trying to do our bit. I have no idea how single parent families, or families with more than one kid cope. It's the planning outside of the playing that takes the time too. We were doing timetables, every evening, with things set out for him to do, but those have been shot apart now.
What advice do you have for home working?
I have reached the stage my hair gets to where it looks like I'm attempting a combover. Bald men should never grow their hair out. So my only advice is, avoid losing your hair. And turning into me.
What have you been watching, reading or listening to that's inspired you during this time?
Cheers, Quiz, The Nest, Unorthodox, Crip Camp, This Country, Peppa Pig, Hey Duggee and every video explaining Phonics that I can find. I think I understand it now. Almost.
What positive change might this bring to the industry?
The one phrase I've been haunted through during all of this is 'no underlying health conditions'. It's felt like everyone has been divided up in this crisis. Those with, and those without. There are disabled friends of mine who've been told quite frankly that if there was an accelerated demand they wouldn't be given a vent. That sort of health rationing I think is barbaric.
Now, I don't know if this is right but I've seen a certain cruelty in how we see the world through the TV shows we make. A cynicism. I'm all for cynics. But I do miss those shows that are about people trying to make the world better. Personally, I was very sorry he was ill but I do think Boris Johnson has proved himself a failure of a human being through all of this, that's not just about the meetings he'd missed, it's about the messaging he's allowed out, and I do wonder, and I know others have questioned this, whether he partly arose through that cynicism. Our need to tear things down.
So, perhaps crass as it sounds, I hope for hope. TV shows where we dream as a people of being better. I don't just mean The West Wing. I also mean simpler shows that elevate family likeThe Darling Buds Of May. Even The Wire had a sense of beauty to it. They're there already and everything Heidi Thomas writes is blessed with it, same is true of Pete Bowker but I want more of that in the future. In the way we write our shows and in the way we structure them so as to support all talent involved. So that's what I'm saying, I feel like an idiot writing this, but I hope that we survive this and we become more hopeful than we are.