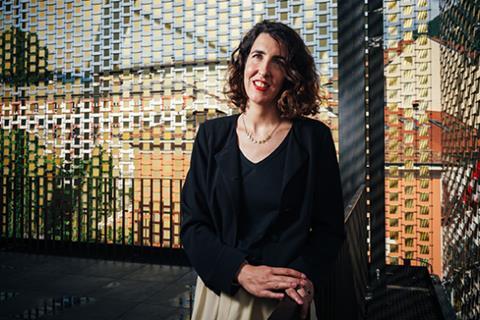 French-born Lili Hinstin was named as the successor to Berlin-bound Carlo Chatrian as the artistic director of Locarno Festival last week.
She was the unanimous choice of Locarno's Board of Governors from a final shortlist of six candidates – three women and three men, including the Solothurn Film Days' Seraina Rohrer and Fribourg International Film Festival's Thierry Jobin.
41-year-old Hinstin set up her own production company Les Films du Saut du Tigre in 2001 to produce films by such directors as Christophe Clavert and Franssou Prenant as well as directing Le Zombie about her grandfather Charles Hinstin.
She was subsequently responsible for film-related activities at the Academy of France in Rome and also served as the Deputy Artistic Director of Cinéma du Réel in Paris before being appointed the Artistic Director of the Entrevues Belfort – Festival International du Film in 2013.
Screen caught up with Hinstin about her plans for the festival.
Screen: Have you been a regular visitor to the Locarno Festival?
Lili Hinstin: Yes, I'd been attending the festival for the past six years since I became the artistic director in Belfort because Locarno was very important for the programming of my festival as it has a very similar editorial line with young and new voices offering daring arthouse cinema.
Were there any particular titles that caught your eye in this year's edition?
I very much liked Yolande Zauberman's M which is a very powerful piece of documentary where the director was intuitively always at the right place at the right time. A strong subject addressed in a very complex way.
It's interesting that you mention a documentary as having particularly impressed you in Locarno this year. Does the fact that you have a background in documentaries mean that there will be a greater concentration on documentary in the future?
That won't necessarily be the case because documentaries have already been important for Carlo Chatrian and they have their place in the programme.
You presented a number of virtual reality productions at your festival in Belfort last year and also organised a conference on what the future will hold for virtual reality. Would you want to open up Locarno to these new technologies as well as to new forms of distribution such as the streaming services?
Yes, exactly, I want the Locarno Festival to be open to every kind of innovation and VR would be included in this. At the same time, I wouldn't be thinking of say creating a competition section for VR films like Venice did because I think we are still just at the beginning of young artists adopting this new technological format.
And if Netflix, Amazon or any other video on demand platform is developing and producing interesting work, we need to be able to see it and show it since Locarno is a festival which aims to follow every new kind of production.
Asian cinema is very much at home at the Locarno Festival as shown by the winners of the Golden Leopards at the last two editions. You have said that you would like to turn more attention to African cinema…
Yes, that's something I would like to develop. I know that this isn't easy, but I have seen that the Berlinale has developed many links with the African continent, so I think it's possible. I have already started working on this in Belfort and have built up some links and relationships with various countries, in particular with Algeria, but also with Burkina Faso, for example.
Since Locarno is located in Switzerland, you won't be neglecting the local cinema?
No, of course, we will give particular attention to Swiss cinema, but we will be totally free [in our selection] because, as with all of the previous artistic directors, what we will be aiming for is discover and show the best and most original films wherever they come from.
You start your new position in Locarno officially on December 1…
Yes, but I will be working with the festival team in Locarno before then on preparations [for the 2019 edition] and I am now also going to Toronto [in September]. It's going to be a busy next few months because I am also still the artistic director for the festival in Belfort, but I am very lucky to have a wonderful team there to support me.
What do you think will be the greatest challenge for you as artistic director in Locarno – standing on the stage of the Piazza Grande open-air venue in front of 8,000 people?
That's true. I think the first time will be like a real adventure, it will get better with each time and finally be a pleasure to be there to present the films we love and want to support. I think that, first of all, it's a great opportunity for the films to be shown at this venue, and it's also just a magical place to see the films.