Ian Sandwell talks to the Japanese film-maker about his two films screening at this year's Fantasia International Film Festival.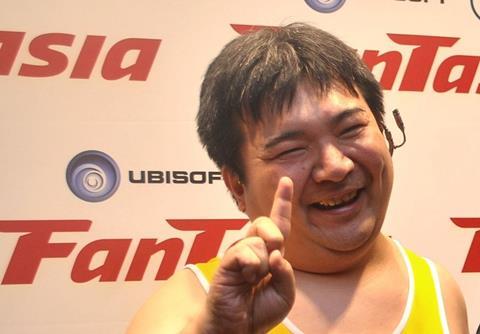 Cult Japanese film-maker Noboru Iguchi is at Montreal's Fantasia International Film Festival with not one, but two films: Live (Raivu) and Nuigulumar Z.
But Fantasia and the director aren't the only things they have in common.
Both films stem from original books to differing degrees. Live is influenced by Yusuke Yamada's popular young adult book of the same name, while Nuigulumar Z (English title Gothic Lolita Battle Bear) is an adaptation of Kenji Ohtsuki's book.
Of the two, Live is the (slightly) more conventional. Think Battle Royale reimagined as an obstacle course. But this is still unmistakeably an Iguchi film, as witnessed by the two bikini-wearing, chainsaw-wielding female assassins.
"They asked me to make something that could be watched by adults," explains Iguchi as Screen sat down with him ahead of the North American premiere of Live. "The book is very long and takes place all over Japan so for the cost, it was very difficult to make."
The compromise saw Iguchi put the book in the film as a guide for the main character, who finds himself in a death race to save his mother against a host of other similarly threatened characters.
Nuigulumar Z, on the other hand, is a more straightforward adaptation with one main change from the source novel. "I knew the author and wanted to work with him, so when the producer asked me to make something with a girl as the main character, I worked with him to change the details."
As with the majority of Iguchi's work (which includes the likes of Dead Sushi and RoboGeisha), the film is a vibrant and lurid work. After all, it is about a schoolgirl who has the power to supernaturally fuse with her teddybear, which gives her martial arts powers that she uses to fight zombies.
"More and more, animation is made as live action, so I wanted to try the other side, to make something live action feel like an animation," Iguchi outlines.
With two films at the same festival, it's clear that Iguchi is a fast worker. So is that for convenience, or a choice? "In Japan, we have to make film quickly and with a small amount of people. I made both of these films in two weeks, and even that feels a little long," notes Iguchi.
"But with low budgets, I can try a lot of different things which is more interesting to me than taking too much time on one film."
It wasn't all plain sailing though. For Nuigulumar Z, CGI zombies would have proven too expensive, so they all had to be practical, while on Live, the shoot had to take place in Niigata to lower the cost compared to shooting on the streets of Tokyo.
In addition, they both had one common difficulty: "As with both films, we had to make something for young people. As a result, there's not as much focus on gore but I still wanted the impact of the violence, so the balance was hard."
The Japanese film-maker doesn't always see himself working in genre films though, despite his catalogue to date. "I want to make something serious, with a film around the problems that exist in society. Right now, there are a lot of problems in Japan and a lot of crime that is very strange, as well as social problems like domestic violence."
Next up for Iguchi though after the Fantasia voyage are two projects: one a "very Japanese take" on the zombie genre, and the other based on a manga centred on a man who is a pervert and a sadistic high school girl.
Nuigulumar Z receives its Canadian premiere tomorrow [July 20] at Fantasia.