Norwegian director Hans Petter Moland saw the potential for a homecoming with his new film Out Stealing Horses, his 11th feature and his fourth to compete for Berlin's Golden Bear.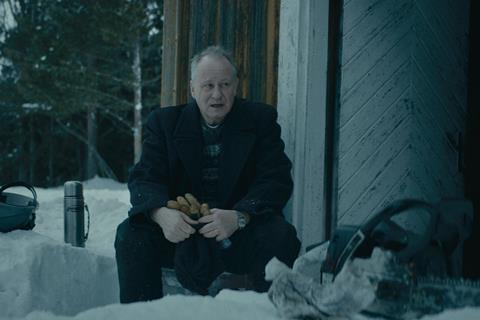 Moland had first been approached to adapt Per Petterson's Norwegian novel in 2004, but he was in an international state of mind having just made Vietnam and US-set The Beautiful Country. Yet he found it resonated with him in a different way when he revisited the story about five years ago. " Besides being a really wonderful piece of literature, it's a description of a landscape and a way of life that I was brought up with," he explains.
The story follows 67-old widower Trond (Stellan Skarsgard) who discovers his neighbour (Bjørn Floberg) is someone he knew back in the summer of 1948, when he turned 15. That summer his life was changed as his father was preparing to run away with another woman, for whom young Trond also held a flame.
The novel was not easy one to adapt into a film. Moland describes it as "rich and tactile" with " sensory descriptions of nature of humanity".
"In a book you can stop or reread a paragraph or sentence," he explains. "In a film you have to lay it out in a way that allows people to follow the story. One of the strong aspects of the novel is its unique tone and atmosphere and without that I don't think the film would be very interesting. I embraced that as well as embracing a very unusual structure."
Skarsgard was the first actor he thought of for the older Trond. The pair have worked together for decades most recently on In Order of Disappearance, which was in Berlinale Competition in 2014. "He's a dear friend and a wonderful collaborator," Moland says of Skarsgard. "He brings something unique to everything he does. Every film is an exploration of the material and it's great to do that with someone you trust and who is also willing to take risks."
Jon Ranes, the actor he cast as the younger Trond, is "a godsend to this film," says Moland "He's first a foremost a terrific actor and unlike a lot of people who claim to do their own stunts, he actually did them. And this is a film with a lot of physicality to it: he rides horses, climbs logpiles and swims rapid rivers."
Moland took some time to explore the material with all of the actors before the shoot. "I like to talk about character, to talk about aspects of the story that aren't necessarily on the page. And I like to be challenged. Even if I wrote the script myself it doesn't mean I have all the answers."
The film is produced by Håkon Øverås and Turid Øversveenfor Norway's 4½ Fiksjon, with Zentropa in Denmark and Zentropa International in Sweden. Further support came from Helgeland Film, Film i Vast and Nordisk Film, as well as the Norwegian Film Institute, the Danish Film Institute, the Swedish Film Institute and Nordisk Film & TV Fond. TrustNordisk has international rights.
Out Stealing Horses shot in rural Norway, about 30km outside the small town of Trysil, and also in Lithuania. "I had some prejudices about working in Eastern Europe but they were put to shame. Lithuania had wonderful crews, there were some lovely people to work with," says Moland.
English-languge remake
In addition to supporting Out Stealing Horses in Berlin this month, Moland is also preparing for the US release (by Summit Entertainment) of his English-language remake of In Order Of Disappearance. While the original starred Skarsgard, the new film features Emmy Rossum, Liam Neeson and Laura Dern, in the story of a snow plow driver who goes after a local gang he blames for the death of his son. (It is the film Neeson was promoting when he made his highly controversial comments about acting on his own revenge impulses in real life.)
Remaking his own film is unusual, but Moland says it felt like making a new film. "It doesn't take long before it becomes a different film, it's a different process," he explains. "I enjoy the process of filmmaking and I enjoy having fun and working with gifted people [and] this was a chance also to make the film for an entirely different audiences. It was working with terrific actors."
It also gave him to opportunity to work with veteran producer Michael Shamberg, known for The Big Chill and Erin Brockovich. "Aside from being a legend, he's the most agile man past 70 I've ever met. He's got a vibrant mind, he's a very fun man to work with."
After a busy few years, Moland is now considering his next projects and will spend some time writing. "I like the challenge of new possibilities and unknowns," he says.
Norwegian features at the Berlinale
The Body Remembers When The World Broke Open (Can-Nor)
Dirs. Elle-Maija Tailfeathers, Kathleen Hepburn
Inspired by a true event, this story follows the chance encounter between two young indigenous women, illuminating the reality of domestic abuse. Backers include Norway's International Sami Film Institute. Generation
Divine Love (Bra-Uru-Chile-Den-Nor-Swe)
Dir. Gabriel Mascaro
In a near-future Brazil, a religious woman works in a notary's office where she tries to prevent couples from divorcing by treating them with ritualised sex. Panorama
False Belief (Nor)
Dir. Lene Berg
A documentary about a couple caught in a police nightmare having reported their Harlem neighbour for harassment. Forum Expanded
Khartoum Offside (Sud-Nor-Den)
Dir. Marwa Zein
A documentary about the women who want to set up Sudan's first female football team. Panorama
Louis & Luca — Mission To The Moon (Nor)
Dir. Rasmus A Sivertsen
An animated sequel to 2016's Louis & Nolan — The Big Cheese Race, about a magpie and hedgehog on a lunar expedition. Sola Media is handling sales. Generation
Reconstructing Utoya (Swe-Nor-Den)
Dir. Carl Javer
This documentary sees four survivors of the Utoya massacre share their experiences with other young people in a secure space, accompanied by psychologists. Generation
The Wayward Girl (Nor)
Dir. Edith Carlmar
A 20-year-old Liv Ullmann stars alongside Atle Merton in this 1959 teenage romance story directed by Norway's first woman film director. It is the world premiere of this digitally restored version. Berlinale Classics