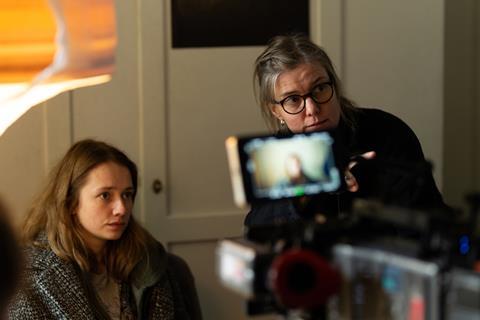 Norwegian director Yngvild Sve Flikke included some animation in her debut feature, 2015's Women In Oversized Men's Shirts and knew she wanted to explore that creative overlap even more in her second feature, Ninjababy which has its international premiere in Berlinale's Generation 14plus TrustNordisk is handling sales.
"With my first film, I put on some animation after we finished editing," she explains. "But the idea of making this movie in the beginning was for me to mix animation and live action more extensively, not as an afterthought, so the live action and animation really talked."
As a mother of two, she was also thinking a lot about the pressures and ambivalence of pregnancy and motherhood, and remembered reading Inga H Sætre's 2011 graphic novel The Art of Falling . That novel inspired what became Ninjababy,
Ninjababy is about a young, single woman who discovers she is pregnant, and not excited by the prospect of motherhood, who begins communicating with the feisty fetus inside her, who she nicknames Ninjababy. The film is quite different to Sætre's book — most notably that the animated character Ninjababy comes to life to talk. Also, the woman is 23 in the film, not 17 as in the book. But the "attitude" of the book is in the film. "I loved the sense of humor that Inga has," says Sve Flikke of the graphic novelist. They became close collaborators, with Sætre drawing the animations and advising on the film script, which was later finished by Johan Fasting.
Although the story wasn't autobiographical for Sve Flikke — she explains "I had two very wanted pregnancies" — she did want to explore the pressures of pregnancy and motherhood. "You feel like you're not good enough. There is this expectation that society has of you, and you have of yourself."
Sætre's drawing style was also perfect for the animations Sve Flikke had in mind — "She has a roughness to her drawings, a dirtiness that I wanted this movie to have. We all wanted it to have this gritty feel."
The tone of the film also has grittiness to it, with some crude humor (a male character is nicknamed Dick Jesus, for example) and laugh-out-loud moments coupled with more moving emotional scenes. "I've been working on that tone with my short Apple, to be bold and brave. I feel that also represents life, you can laugh out loud and be crying 30 minutes later."
"We worked a lot with the actors on how to make the emotional scenes emotional and then how to turn around the next scene and make it funny," she says of working with her cast . "It's also about timing, you can't really stay in that emotional sadness too long."
It was important to Sve Flikke the protagonist, played by Kristine Kujath Torp, didn't go through a typical arc. "We humans don't know what we want all the time, this is a story that has ambivalence. it's not like in the movies when the protagonist always has a goal. She really doesn't change that much throughout this movie."
The project's creative freedoms were helped by funding from the Norwegian Film Institute's New Ways talent support scheme. The film was produced by Yngve Sæther for Motlys, also with support from the Nordisk Film & TV Fond.
Sve Flikke, who is 46, was comfortable taking creative risks because she knows she wants to tell unique stories in unique ways. "I'm not in my 20s, I don't have to listen to everyone," she adds with a laugh.
She has worked with children's and young adults content for many years — she spent 20 years working at Norwegian broadcaster NRK. She has also directed episodic work, including the TV series Home Ground, about a female football coach; and will again work on another TV series in 2021, about the struggle for power in 1970s Norwegian politics (the country elected its first female prime minster in 1981).
Sve Flikke has her next film ideas growing already — "I have a couple of ideas that are like lumps of clay right now, I want to keep it that way, I will ruin them if I talk about them too much," she adds.
While she enjoys her TV work, she feels more freedom in film, where she is inspired by auteurs like Michel Gondry or Jan Švankmajer. "I love the playfulness of making movies, there is no limit to what you can do in your ideas, you can really push the limits."