Screen's analysis of this year's Oscar nominations, which saw Joker lead the way with 11 nominations, followed by 1917, The Irishman, and Once Upon A Time… In Hollywood on 10.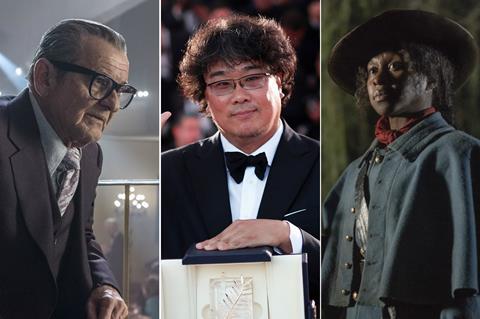 Different nominations list, same troubling diversity issues
There was no room for Lulu Wang's well-liked Sundance premiere The Farewell in nine best film nominees, even though the Academy allows for 10 picks in this category. Instead voters added Little Women, Jojo Rabbit, Marriage Story and Ford V Ferrari to a best picture line-up that in every other way replicates the white male-dominated storylines of the Bafta line-up - The Irishman, Joker, Once Upon A Time In Hollywood and 1917. As with Bafta, thank goodness for Parasite, but Moonlight's best picture win in 2017 seems a lifetime ago.
Oscar voters can't find a female director to nominate…
"Congratulations to those men," said Issae Rae after reading out the nominations for best director. Kudos to the directors' chapter for nominating South Korea's Bong Joon Ho for Palme d'Or winner Parasite, otherwise it would have been "congratulations to those white men". But in every other way Academy voters, as with Bafta (in an identical list) and DGA voters, have delivered a list of male directors for their very male-heavy films.
No Greta Gerwig, no Lula Wang, no Kasi Lemmons, no Marielle Heller, no Olivia Wilde, no Lorene Scafaria. If Gerwig had been nominated it would have been the first time a female director had been nominated twice for best director. We are going to have to even longer for that shocking statistic to be realised.
…or more than two female writers
Gerwig was nominated in the best adapted screenplay category for Little Women and Screen Star of Tomorrow Krysty Wilson-Cairns (with Sam Mendes) in the original screenplay category for 1917, but otherwise all the other nominees are men.
With zero nominations, Olivia Wilde's Booksmart is a notable oversight in this line-up with writers Emily Halpern, Sarah Haskins, Susanna Fogel and Katie Silberman are all nominated for best original screenplay at the Baftas.
…or more than one actor of colour
Cynthia Erivo scored a best actress nomination for her portrayal of civil rights hero Harriet Tubman in Kasi Lemmons' Harriet but there was nothing for Lupita Nyong'o's much-admired work in Us, Eddie Murphy for Dolemite Is My Name or Jennifer Lopez for Hustlers to name but three of the most glaring omissions.
Surprise first-time nominees
Notable popular first-time Oscar nominees include Erivo for Harriet and Antonio Banderas for Pedro Almodovar's Spanish-language Pain And Glory. New Zealand's Taika Waititi is nominated for the first time for his feature work (he won a nod for his short film Two Cars, One Night in 2004) for best adapted screenplay and best picture for Jojo Rabbit.
Rian Johnson also scores his first nomination for original screenplay for Knives Out, while second-time nominees include Joker director Todd Philips (he was nominated for best screenplay for Borat in 2007) and Noah Baumbach, whose The Squid And The Whale earned him a best original screenplay nomination in 2006.
Meanwhile Florence Pugh and Krysty Wilson-Cairns are two former Screen UK Stars of Tomorrow heading to the Oscars for the first, but likely not the last, time.
Parasite makes history
Parasite becomes the first South Korean title to earn both best film and, somewhat surprisingly, best international film nominations. It has six in all, including nods for director Bong Joon Ho, Jin Won Han for original screenplay, Jinmo Yang for best editing, and Lee Ha Jun and Cho Won Woo for production design.
It's only the sixth film to receive foreign language and best film nominations in the same year following last year's ROMA, and previously Amore, Crouching Tiger Hidden Dragon, Life Is Beautiful and Z. It's a strong haul for the Palme d'Or winner, which seems a lock for international film and stands a decent chance in the director category.
Leftfield choices for best international film
The re-branded best international film category had a couple of surprises. Three of this year's line-up debuted in competition at Cannes and were perhaps expected to appear: frontrunner Parasite, France's Les Misérables and Pedro Amodovar's Pain And Glory.
Although Eastern European films do historically often make the nominations, the two surprises this year were Jan Komasa's Polish entry Corpus Christi, a Venice Days premiere, and Tamara Kotevska and Ljubomir Stefanov's beekeeping documentary Honeyland, which debuted at Sundance in 2019, where it won the World Cinema Documentary Competition's Grand Jury Prize. It is the second nomination for a film from North Macedonia, which was known as Macedonia until 2018. The country's previous entry was Milcho Manchevski's Before The Rain in 1995).
Four of the five titles culled from the initial 10 film shortlist were also from Eastern Europe - The Painted Bird (Czech Republic), Truth And Justice (Estonia), Those Who Remained (Hungary) and Beanpole (Russia), with Mati Diop's Senegalese title Atlantics also missing out.
Cannes vs Venice
Cannes is well represented in the best film category, thanks to Parasite and Once Upon A Time In Hollywood, which earned 10 nominations. Another Cannes debut, Pain And Glory, sees leading man Antonio Banderas nominated for best actor.
Two Venice titles are also up for best picture – Joker and Marriage Story, with 17 noms between them, while the Telluride (Ford v Ferrari), New York (The Irishman) and Toronto (Jojo Rabbit) film festivals debuted one title each in the year's most prestigious category, whilst Little Women and 1917 did not premiere at festivals. In a wide open race for best picture, Jojo Rabbit could be the dark horse in this category - it has history on its side after winning TIFF's audience award (as did last year's winner Green Book).
Netflix dominates distributor list
For the first time, Netflix tops the list of distributors with the most nominations with 23 across the feature categories (plus one in the shorts, for Life Overtakes Me). This is exactly the same number of feature nods as it secured for this year's Baftas, with The Irishman again leading the way with 10. It takes the place of Fox Searchlight, which led last year's distributor chart with 14 (plus another five for 20th Century Fox).
Sony comes second with 16 nominations across Once Upon A Time… In Hollywood and Little Women, both distributed through its Columbia Pictures subsidiary. It has two for Pedro Almodóvar's Pain And Glory, distributed by Sony Pictures Classics in the US.
Disney, which completed its purchase of Fox last year, has 15 nominations across Walt Disney Studios, 20th Century Fox and National Geographic titles; while last year's leader Fox Searchlight, also now owned by Disney, has six for Jojo Rabbit. Universal's 13 nods come mainly from 1917; with most of Warner Bros' 11 coming from Joker.