Chloé Zhao has jumped from admired indie filmmaker to awards frontrunner with Nomadland. Screen talks to her about mixing real-life modern nomads with an Oscar winner for her acclaimed drama.
Chloé Zhao is certainly not someone who could be described as a director for hire. The filmmaker had made a strong impression with her thoughtful, self-penned features Songs My Brothers Taught Me and The Rider when she caught the attention of Frances McDormand and her producing partner Peter Spears, who had optioned the screen rights to Jessica Bruder's non-fiction book Nomadland: Surviving America In The Twenty-First Century.
McDormand was attending the 2017 Toronto International Film Festival with Three Billboards Outside Ebbing, Missouri when she caught a screening of The Rider. She knew immediately that she wanted to approach Zhao as a potential director for Nomadland.
"It just felt like fate," says Zhao, who had been trying to write her own script for a road movie called Bobcat, about kids travelling across the US. The idea of a road movie with a different age group appealed instantly: "I had a lot of curiosity about people of that generation. What does the road mean to them? I was getting older myself." (At 38, Zhao still has a few decades to catch up with the main characters of Nomadland.)
Zhao loved the book, which she calls "a tragic and intimate journey" but also knew she'd want to do her own research to take the script to new places.
She quickly had the idea to write the fictional role of Fern for McDormand, and then surround her with real-life nomads, including community members Linda May and Swankie playing versions of themselves. Fern is a widowed woman living in an economically depressed town in rural Nevada, and making ends meet as a seasonal worker in an Amazon warehouse. She decides to pack her van and live outside conventional society, meeting likeminded modern-day nomads on her travels across the American West.
"Even before I met Fran, I read the book and it's so rich but there's so much going on," Zhao explains on a Zoom call from her home in Ojai, California. "For me what was so interesting was also the world around Linda May. The book captures a time and isn't just about one person. So I told Fran that I wanted to create a fictional character that could bring together all these elements.
"The research came in chunks," she continues. "The first one was meeting the people in the book, and it branched out from there. While on the road, we had a map and the seasons and tried to figure out how Fern would travel within this year."
Blending talent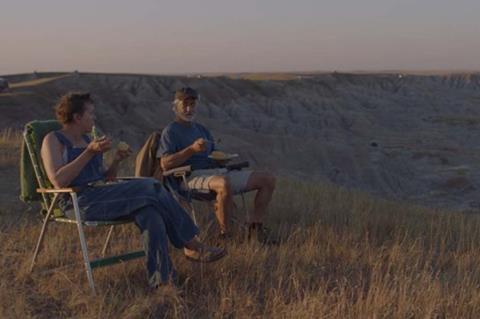 Zhao's script also needed to reflect inspirations from her two main professional actors, McDormand and David Strathairn (the actress's longtime friend and neighbour).
"Those are very much versions of themselves," Zhao explains of Fern and Dave. "They had to work in a similar way to the non-professional actors, and generously give an aspect of their own lives to the screen. That was the key of blending them into this world."
Zhao wrote the initial script in about five months — but, as she explains, "I didn't really finish writing the script until the last day of shooting. I have not made a film where I didn't write every day… I needed real life to inspire me, and sometimes real life can happen to you on a set."
Mixing the professionals and the real nomads took some consideration. "I also had to be very pragmatic: would we believe it when Swankie is sitting across from Frances McDormand?" she says.
"There are a couple of elements for making sure that works. You have to write for each of them, understanding that they're going to be sitting in the room together. One has never acted before and one has an Oscar. So you have to make sure that if you're going to give each of them a monologue, for the non-professional, it has to come from a place that they can do it. So they can do it as authentically as when Frances McDormand transforms herself into a character."
Zhao was able to draw upon the rich stories not just from the book, but from the real nomads she met in the research phase and during the shoot. In addition to Swankie and Linda May, who play two friends of Fern's, Bob Wells plays a version of himself, a guru for the #vanlife community, who hosts a gathering every summer.
Thinking in images
Zhao is also thinking as an editor while she's shooting. "When I'm covering a scene, I'm making decisions almost purely on how I will edit it. I think it's a blessing and a curse being an editor and a director," she says with a laugh.
It's rare to see a director also editing themselves. "I grew up with manga. I wanted to be an animator or a manga artist. So for me, telling stories has always been in images. I write in images. My script can sometimes read a bit thin."
McDormand was very collaborative with Zhao's style of trying out new ideas as the shoot progressed, and it is hard to imagine making Nomadland with another kind of actress. While shooting the film, McDormand actually packed some Amazon parcels, worked at a beet harvest and cleaned campground toilets, raising eyebrows from a few real tourists.
"Not a lot of actors can do what Fran did, which is getting rid of all her vanity and all her experiences," says Zhao. "It was about humbling herself to stay in the moment with people who were going to surprise her, left and right. She could stay completely compassionate and present listening to their stories."
Road tripping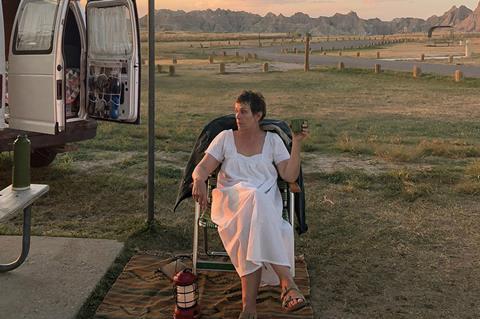 The shoot itself stretched over a six-month period to find the right locations and seasons for the story. The crew — usually a lean group of 20-25 people — travelled across Nebraska, South Dakota, Nevada, Arizona and California.
If it sounds like the world's most complicated 25-person road trip, Zhao pays tribute to the producing team for their ingenuity and support: Peter Spears (Call Me By Your Name), Mollye Asher (Songs My Brothers Taught Me, The Rider), Dan Janvey (Beasts Of The Southern Wild) and McDormand.
"Anyone who has ever done a road trip will tell you that planning is everything," explains Zhao, who also has a producer credit. "The producing team had managed to find options for me along the way, so that if one location fell through or we decided not to shoot this way, there was always another availability. Once you have planned to death, then you can be spontaneous."
The director again collaborated with director of photography Joshua James Richards, who shot her first two features (and who is also her partner). "Josh grew up in a coastal town in Cornwall, England, so he is very close to nature. He talked about how in classic landscape paintings, there is always a small figure or an animal to give you scale and it's also the viewer's entrance point to nature."
While the locations in the film are striking, "These aren't postcard-perfect landscapes," Zhao says. "We waited for the right time of day to film them, but there is an aged beauty that hasn't been sensationalised. Even the faces we put on screen are quite aged and ragged, but you don't just blast them with a news camera lens, you wait for that time of day when they are supposed to be seen."
American life
While Nomadland is made on a larger canvas (the Searchlight Pictures acquisition has a budget reported to be "mid-seven-figures") and with an Oscar winner in the lead role, it connects to the ways Zhao examined American life in her first two features, respectfully exploring characters (usually played by non-professionals) living on the fringes of mainstream society in the American West.
Her debut Songs My Brothers Taught Me (2015), made after graduating from New York University's Tisch School of the Arts, was about Lakota teens on the Pine Ridge reservation in South Dakota. Her second feature The Rider (2017) was again set in Pine Ridge and about a man recovering from a rodeo accident.
Zhao, who was born in Beijing and schooled in the UK before moving to Los Angeles at age 18, had dismissed the idea that as an outsider she has a special perspective on the American dream. "I used to feel like, no, we're all just people," she says. "But the reality is I might have had a bit less burden on my shoulders compared to my American friends who grew up here and have that history they're struggling with. I can come in a little guilt-free and investigate in a different light."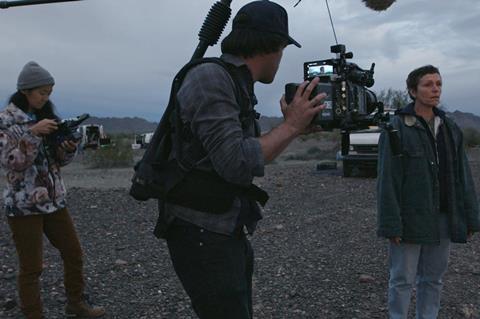 She was particularly drawn to the women of a certain age she met on her Nomadland journey. "It was very clear that women of that generation are very resourceful," Zhao says.
She met more women living the nomadic lifestyle, partly because women live longer, they didn't have the "pride of the men of that generation to conform to societal norms", and also because the women tended to be stuck in lower-paying jobs. "With all these things combined, you just find a lot of women of this age on the road."
She says, "Fern, like many people I've met on the road, had a version of themselves that was taken away. And they were able to find themselves along the way."
Nomadland has been lauded by audiences, critics and juries — winning Venice's Golden Lion and picking up four nominations at the Golden Globes and five at the Film Independent Spirit Awards.
Zhao recognises the stories of the nomads seem especially poignant during the pandemic. "I like to make films that feel open-ended, where people can take away what they need. Some people watch the movie and see the community working together, being part of something bigger.
"For me, I take away this importance of solitude," she continues. "Since the moment we were born, we are constantly being defined by the society we live in, the family, the community — so what happens when all the noise is gone and you're completely on your own? There is virtue to that because you can rediscover yourself and redefine yourself."
Zhao's next film will redefine her yet again: she is directing Marvel Studios' $200m The Eternals, in post and slated for release this year. As for her next original story? Taking a cue from how the nomads might compare their lives to nature, Zhao says she has "seedlings that are growing".