Dir. Marc Recha. Spain/ France, 2009. 92 min.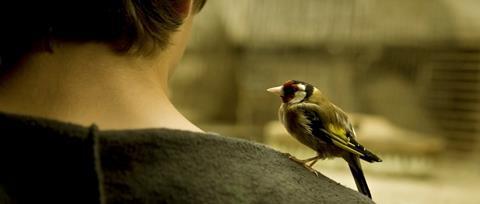 Catalan director Marc Recha's films are an acquired taste; festival rather than audience favourites, and Petit Indi is unlikely to change his track record. This is a coming-of-age fable – a cautionary tale which brings to mind Aesop and La Fontaine – about a teenage bird lover who lives in his own universe and is forced to confront the sleazy side of life. Art circuits may take Recha up on his deliberate pacing, but this will be a challenge for wider release.
Recha's camera follows Arnau (Soto) as he walks through the unflattering landscapes of Valbona, one of Barcelona's uglier suburbs. He moves in and out and around the house of his older sister Sole (Ramon), where he has been living since his mother went to prison, and all around Valbona's desolate scenery – grim fields, building sites, intersecting motorways and ugly new high-rises being constructed alongside the polluted river. Moody and introverted, only two things truly preoccupy Arnau; helping his mother get out of prison and raising song birds of every conceivable kind in a ramshackle hut behind his sister's house.
But when one day he finds a small fox close to death lying beside the river, he can't resist picking it up, washing the mud off, and feeding it.
Trying to raise the cash he needs for a lawyer to help his mother, Arnau goes to see his uncle Ramon (Lopez), a professional gambler, and starts to bet on dog races himself. His prize goldfinch wins a championship, and a rich amateur offers him 10,000 euros for the bird, but he turns it down, gambling away his sister's money instead and becoming prey or thieves at the track. When he returns home, he finds the fox has gone about his business.
Moving at a more than leisurely pace, Recha tends to signpost his intentions early on, making the audience wait patiently for the inevitable to transpire. The moment he puts the fox next to the birds, there is little doubt that sooner or later he will stop being sick and revert to nature. The same goes for sending an innocent boy to a racetrack, where he is bound to be taught that just like the fox, humans are also predatory animals.
Working, as usual, in a contemplative rather than dramatic mode, Recha gets all the support he needs from Marc Soto's introspective performance. However, none of the other main characters is well-enough drawn to offer experienced performers such as Sergi Lopez or Eduardo Noriega much to work with.
Sensitive camera work does manage to rustle some kind of magic of its own out of Valbona's rubble, and the contrast between the bird singing and the harsh realities of life is certainly inspired. But not quite enough.
To sign up for Screen's weekly Reviews Newsletter with new releases, international openings and full festival reviews delivered free to your mailbox every Friday, please click HERE

Production companies
Parallamps Compania Cinematografica
Noodles Production
Producers
Marc Recha
Jerome Vidal
International Sales
Celluloid Dreams
+33 1 49 70 03 70
Screenplay
Nadine Lamari
Marc Recha
Cinematography
Helene Louvert
Editing
Nelly Quettier
Music
PauRecha
Main cast
Marc Soto
Eulalia Ramon
Sergi Lopez
Eduardo Noriega
Pere Subirana