Paul Thomas Anderson and producer JoAnne Sellar have formed an enduring partnership since 1997's Boogie Nights. Mark Salisbury talks to her about a 20-year collaboration and Phantom Thread's late Oscar surge.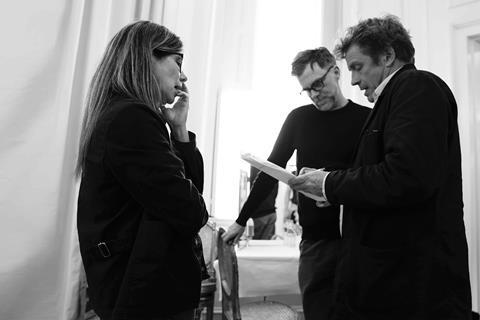 London-born, Oscar-nominated producer JoAnne Sellar began her career in the late 1980s making music videos, before producing Richard Stanley's first two features Hardware and Dust Devil. She moved to Hollywood soon after to produce Clive Barker's Lord Of Illusions and George Sluizer's ill-fated Dark Blood, which River Phoenix had been shooting when he died in 1993. It was around this time that Sellar met a young writer/director named Paul Thomas Anderson who was making his 1996 debut feature Hard Eight, aka Sydney. The co-producer on Hard Eight was Sellar's now-husband Daniel Lupi, and all three hit it off to the degree that Anderson showed her and Lupi the script for his next film, Boogie Nights, "which I flipped out for", and she was asked to produce it.
"I think he had a really hard time with Sydney and he got locked out of the cutting room, so he'd gone into Boogie Nights being kind of, 'It's not going to happen a second time,'" she recalls. "It took a lot of time for him to build his trust with me; that I wasn't out to screw him. It was quite the opposite. I had huge respect for him as a writer-director, and all I wanted to do was make the best film possible — his film."
Since then, Anderson has written and directed Magnolia, Punch-Drunk Love, There Will Be Blood, The Master, Inherent Vice and Phantom Thread — with Sellar producing them all. Their collaboration, she says, begins at the development stage, continues through production, and extends to marketing and release.
"Paul will talk about the project early on," says Sellar. "He'll show me rough drafts. He'll show me scenes. I'll comment. We'll go back and forth on stuff. We'll start doing research together. And when he's got a draft we all feel is good enough to send out to financiers, usually between him and his agent we'll come up with where we're going to send it."
Long shooting schedule
The partnership is based on trust and familiarity. "Half the time I know what he wants without even talking to him, or he knows I'm taking care of something without even having to say to me, because it's just what I do," says the producer. "Once you work with someone for a long time, there's a shorthand. My job, and my husband's job, is to get as much on the screen for Paul as possible. He likes a long shooting schedule, he likes to take time filming stuff, doing reshoots and retakes, and we build that into the way we put the project together, which is a luxury a lot of directors can't afford. We make our films very fiscally [responsible], knowing that any money put aside is for Paul to do these extra days if he needs them, or reshoots. Because that is part of his process."
It is a process that has evolved over time. "He's mellowed out a lot," says Sellar. "He's gone from being a very young director to becoming much more confident in his directing, as the years have gone on. For his first couple of movies, he was so clear on exactly what he wanted, in terms of every shot. He was very, very structured. Whereas now he's completely different. He doesn't do shot lists. It's all much more organic, allowing things to come up on the day, trying different things. It kind of changed around Punch-Drunk [Love]."
Although Sellar and Lupi are both credited as producers, Lupi is more of an old-fashioned line producer, performing the function for Steven Spielberg on Lincoln, Bridge Of Spies and the upcoming Ready Player One. "[Lupi is] much more the budget, the crew, the deal making, the nuts and bolts. We share the producer credit because we've been doing it for so long and we cover for each other on different things."
Day to day, both Sellar and Lupi are present on set, but the latter leaves once production has wrapped. "I stay on all through post-production and the whole marketing and release," she says. "Paul is super meticulous and very, very concerned that he sees everything that's put out into the world that has his name on it.
"I am talking about every ad, every trailer — he gets enormously involved in the whole marketing of a project. Everything is run through him, which means it is run through me, initially. Nothing goes out without his stamp being on it."
That autonomy stems from the fact Anderson's films do not cost much, relatively speaking. "Paul's in a very lucky, privileged position because he's a step up from an indie and a step down from a studio," she says. "Our budgets are not crazy amounts. I'm sure if they were bigger he would have more interference, but we've always managed to do [them] within the allotted amount. We're pretty much left alone to make the movie how he wants to make it."
Both Boogie Nights and Magnolia were made by New Line, but since then a different financier has been behind each film: ony (Punch-Drunk Love), Paramount Vantage (There Will Be Blood), Annapurna Pictures (The Master) and Warner Bros (Inherent Vice). With a reported budget of $35m, Phantom Thread was, ultimately, financed by Focus Features/Universal, although Annapurna's Megan Ellison who, as with The Master, is a producer on Phantom Thread, paid for the script's development and cash-flowed the project.
"This one was so much easier than I thought it would be," says Sellar. "We sent it out to two or three people who were all really interested and then we had two main suitors. [Universal Pictures chairman] Donna Langley is very close to Paul. We nearly did There Will Be Blood with them, so I think they had been looking for something to work on together. Then when we delivered the movie to Focus, they repaid Annapurna. It was a negative pick-up, as you say."
Aside from producing 2001's The Anniversary Party for Alan Cumming and Jennifer Jason Leigh, Sellar has worked exclusively with Anderson since Boogie Nights. "It's all-consuming, from the minute he's got a draft to the point of this film coming out in the cinema," she explains. "There's not much time to be doing other stuff.
"Paul takes big gaps between pictures, and during that time, I had two kids, and I made a personal choice of not doing anything in between. Between Inherent Vice and [Phantom Thread], I went to work with Annapurna for nearly a year, because Megan needed someone to run her film production side, which was great. But I was waiting for Paul to write this."
In the end, Phantom Thread garnered six Oscar nominations, including best director and best picture — Sellar's second best picture nomination after There Will Be Blood. "It was a total shock," she says. "We hoped for Daniel Day-Lewis, [costume designer] Mark Bridges and [composer] Jonny Greenwood, but the picture and directing ones were not expected. We were in none of the guild run-ups.
"We didn't get a PGA nomination [in best picture]. Paul didn't get any WGA love, didn't get any DGA love, so it was totally unexpected and it's amazing for the film because we've just gone wide in the US. To be able to announce we've got six nominations helps so much."