Paul Thomas Anderson's Phantom Thread presents Daniel Day-Lewis as a controlling fashion designer who meets his match. Screen talks to the writer-director about an intense collaboration.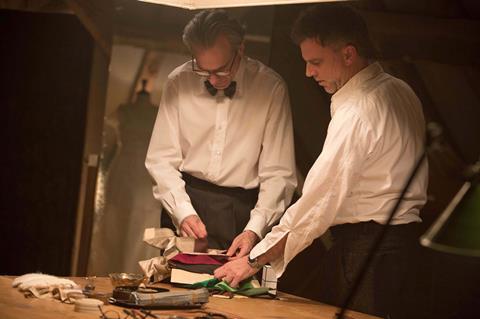 Paul Thomas Anderson and Daniel Day-Lewis spent many months embroidering Anderson's initial outline for Phantom Thread, the master collaborators drawn back into action 10 years after There Will Be Blood.
"There was a mutual interest in wanting to work together again," Anderson says when Screen International meets him in November. "I remember being the one putting rules to us and saying we had to talk every week and do it like this and play loose with the idea — just come up with things. Because I knew both of us well enough to know we'd get preoccupied and start wandering off."
The idea for the Focus Features drama came after 2014's Inherent Vice, a "mentally so challenging" adaptation of Thomas Pynchon's trippy detective story. "The instinct is to just do something as opposite to that as possible, so the premise of creating a being in a glamorous world with ball gowns and things like that and focusing on a single relationship is born out of that," says Anderson.
The story about a fictitious, celebrated 1950s London dressmaker, whose finely calibrated life and sibling relationship are upended by the arrival of a beguiling ingénue, has drawn comparisons to Alfred Hitchcock's 1940 classic Rebecca. Anderson, soft-spoken and prone to generous, languid responses, nods his head.
"That's the great example, isn't it?" he says. "The man and a woman trying to have a relationship and a third party polluting the waters. The earliest memory I have of this idea was writing something down to the extent of, 'Relationship between a man and a woman.' And then writing underneath it, 'Sister. Question mark.'"
Day-Lewis, the three-time Oscar winner who we are told makes his final on-screen appearance in Phantom Thread, was intrigued by the premise of power transfer within relationships. He agreed to play the monstrously self-absorbed Reynolds Woodcock who meets his match in Alma, the tea-shop waitress who becomes his muse and lover.
Then came the exchange of ideas as Anderson sent over several pages at a time and they fleshed out the story. "Loads and loads of back-and-forth," says Anderson, a six-time Oscar nominee with four screenplay nods under his belt. "Loads and loads of telephone conversations. Texting. Trips to Ireland. Trips to London. Trips to New York, where he lived. Trips to museums, the V&A, the Met.
"Spent a lot of time at the New York City Ballet costume department because Daniel was training there, learning to sew and doing all the basics he needed to learn how to do. All that stuff, yeah… walks up on mountain tops, really good memories of cooking it up, yeah."
Phantom Thread thrives on the precise depiction of its milieu, yet Anderson — dressed in blue jacket and trousers in the Four Seasons in Beverly Hills — says he has never been particularly interested in the world of haute couture. "I love a woman well-dressed, who doesn't? And I love a man well-dressed… [But] I'm from California and I live in a T-shirt and a pair of shorts."
The filmmaker admits to the occasional splurge on "something expensive off the rack". Then he stops, laughing: "I've still never been to a fashion show in my life. Totally faked it. But there's so much Pathé footage on YouTube, it was very easy to kind of time-travel back and imagine yourself in those situations and recreate them."
Anderson enjoyed reading about the life of the 20th-century Spanish couturier Cristobal Balenciaga. A photo of Christian Dior flanked by a mass of models proved particularly mesmerising. "Such a strong image, isn't it?" he says. "One pudgy bald-headed little boy in charge of all these women, adoring him and making his creations come to life. That seemed like really good stuff to get into."
UK veteran Lesley Manville inhabits the role of Woodcock's authoritarian sister Cyril, but the film belongs to Vicky Krieps, an actress from Luxembourg who stitches her essence into Phantom Thread as the interloper Alma and turns the dressmaker's meticulous world on its head. Krieps appeared "like the girl that I had in my imagination" to Anderson through audition tapes. "She was beautiful without being overbearing or fashion model-like, which would not have been right," he says. "She had to have a steel inside her and kind of an ambition, but a sweetness as well."
The filmmaker saw in Krieps qualities that could harness the mercurial nature of the role. "That idea of what it would mean for a character like Alma to come into a situation that is poured in cement and set for a very, very long time," Anderson reflects. "And there's absolutely no room for her, but how does she find her way in and how does she learn the rules because no one is showing her the rules? That was an exciting thing to write about. That was a great challenge."
Country of contrasts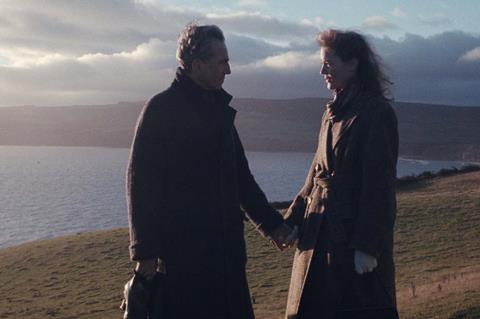 Phantom Thread shot from January to April 2017 in the UK, the first time in Anderson's 21-year career as a feature director that he shot outside the US. "I loved it," he says. "Well, let me correct that, London was rough. Yorkshire, amazing, easy, countryside, great and welcoming; they're really happy to have you. Cotswolds, same thing. Centre of London, they don't really give a fuck."
He laughs. "I mean they don't bend over backwards to help you. It actually makes me like it there even more. There's a real practicality to it. That city beats around so many different things other than film and it cannot just accommodate every silly little film that comes knocking because there are so many films. In the end, it all worked out quite well… I love it there… but that's easy for me to say. I go in and I go out. I'm very spoiled in that way."
Anderson made his feature debut on Hard Eight in 1996 and has established himself as a brilliant creator of audacious, at times structurally transgressive, work. His 2002 Adam Sandler-Emily Watson romance Punch-Drunk Love was the picture he cites as the game-changer. "That was a big moment for us," he says. "Just getting the confidence and trying new ways of working. Being more loose, exploring. I don't know, less rigid. I look back at that as a really super, super creative time with limitless possibilities."
Coming from the man who made Boogie Nights, Magnolia, The Master, and There Will Be Blood, Phantom Thread appears on the surface to be Anderson's most conservative film, yet the manner in which Alma's love for Woodcock asserts itself belies a subversive heart and has won acclaim. Critics groups have honoured Anderson for it, including screenplay wins from the National Board of Review and the New York Film Critics Circle.
Anderson's regular music collaborator, Radiohead band member Jonny Greenwood, has gone against type and crafted a surprisingly accessible score. "I told him he needed to stop being sad and make it romantic," the director says. "We can't do sad, atonal music forever. I love working with him, obviously, and hope to continue to do it."
Greenwood and Day-Lewis were both nominated at the Golden Globes, and Anderson cannot say enough about his leading man. "Well, he's a dream collaborator in that he's preoccupied with all of it, which is what you would want. I can't imagine trying to corral an actor into paying attention or helping me pick out the couch that's going to be in the living room that [the character] lives in. With Daniel, you get the full package. It's a joy to work with him because it's Daniel. How lucky am I to have gotten to work with him, twice?"
Does he really believe this will be the actor's swansong after a lauded film career that has brought lead actor Academy Awards for There Will Be Blood, Lincoln and My Left Foot? Anderson exhales and looks crestfallen and a little lost. "I hope not."