Two of this year's participants discuss opening doors to transatlantic co-productions, and the event's organisers explain why the Lab will be taking a break next year.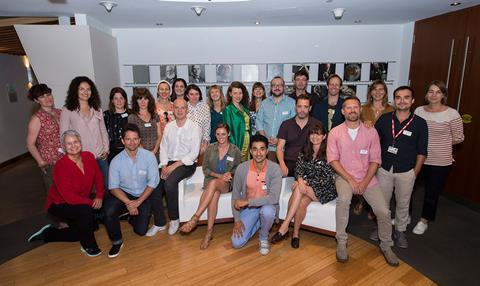 Since launching in 2010, Toronto International Film Festival (Sept 8-18) industry event Producers Lab Toronto – run by European Film Promotion (EFP) in collaboration with the Ontario Media Development Corporation (OMDC) – has been bringing together producers from Europe, Canada and more recently Australia and New Zealand, with a goal of fostering transatlantic relationships and projects. Previous films that have been pitched at the lab include Alan Gilsenan's Catherine Keener-starring drama Unless, which world premieres in TIFF's Special Presentations this year, and Martin Koolhoven's Guy Pearce-starring Western Brimestone, which also plays in Special Presentations.
This year, 24 producers attended the event, taking part in a series of meetings, talks and sessions on funding and how to approach international co-productions. "Sometimes producers find it difficult to think of new ways to finance projects, they try to do it like they always have done," says EFP managing director Sonja Heinen. "Our goal is to find different ways to do it, to learn from other producers who have different approaches."
While the event was originally set up as a project-driven initiative, over the last six years it has become more about the people, says EFP project director Jo Mühlberger. "The most important thing is that the producers get to know each other personally, so they can see if they want to work together, maybe on this project or another."
The 2016 list of participants features industry professionals from a variety of countries with projects in a range of genres. Germany and Iran-based producer Amir Hamz, whose 2015 feature Der Nachtmahr premiered at Locarno Film Festival, took part on behalf of EFP member organisation German Films with his fledgling company Bon Voyage Films. His new project Immortality will tell the story of a dramatic mountain expedition on the Swiss-Italian border 150 years ago.
Hamz's primary reason for joining the initiative was to meet producers from across the Atlantic. "I'm interested in getting into exchange mode with other territories. It's an English-language project so I'm very keen to meet people from the English-speaking industry. I think it's a great platform to get to know interesting producers, it's an honour for me to be here representing Germany."
The producer is also considering shooting Immortality in Canada, and he sees the Lab as a door into learning more about how he can utilise the territory. It would be too expensive to shoot in Switzerland, but Canada will be cheaper with its strong tax credits system. He hopes the Lab will also help him with projects further down the line: "I like the trans-Atlantic perspective on projects, that's something I really want to explore more for my company. It's important we have a more international look in the future."
Fellow participant Camilla Deakin, co-founder with Ruth Fielding of London-based Lupus Films, agrees with Hamz it's the relationships fostered by the Lab that make it an appealing initiative. "It's brilliant to be able to come here and spend four intensive days with producers from other territories where you get to know each other because the film industry is all about relationships and collaborations."
"Most producers have more than one project on their development slate. You may have officially brought one to the Lab but you're actually going to have three or four others to talk to people about. Sometimes you're surprised about what comes out of it," she adds.
Deakin's company specialises in animation and family entertainment, having produced feature animation Ethel & Ernest, which counts Jim Broadbent, Pam Ferris and Luke Treadaway amongst its voice cast and is set to premiere at the BFI London Film Festival in October.
Her new project being introduced at the lab is Lionel The First, a part live-action part-animation feature about a little boy who through a quirk of heritage becomes a king. When he gets on the throne, he quickly discovers that the job is more complicated than he imagined. Deakin is the only animation specialist taking part in the Lab, and she says the initiative has given her a unique opportunity to learn about Canada's animation industry.
Lupus Films has co-produced with a number of countries over the years including multiple European territories, and they have also outsourced work to Korea, China and India in the past, but opportunities in North America have been limited until now. "Canada has a fantastic animation industry, they're very well supported. The lab is a potential door into that industry, and a chance to get to know the funding bodies here. It's really useful to get on their radar, even if we don't immediately co-produce. Through talking to them, we get introductions to other people."
The future
From next year, the Producers Lab Toronto will be taking a hiatus. Mühlberger explains this is down to the fact that, although the Lab has been fostering many useful relationships, the level of projects emerging isn't particularly high.
"At the end there are not that many co-productions, but we feel we are really building bridges. We have to ask ourselves – is it a project forum or is it a producers meeting forum?" adds Heinen.
While success story Unless, which was fostered at the Lab, was produced as a Canada-Ireland co-production, Brimstone is an example of a project that saw production relationships nurtured at the Lab, but was eventually produced as a solely European production (Netherlands, France, Germany, Belgium, Sweden, UK).
The Lab not returning next year does not signal the end of the event, however. "We're taking a break. It's a good moment to pause to think and see what's going to happen. The idea is to keep progressing the established partnerships to create as many opportunities for co-productions as possible. There were so many producers involved over the last six years, we thought now it was good to create room for the producers who have taken part to focus on bringing the co-productions to screen," Mühlberger says, adding that EFP will continue to host alumni events.
It could also return in a few years' time, he adds. "After the lab we'll have a meeting with our partners in Canada and we'll keep doing that. We'll need to look at what is going to happen to see if there's demand from both sides of the Atlantic."