Even if she stayed firmly behind the camera in her feature directing debut One Night In Miami, Regina King still brought her passion for acting to the film.
She sounds almost jealous of the actors that she cast — "It is truly an actors' piece, and I am an actor and I love the art form," she says of one reason the film was the right choice for her debut as a feature director. "I just felt like I would want to play any of these men… to be able to dive into these human beings. It was also terrifying because all of these men are icons that we know so well."
The story of One Night In Miami started back in 2012 when Kemp Powers, the journalist-turned-playwright-turned screenwriter who also co-wrote this year's Pixar hit Soul, read a few lines that boxing champion Cassius Clay (soon to become Muhammad Ali), Nation of Islam minister Malcolm X, singer Sam Cooke and NFL athlete Jim Brown had been together in Miami on February 25, 1964 to celebrate Clay's win over Sonny Liston.
Powers used the fact the men knew each other and were together that night as his jumping-off point, imagining the fictional conversations that could have happened between them at such a pivotal time in each of their lives. The play — Powers' first — premiered at Los Angeles' Rogue Machine Theatre in June 2013 and went on to be staged successfully many more times, including by Kwame Kwei-Armah at London's Donmar Warehouse in 2016.
Music executive and film producer Jody Klein saw the play in Los Angeles, as did Snoot Entertainment's Keith Calder and his producing partner Jess Wu Calder (Blindspotting), and the three teamed up to produce the film. King had not seen the play, but she and Powers share an agency — ICM — which passed his screenplay adaptation to her in 2019, when King was having a banner year as an actress winning an Oscar for If Beale Street Could Talk and shooting Watchmen.
"I have never read a piece that so honestly and beautifully captured black men," King says over Zoom from Los Angeles. "I wanted to be a part of that, because I feel like while we're all familiar with them as icons, we forget that they're men, and the conversations they're having, the concerns, the fears, the emotions, the love they share, the celebration they have for each other. These are all things that our men do. We don't get to see black men in this space in cinema… It was a love letter to them."
On bringing a female perspective to the story, King observes: "It's being a woman, it's being black, it's being raised in LA, it's being my mother's daughter. It's all of those things. I think just being Regina — my trajectory on earth — has made me who I am, that's what I bring to telling the story. I think that's the case whoever the director is — that's the reason why it's so necessary to hear stories being told by more people who have different experiences."
The final four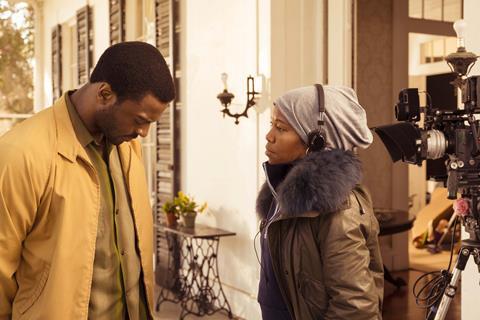 King knew finding the right actors would be crucial — some physical resemblance was needed but she was not searching for impressionists. She needed four people who could find the souls of these famous men. "The most important thing for me is that the actors who would play these men would understand they were not doing characterisations, that they had a huge responsibility," recalls King. "They were willing to show by actually auditioning that they believe they could be the vessel in which these words would flow. I found four amazing actors who understood."
The chosen ones were Kingsley Ben-Adir (Peaky Blinders) as Malcolm X; Eli Goree (Race) as Clay; Aldis Hodge (Hidden Figures) as Brown; and Leslie Odom Jr (Hamilton) as Cooke. Each actor came from a different background and had his own process.
"I think one of my strengths as a director is that I do truly understand communication styles vary from actor to actor," she explains. "It's my job as a director to quickly figure out what that communication style is going to be, and be able to switch from one style to another with each actor. I also learned that from talking to and getting information from a lot of great directors."
She also approached the actors from a human level. "You should get to know your actors, get to know where they are from, make sure they know you give a shit," she adds, with a laugh. "Because as actors sometimes we feel that we fail when directors or producers come in and they just look at us like cattle. You can tell if they don't really respect the journey we have to go through or put ourselves through to get to a desired emotion or to accomplish the intention to actually get there."
The group did not have much rehearsal time, sometimes only an hour or two the night before a scene. "That was tough because this is a piece where you would want rehearsal," the director explains. "But we were pulling the schedule together with actors that were in different parts of the world."
King started by dreaming of eight days dedicated to rehearsals, then five, then two… then basically none. "You have to have actors that understand when we're shooting, it's also a workshop at the same time. So it was just trying to create the space that they trusted me enough to let it go, and trust that if it doesn't work, I'm going to quickly come in and say, 'It doesn't work, let's try this.'"
Having Powers as a resource for herself and the team was invaluable. "We learned things from our individual research but Kemp was already a Bible — he had done so much research [for the play] that he could point us to books or articles to read; we didn't need to Google, he had done a lot of that work."
Powers had reconfigured the 90-minute, one-room play to make the screenplay more cinematic, adding prologues to introduce the four main characters. That screenplay was a strong starting point and King did not want to interrupt it with too much visual distraction. "Dialogue was the star, and you have to have team members on board who understand that — we're going to surround those words in a way that lifts them. We had to do things, collectively, that don't make the camera a distraction."
The shoot started in January 2020, mostly in New Orleans, and nearly everything wrapped before the pandemic struck. There were many discussions with editor Tariq Anwar, director of photography Tami Reiker, production designer Barry Robison and costume designer Francine Jamison-Tanchuck — "We had to have individual conversations, and some conversations collectively, to make sure we weren't making five different movies in our head. We've all seen that film when you see something is just not gelling."
Given the film's primary setting in a Miami hotel room, King had to be mindful of bringing a cinematic scope. "I wanted it to be rich and lush and vibrant, like these men are," she says. "These men have so much vitality… I always wanted the camera to keep moving, but I didn't want it to be a distraction. So Tami was able to make sure the right tools were being used."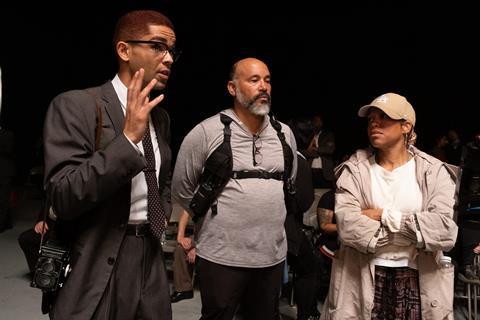 Dips in energy could have been a challenge on a small hotel-room set crowded with equipment and actors. King has a secret to invigorate herself as an actress that she also used on the One Night set. "I carry my jump rope with me. And when my energy gets low I go in the corner and jump rope. I didn't realise how much the guys were watching that. Later they said, 'She had been up all night [but] she was over there skipping rope. So, it made me have some energy!' It was just all feeding off of each other."
King has spent the last 35 years on TV and film sets, starting with her breakout role in US TV show 227 and then acting in such diverse projects as Ray, 24, Jerry Maguire, Enemy Of The State, Seven Seconds and Boyz N The Hood. She started directing TV on episodes of shows including Southland, Being Mary Jane, Scandal, This Is Us, Shameless and The Good Doctor — experience that proved useful on the One Night In Miami set. "TV moves so much faster, which actually helps when you're doing a film because you're thinking more like a chess game, you're thinking further ahead," she says. "But you also have to be quick on your toes. So I think [the TV work] was really great preparation for me."
Did the control freak in her enjoy the switch to film directing? "I like to call myself a control enthusiast," she says with another laugh. "It can be overwhelming if you're having to answer 30 questions in nine minutes, you have to have the answer. [Again] that's where the TV experience was helpful."
Lido bow
It is not widely known that One Night In Miami — which was acquired by Amazon Studios last summer — was conditionally invited before it was finished to screen in Venice, and that King made history as the first black female director to screen a film at the festival.
"We still had to finish two more scenes, and we had sent a cut to Venice without them. So they gave us a soft acceptance if we could get those scenes done. But this was during a pandemic. When LA was starting to open up for really small crews like for commercials, we put together a skeleton crew to get those scenes done. It was down to the very last minute to see if we could shoot safely."
King admits it has been unusual not going to Venice herself, or being able to see the film in cinemas as originally intended, but she has been encouraged that audiences at festivals and on Amazon Prime "have said they felt so many different emotions, they've been moved, and at the end, they felt hopeful. So if the audience is receiving it with the desired intention, that's very heartwarming."
While continuing to be an in-demand actress (she has already shot Jeymes Samuel's western The Harder They Fall, now in post), King is exploring her options as a director. "There are some things percolating," is all she will reveal.
"There is something about directing that I feel like I'm in this constant space of just learning," she says. "Learning more about myself, learning more about the process, learning more about people and behaviour. I really enjoy being in that space."