"There were lots of near-death experiences in making The Aeronauts," says Felicity Jones.
She may be laughing as she recalls the physical challenges of shooting the Amazon Studios adventure epic, but it is clear it was one of the most demanding roles of her career. As Amelia Wren, an aeronaut pushing the limits of hot-air ballooning in the 1860s, Jones inhabits a character who must not only overcome her own fears to reach uncharted heights, but continually fight back against a traditional patriarchal society determined to clip her wings.
For Jones — who was Oscar-nominated for her role as Stephen Hawking's wife Jane in The Theory Of Everything, and who also recently played Jyn Erso in Star Wars spin-off Rogue One: A Star Wars Story as well as iconic Supreme Court Justice Ruth Bader Ginsburg in On The Basis Of Sex — the character of Wren suited her down to the ground.
"I had been wanting to do more action after Rogue One," she says, "and when I read [screenwriter] Jack Thorne's script, I thought it was perfect. I knew I would love playing this person who's such a wildcat. I liked how she was someone who didn't conform, that she was a fighter, and you realise she's also pushing against so many expectations of her. She feels so happy when she's flying. I really empathise with being somebody who doesn't want to take the beaten path."
There was, of course, a familiar element to the project, which is produced by the film's director Tom Harper alongside David Hoberman and Todd Lieberman: co-star Eddie Redmayne, who played Hawking in The Theory Of Everything. This time Redmayne plays real-life pioneering Victorian scientist James Glaisher, who employs Wren to take him up to incredible heights so that he may perform experiments and thus prove his then-radical theories about being able to forecast the weather.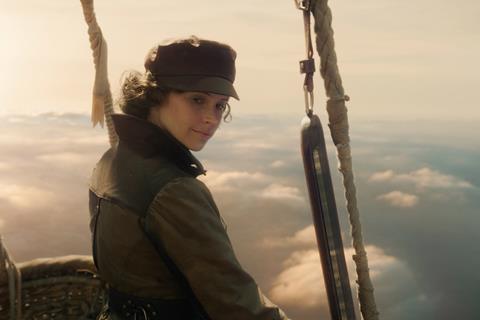 Taking risks
While they were keen to work together again, Jones and Redmayne were also determined not to retread old ground. "If the roles had been similar to Theory, or it felt in any way like a crossover, I don't think it would have appealed to us," she says. "The fact it was so fresh and different, and that it was really meaty, made us feel it was something we should get our teeth stuck into."
And the fact Jones knew her co-star so well proved of huge benefit when it came to shooting the film. With the majority of the action confined to the balloon's small basket, the evolving dynamic between Wren and Glaisher is crucial to the narrative drive. "When you have trust, that means you feel safe, and then you can take risks," she says. "This film needed us to really push it, because so much of it is just two people in a basket — and that could be really boring. You needed to be with someone where you could kind of go off-page, where you could try things out, and the other person wouldn't be intimidated or thrown off."
While the two characters are sufficiently established that they never get lost in the abundant spectacle of the film, its $40m budget also offers audiences plenty of visual thrills. (In the UK, where eOne negotiated to give the film a full theatrical run ahead of its arrival on Amazon's streaming platform, select sequences are being expanded to Imax format.) Combining a specially built life-size balloon and basket with cutting-edge green screen VFX helps convince the audience they are soaring 30,000 feet above the earth — but, says Jones, there was plenty of blood, sweat and tears involved, too.
"It was one of the hardest things I've ever done," she recalls. "It was absolutely gruelling. There was not a day that went past where we weren't being lashed by rain and wind machines, or we were freezing because [production] lowered the temperature of the set to make it look more realistic."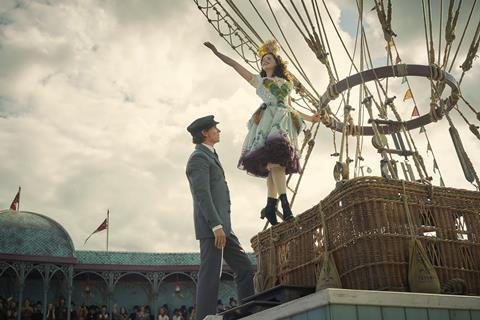 That visual realism is matched by historical accuracy, from the trajectory of the climb to the period production design on the ground. So it may be a surprise to some that Wren never existed; she is a fictional replacement for real-life scientist Henry Coxwell who joined Glaisher on that momentous balloon journey. Wren is, Jones explains, intended as an amalgamation of all the women who helped to pioneer the aeronautical movement — women who have rarely been depicted on screen.
"It's important that we're showing what some of these women achieved in aeronautics history," she says, adding that the principal inspiration for Wren was aeronaut Sophie Blanchard: "She was someone who loved flying solo at night. She would set off fireworks from her balloon and she redesigned the balloon shape to make it more aerodynamic. There was so much material about her, so I felt it was a part rich with history and heritage."
And that is essential for Jones, who will next be seen alongside George Clooney in an adaptation of Lily Brooks-Dalton's Good Morning, Midnight, which Clooney directs, and with Shailene Woodley in London-set romance Last Letter From Your Lover — both of which have been bought by Netflix.
While Jones describes herself as an actress who is firmly "led by character", she thinks carefully about the overall message of any project.
"It's about the story you're telling, what you're putting into the world," she says. "I do think storytelling can change the way people think. It's always got to be entertaining, but if you can do that and also say something, then that's a pretty special mix. I hope The Aeronauts gives people hope that anything is possible, and that there are no limits."