The casting of the real Elton John as an exaggerated version of himself in Matthew Vaughn's Kingsman: The Golden Circle was the butterfly-wing flap that would bring Taron Egerton to the starring role of Rocketman, the musical charting the singer's rise to fame, problematic family relationships, unfulfilling sexual partnerships, unhappiness, excess, drug addiction and rehab.
It was during the Kingsman sequel shoot that the singer's partner David Furnish showed Vaughn their long-in-development screenplay on which they had struggled to align the transgressive, R-rated nature of the material with the significant budget needed to realise the film's extravagant ambitions.
After reading Lee Hall's script, Vaughn agreed to partner with Furnish and Elton John's Rocket Pictures as a producer, and offered suggestions for both director and actor: Dexter Fletcher, who had directed Eddie The Eagle for him; and Egerton, star not just of that underdog-achiever biopic, but also Vaughn's two Kingsman films. Vaughn believed it was vital the actor playing the role would be able to sing - not lip-synch - the songs, and he knew all about his young protégé's vocal prowess.
"A phrase involving bears and woods sprang to mind," is how Egerton describes his interest in playing the role of Elton John when the project was first suggested to him. He had performed the 1970 Elton John and Bernie Taupin composition 'Your Song' as part of his audition for the Royal Academy of Dramatic Art. Rather more coincidentally, he had sung 'I'm Still Standing' for the Universal/Illumination Entertainment animated feature Sing.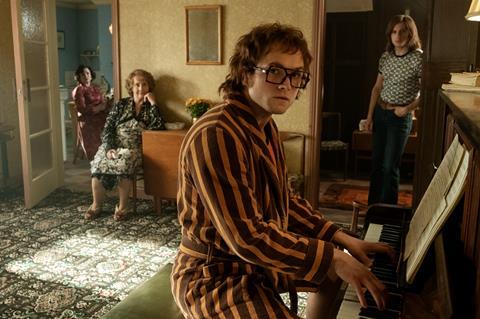 Also motivating the actor was that he would once again be working with Fletcher. "He's a very warm person and we really connected from the get-go," says Egerton. "He creates a working environment I relish and enjoy.
"We have similar tastes and are excited by a lot of the same things, which makes us creatively aligned. When Dexter gives performance notes, I never feel criticised; I feel galvanised and I find working with him in that way very exciting."
While Egerton concedes Fletcher's long experience as an actor might feed into his ability to connect with other actors when offering direction, he qualifies: "There's more to it than that. It's more individual than that."
Fletcher, for his part, has his own views on the actor's appeal. "Apart from his film-star good looks?" he quips. "There's something really accessible about him. Particularly for Elton, he has this incredible emotional range and he's brave. He was ready to step out on a ledge with something that had to be larger than life. His strength is that he is very much present in the moment, emotionally."
Egerton, says Fletcher, trusts the process and does not need to have it all figured out before taking on a challenge. "He's OK with not knowing where he's at, at first… if he feels he's got a safe place to fail as well as fly," he says. "The aim is always to create an environment where he can be the best version of that."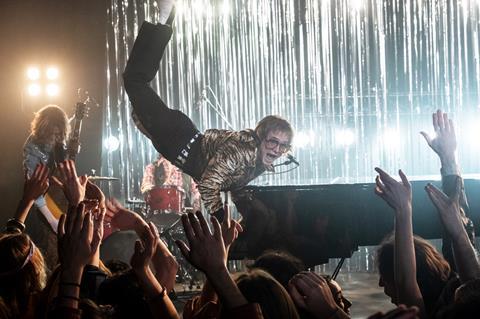 Baptism of fire
One of the most memorable sequences of Rocketman is when a young Elton performs in the US for the first time, with a showcase at the Troubadour club in Los Angeles. Filmed right at the beginning of the shoot at Bray Studios in Berkshire, England, this scene marked the first time Egerton would be singing live on a film set. And the sequence, in which both the performer and the audience literally levitate off the ground, was crucial in helping to establish the heightened tone of what follows.
"Of course it's daunting," recalls the actor, whose previous experience with musical theatre was limited to drama school. "Any first day on the set is nerve-racking and that's all the more pronounced when you're doing something different to what you have done before. But once I got over my initial nerves, I just felt very excited and ready to go."
Egerton says 12 weeks of rehearsal and months of build-up adequately prepared him for the role, adding: "I wouldn't have undertaken Rocketman had I not felt that I could do it."
Still, the successful accomplishment of the Troubadour sequence only increased his confidence. "That's probably why Dexter scheduled it that way. It may have been that having a bit of a baptism of fire was exactly what I needed."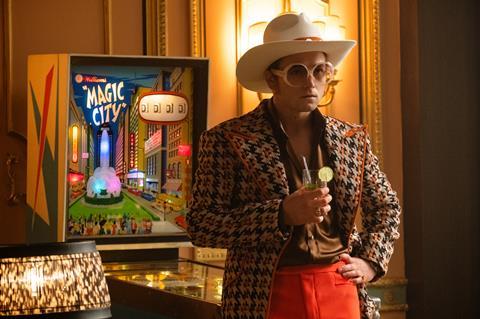 Fletcher explains that despite having pre-recorded all the musical numbers with the film's music producer Giles Martin, he was able to use much more of Egerton's vocals captured live on the set than he ever anticipated.
"If the performance was just in a vacuum, I could do that anyway," says the actor. "But it's all to do with capturing a vocal that's pure and unadulterated. A hundred extras dancing around you, it's not clean, it's got a bunch of other sounds on it. Where possible, it was a nice thing to do - there's an honesty of expression in capturing it live on set."
Despite having wrapped Rocketman a year ago, Egerton has yet to select a follow-up role. He has been busy with the launch of the film out of competition at Cannes Film Festival in May, with Paramount's global rollout, and now attending events positioning Rocketman for the attention of awards voters - but that is not the real reason for his hesitation.
"I've been taking my time," he says. "I suppose Rocketman was such a singular, wonderful experience, and in some ways I've been spoilt. I'm waiting for something I feel similarly excited by, and those things don't come along every day.
"It feels like a really important time in my professional life; my next steps are quite important," he continues. "I'm being cautious and trying to be selective - which is scary because it's a precarious profession - but I want to try and pick things I feel really passionate about, and am doing for the right reasons, and not financially motivated or anything else."