New animation studio Locksmith offers a distinctive British sensibility with a global outlook — qualities that are embedded into the company's debut feature Ron's Gone Wrong, as the filmmaking team explain to Screen.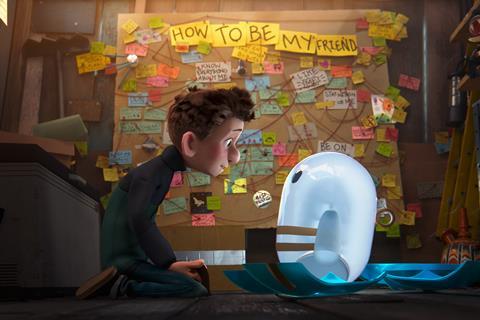 It was more than 10 years ago, while she was making Aardman Animation/Sony Pictures festive animation Arthur Christmas in the blazing heat of Culver City, California, that writer/director Sarah Smith hit on the idea of creating a UK-based animation studio that could rival the output of US power­houses such as Disney and Pixar.
"I knew the animation business very well, and I put together a case for why we should have a studio that could make these films in the UK," says Smith. "I got Julie [Lockhart, the company's co-founder] to join me, and we pounded the pavement looking for investment."
Lockhart, who worked with Smith at Aardman, says she was immediately on board with the idea. "There's so much opportunity in the UK," she notes. "There's so much IP, there's a fantastic visual-effects industry, the skills are all here. Although animation is a different pipeline and a different skillset, I knew there was enough infrastructure here to make it work."
Smith and Lockhart found an "incredible backer" in Elisabeth Murdoch and established Locksmith in 2014. Smith, who has written for episodes of satirical comedy programmes The Armando Iannucci Shows and Nighty Night, as well as the screenplay for Arthur Christmas with Ron's Gone Wrong co-writer Peter Baynham, knew that establishing a "real identity" was key to the studio's success.
"Pete and I both had our first children during the making of Arthur Christmas, and suddenly animation became something important," Smith recalls. "I wanted to make movies about contemporary kids' lives, relevant to my kids growing up but with timeless elements."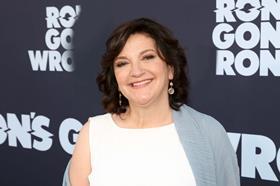 Finding the story
With that ethos established, the newly minted Locksmith Animation, which signed a multi-year production and distribution deal with 20th Century Fox in 2017, began to put together an initial slate of projects. One of the earliest ideas was inspired by an unlikely source.
"Just before we signed our shareholding agreement [for the company], I watched the Spike Jonze movie Her [in which the central character forges a relationship with his virtual assistant]," says Smith. "I thought, 'We have to make a version of that for kids, because here are extremes of behaviour that happen in the online world, and kids are so vulnerable to it all.' We had to find a way of making a funny animated movie that explores children's relationships with technology."
That idea was the genesis of Locksmith's first animated feature Ron's Gone Wrong, which follows middle-school loner Barney (voiced by Jack Dylan Grazer) — the only one of his classmates not to own a 'B*Bot', a digitally connected robot manufactured by fictional tech conglomerate Bubble. He is finally gifted one for his birthday, but soon finds his B*Bot, named Ron (Zach Galifianakis), which was damaged when it literally fell off the back of a truck, is not connected to the central grid, and so malfunctions in hilarious ways.
Co-writer Baynham — who was Oscar-nominated for his screenplays for Borat and sequel Borat Subsequent Moviefilm, and has written for TV shows including Brass Eye and I'm Alan Partridge along with screenplays for the likes of Hotel Transylvania and Grimsby — says he "loved the idea right away", but knew that a balance of tone would be crucial. "It was partly about exploring those issues of technology, but also about having fun with cool robots," he says. "It made me think about the way we're living in this on-demand culture, not just as kids but adults as well. There's huge comedy to be had with that, but we didn't want to do anything that criticised it; we wanted to raise some questions."
Jean-Philippe Vine — who has worked as an artist on projects such as Shaun The Sheep and Cars 3 and directs Ron's Gone Wrong with Smith — also knew there was an opportunity for the film to plug into a universal experience. "We're all parents who feel like we're blundering our way through this new frontier, and we've got no tools to deal with it," he explains. "We are also huge fans of movies like The Iron Giant and ET, and we wanted to do this classic kind of story that sat in our contemporary world.
"We decided to personalise this AI [artificial intelligence] as the hottest new device, and explore what happens when that device isn't connected to any data," Vine continues. "He's a blank slate, a beautiful clown. And so he has the opportunity to build a real relationship [with Barney], based on who he really is, rather than how he looks online."
Creative decisions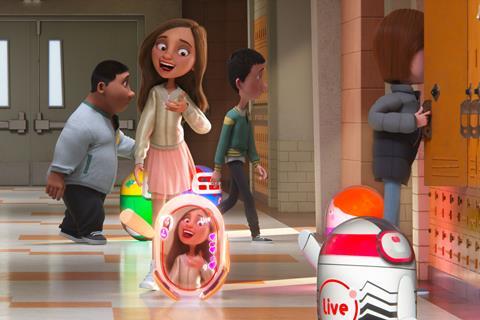 Ron's Gone Wrong was one of three frontrunners to become the studio's first film. "Originally we were developing another idea of Pete's, which would have been hugely ambitious," says Smith. "It was a distributor-led decision to pivot, and I thought, 'Oh well, at least that will be easier in production terms, because basically it's a boy and a robot.'
"Actually, it's been phenomenally difficult, because it's set in a school. Children are so aware if you don't make those kids look authentic, so that's a massive technical challenge. On top of that, we wanted everyone to have a B*Bot," Smith continues. "Everyone is moving, and they are also interacting and sending emails and stuff. The level of complexity was mind-blowing."
Despite being the product of a UK animation studio, Ron's Gone Wrong is set in the US suburbs. "It was a creative decision," notes Lockhart. "From a design perspective, the fact that all the big tech companies are in California made it feel that's where it should be. We're also making films for a global audience that may not specifically be about British culture. But that's not to say we won't be doing projects set in Britain — we're setting up a film [That Christmas, previously titled The Empty Stocking] based on three books by Richard Curtis, which takes place in Suffolk."
"When I first thought about the basic idea [of Ron's Gone Wrong] I imagined it in my own kids' school in southwest London," adds Smith. "Then we talked about wanting to give it this big filmic universality, that kind of Spielberg film-scape."
For Baynham, who lives in the US, the film's setting hit a personal chord. "My wife comes from Chicago, and when you go to the suburbs you feel like you're in ET; it's got that look," he observes. "Early on, the design of the town where Barney lives was much more ornate and pretty. We said that we needed it to have a more recognisable Americana, so the B*Bots can come in and transform that world."
"We worked with [production designer and concept artist] Aurélien Predal," notes Smith. "His art is heightened and stylised and when I was talking about the real-world references, he was looking at me like, 'You're going to kill my soul asking me to do this.' But he took a very ordinary world and made it something beautiful."
Despite its distinctly US setting, Ron's Gone Wrong boasts a notably cheeky British sense of humour. "Occasionally you put a line in there, like Donka [Barney's Bulgarian grandmother, voiced by Olivia Colman] saying, 'I once mended my own hernia with a bread knife and vodka,' and you think, 'Surely the email's going to come through saying you can't do that,'" laughs Baynham. "That British side of us is always going to want to be a bit naughty. We're trying to inhabit this space where it's full of heart and richness, but with a kind of British edge."
For Vine, that comedy streak is what makes the film distinctive. "The thing we do really well in the UK is demolish ourselves," he says. "We love playing in the world of deviance. We did feel like outliers to the big studios, because we were just here in London doing cheeky things that made us laugh. And if you have a lot of heart, you can earn it — it doesn't feel too cynical."
"Pete and I have been close friends for something like 30 years, and we've brought our natural humour to it," observes Smith, who stepped down from Locksmith last year to focus on her own projects. "Then it's coming out of the mouths of people like Ed [Helms, who voices Barney's father Graham] and Zach, who give it their own spin. It's not a standard American comedy, it's not specifically British, it's something that brings together all of those things."
Ron's Gone Wrong premiered at Annecy International Animation Film Festival last June, played the family gala at the BFI London Film Festival in October, then opened in multiple territories the same month via Disney, grossing more than $60m worldwide to date. In December, it picked up two Annie nominations — for production design and character design on an animated feature.
With Locksmith's 20th Century Studios deal expired following Disney's purchase of the studio, the animation house has signed a multi-year deal with Warner Bros. The company is working on further animated projects, including a film set on the rooftops of London, and is "investing in our pipeline and finding ways to do things more quickly", says Lockhart. "The amount of animation that's being commissioned, particularly by the streaming platforms, is fantastic. The demand for content is making the animation industry flourish."
"What's nice is that audiences are hungry for diverse stories and diverse storytellers," adds Vine. "That gives us more confidence when we're developing projects. People are being rewarded for not taking the safe option."
Smooth operator creating the B*Bots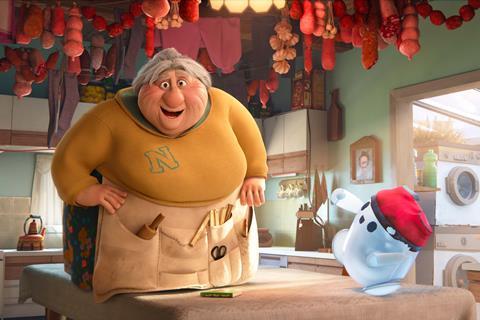 When it came to designing the fictional B*Bot — the slick, socially connected AI device that interacts with users and each other and can be personalised with digital skins — the team initially tried taking their cues from real life. "There are so many start-ups trying to raise funding, and they all have the aspiration to make something like the B*Bot," says Ron's Gone Wrong writer/director Sarah Smith. "But when you see their prototypes, they have an iPad for a face and can only move around on flat polished floors."
"We were looking at what was happening in the industry with robotics, and we felt like we were in a race to come out with the best," says her fellow director Jean-Philippe Vine, who visited the CES technology trade show in Las Vegas to get some ideas. "People there were trying to make personal robots, but some of them were frankly terrifying. You'd never want one in your bedroom, you'd think it was going to murder you! That encouraged us to think that we should approach this from an animation perspective — to make something that could feel plausible, but it's charming and appealing. Some of our early designs were, frankly, horrifying. But we zeroed in on this minimalist and elegant design language."
Ron is unable to connect to the mainframe used by the other B*Bots, so retains a visual blank canvas. As such, his personality became a huge part of his design. "It's integral to Ron's comedy, the way he repeats himself, how he remains brightly cheerful," says Vine. "If you remember in [Microsoft] Word, that irritating paperclip used to pop up every time you were trying to write a letter. That's in the DNA of Ron — even when he's trying to pull the heads off people, he's trying to be helpful."
Given the capabilities of modern animation techniques, Smith notes the sky's the limit when it comes to visual design. "When I was making Arthur Christmas, I said that I didn't want to attend another meeting about nostrils," she laughs. "I came from live action, where people walk on set with their own nostrils. The truth is that every single possible decision is there to be made in animation, and you just have to choose."