The UK director tells Screen how her film Suffragette and her own daughter inspired the project.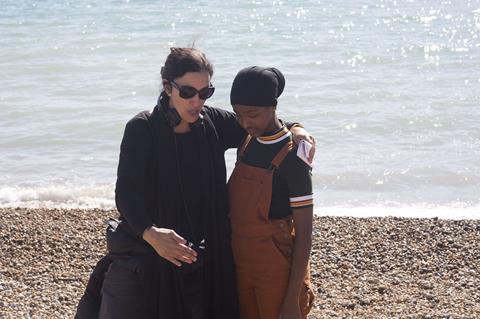 When Sarah Gavron entered the editing suite for her as-yet-untitled follow-up to Suffragette and Brick Lane, she found herself faced with the unenviable task of chopping 150 hours of footage down to feature length. "It was like editing a documentary," Gavron recalls.
The entire production of Untitled Girls Film has had a certain verité flavour to it. Pre-production was an extensive, two-year process that had been initially inspired by the Suffragette promotional tour during which Gavron had screened the film at schools around the UK.
"I spent a lot of time talking to young women, hearing their responses to the film. It made me think about what it's like to be a teenager today," she says. "That coincided with my own daughter becoming a teenager. Suddenly I was fascinated with seeing the world through their eyes.
"I wanted it to be devised, improvised and built around the girls in quite an unusual way. It would be an environment that would place them at the centre of it. I tried to design the process as a conversation, so they could steer me as much as I steered them."
Producer Faye Ward of Fable Pictures, Gavron's regular collaborator, secured development and then production funding from Film4 and the BFI. London-based research charity Wellcome Trust also supported the project financially and provided access to academics who could offer insight into the workings of the teenage brain. Altitude Films took international sales and UK distribution rights; they are selling the film at the EFM this week. Head Gear Films also provided finance.
Casting non-actors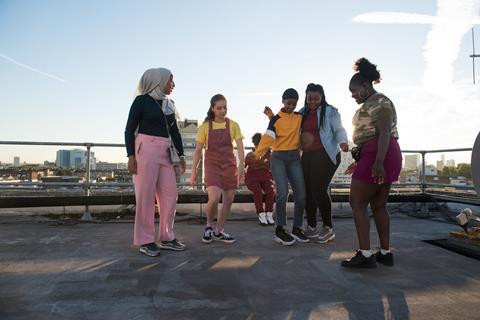 Gavron wanted to work primarily with non-actors and met hundreds of schoolgirls in the search, seeking those with both the talent to adapt to the improvisational process and the energy and patience for the rigours of filmmaking. The team narrowed down the search area to east London to keep it moderately contained, although casting director and researcher Lucy Pardee still saw 1,000 girls during open casting calls.
From a pool of 30 potential girls, the group was whittled down to 12 during workshops in which they were encouraged to talk openly about their home lives, friendships, boys, social media and cultural identities. That group all appear in the final film, with a knot of six forming the key protagonists.
The girls come from a diverse mix of cultural backgrounds, typical of many friendship circles in contemporary London schools. All UK-born, the backgrounds of the six are Nigerian, Somali, Polish-gypsy, Bangladeshi, Congolese-Ghanaian and white British. "We wanted to tell a story about female friendship," says Gavron. "We found girls who naturally formed a bond. They were natural storytellers and opened themselves up to us."
As her cast was coming together, Gavron approached emerging writers Theresa Ikoko and Claire Wilson. Ikoko works with young people in east London and is also a playwright, while Wilson's credits include TV series The Little Drummer Girl and the upcoming Gangs Of London. "They got on like a house on fire," Gavron recalls of the first time they met.
Together they came up with the story of a 15-year-old British-Nigerian schoolgirl as she looks after her younger brother, using the help of her friends to avoid being taken into care.
The team also brought on emerging UK producer (and Screen Star of Tomorrow 2018) Ameenah Ayub Allen, who had worked as an assistant producer on Gavron's Brick Lane, to be the day-to-day producer as Ward was in the process of putting together Wild Rose and Stan & Ollie as well as the Untitled Girls Film.
The picture shot in the summer of 2018, primarily in east London. The film's budget was in the region of $3.9m (£3m), considerably less than Suffragette's $13m (£10m) budget. Gavron admits the fluid nature of the project was a risk for financiers but is adamant the UK industry should broaden the types of stories it tells on screen.
"The films I've been really excited by in recent times — such as Mustang, The Rider and Divines — they're coming out of female filmmakers, they're working with truth, and they're showing people you don't normally see on screen," says Gavron. "We're at a moment when it's very interesting to challenge representation in cinema and what stories we're telling. This was bold and unchartered but we hoped it would pay off."
The director pays tribute to the impact of the #MeToo movement and the TimesUp organisation on the type of films being greenlit. "There's a surge of energy and an openness," Gavron enthuses. "I feel able to say things I wouldn't have said before and to make choices I haven't felt I could make before."