Schedule 2, which recently celebrated its 10th anniversary and opened a New York outpost, makes sure films are seen at their very best. Michael Rosser meets Rebecca Hawkes, chief of the 'technical police'.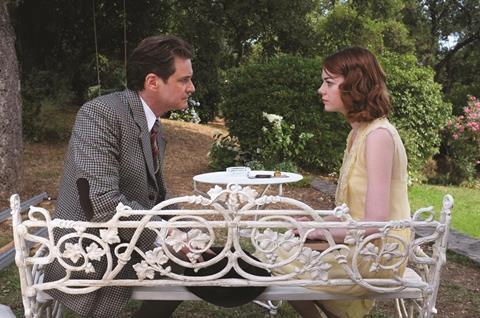 Woody Allen doesn't hand his film spools to just anyone. So walking into the London office of Rebecca Hawkes, managing director of Schedule 2, the first thing to catch Screen's eye are two spools from the director's Manhattan Film Center.
"You don't get spools anymore because of the demise of 35mm, so he [Allen] let me keep them," says Hawkes, who founded technical film services company Schedule 2 in 2003.
The Manhattan director is among several high-profile names with which the company has built long-standing relationships, including Jeremy Thomas's Recorded Picture Company, HanWay Films, The Weinstein Company and AV Pictures.
Schedule 2 works with producers, sales companies and distributors to supervise post-production and deliver features from camera to screen (the company takes its name from the section of a sales agency agreement that deals with delivery).
This delivery ranges from 35mm to Digital Cinema Package (DCP) and video on demand (VoD) formats.
'There is a misconception that, because it's digital, delivery is free. Some assume that because there's a hard drive, that's enough. Well, it's not enough'

Rebecca Hawkes, Schedule 2
"When I started on my own in a tiny office on Brewer Street, I thought it would be a very small business but it just continues to grow," says Hawkes, who has been involved in the international delivery of more than 500 features, working with directors from Allen to Roman Polanski, Bernardo Bertolucci, Terry Gilliam and Wim Wenders.
The London-born executive began her career at Kay Film Laboratory ― later known as MGM-owned Metrocolor ― in 1983. After gaining knowledge of film and the post-production process she began work in the technical departments for major distributors and sales companies, including Thorn EMI, Cannon International, Capitol Films, Cori Films and Goldcrest Films International.
While working within sales companies, Hawkes became aware of the crucial role of the technical services department, ensuring that distributors' requirements are met and materials are delivered correctly and on time.
Combining her technical knowledge and relationships fostered with key facilities around the world, Hawkes launched Schedule 2, which has celebrated a decade in business.
"I am passionate about how films should look and get highly irritated if they don't look good," she says. "I believe that what the director sees when he's shooting should be replicated everywhere it goes."
With Karen Redfern, who oversees technical operations and post-production, and Roy Carroll, director of international distribution and technical services, the team is now 10 strong.

Expansion
Last month, Schedule 2 opened its first US office, in New York. "I'd been thinking for about a year that the US would be a good market to get into because I feel they have more genuine concern for the protection and quality of content," says Hawkes. "The idea is to garner more work Stateside and with New York's new tax incentive, part of which is for post-production, I think we're going to see more films go that way for post."
The new office, which officially opened its doors on May 1, will serve as a satellite office providing regional support for clients in North America.
One of the biggest developments being navigated by Schedule 2 is the rise of digital delivery onto VoD platforms.
"I think every film-maker should now be making their film iTunes-ready," says Hawkes. "But there is a misconception that, because it's digital, delivery is free. Some assume that because there's a hard drive, that's enough. Well, it's not enough. Apple have very slick hardware and they want the pictures to look good on-screen."
The problem is arising with digital delivery that "distributors want everything for nothing and you have to explain the amount of work that goes into what we do and the large checklist involved in delivering correctly".
Post service
Going forward, Hawkes wants Schedule 2 to become more of a facility. "We don't have all the expertise and we definitely don't have all the machinery but I'd like to think that a film-maker could come to us and we could help them with their post-production," she says.
"We can offer supervision services, take delivery of that film, ensure it's technically correct for worldwide distribution and exhibition, and deliver to each and every distributor and platform at a cost-effective price."
Hawkes also foresees "a completely different world" where the traditional parcels that are couriered out will be replaced by "distributors ordering materials online and downloading them", a change that has already begun.
For now, Hawkes is getting ready to deliver Allen's latest, Magic In The Moonlight. "They are the only films I've ever worked on in all my career that are perfectly delivered," she adds. "It's a well-oiled system. There is never a problem."
On other features, when problems with picture or sound do arise, Hawkes describes her company's role as like the police. "We make sure the highest quality is adhered to throughout the whole process ― we're the technical police."
Upcoming titles handled by Schedule 2
Kidnapping Freddy Heineken, dir Daniel Alfredson
Robot Overlords, dir Jon Wrigh
Brooklyn, dir John Crowley
Carol, dir Todd Haynes
The Guest, dir Adam Wingard
The Riot Club, dir Lone Scherfig
Slow West, dir John Maclean
Mr. Turner, dir Mike Leigh
Magic In The Moonlight, dir Woody Allen