PROMOTIONAL FEATURE: With its financial incentives, world-class crew and unique locations, Scotland has become a destination of choice for an increasing number of international productions.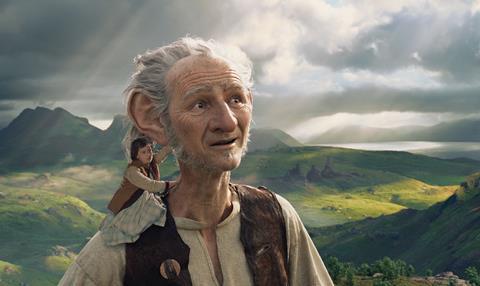 It is no secret the UK's creative industries are booming, and that an increasing number of major international productions are choosing to utilise its attractive tax incentives, world-class talent and dedicated facilities and infrastructure. While London may be the epicentre of this activity, however, there is considerable sector growth north of the border.
Over the last few years, Scotland has played host to an impressive and varied roster of productions, including Jonathan Glazer's Bafta-nominated Under The Skin, starring Scarlett Johansson; Marc Forster's World War Z, starring Brad Pitt; Paul McGuigan's gothic drama Victor Frankenstein, starring Daniel Radcliffe and James McAvoy; Justin Kurzel's Macbeth, starring Michael Fassbender and Marion Cotillard; Steven Spielberg's adaptation of Roald Dahl's The BFG; and Danny Boyle's hotly anticipated Trainspotting 2, based in Bathgate, West Lothian (see sidebar for more titles). All have benefitted from Scotland's incredible array of locations, its skilled and tenacious crews and its competitive funding options, which run in tandem with the UK Film, High-End TV, Animation and Children's Tax Reliefs.
"We are really busy," says Natalie Usher, Director of Screen at Creative Scotland. "There are local productions that have been going on over the course of the year, and others, like The BFG, that come for our locations. There are also a number of international productions that have come here since the launch of the Production Growth Fund."
Path of Growth
Launched in 2015, and currently running to March 2017, Scotland's $2.3m (£1.75m) Production Growth Fund (PGF) is designed to stimulate growth in film and TV production by giving major international producers the incentive to base their productions in the country. Non-recoupable grants from the Fund are determined by spend in Scotland, giving opportunities to Scottish crew and facilities companies.
In just 12 months, the PGF has succeeded in attracting several high-profile productions to Scotland, such as Trainspotting 2. Other titles include Churchill, directed by Jonathan Teplitzky, who previously shot The Railway Man in Scotland, and starring Brian Cox as prime minister Winston Churchill in the final days of the Second World War.
Although the story is not set in Scotland, the production was based at Castlebrae in Edinburgh and shot at a variety of locations including Glasgow City Chambers, the Grand Lodge of Scotland, Newhailes estate in Edinburgh and Yellowcraig Beach in East Lothian. The production's build and green-screen stages were located at Livingston, in between Glasgow and Edinburgh.
"This was my first time filming in Scotland and the Creative Scotland team, along with the Edinburgh and Glasgow Film Offices, were all vital to the smooth running of the production," says Churchill producer Piers Tempest. "Creative Scotland was involved on a variety of levels, from providing production finance through the Production Growth Fund, to helping with our locations to sourcing crew."
Tempest also praises the logistics of working in Scotland. "The crew base in Scotland is excellent and, as everything is relatively close and traffic is far less of a problem than in the south, unit moves are quicker and you can significantly enhance production value, particularly with the scale and diversity of locations."
The PGF also enables Scottish producers to keep productions on home soil. One such project is paranormal feature Hush, directed by Olaf de Fleur (City State) and adapted by Ben Ketai (The Strangers 2) from the novella by Eva Konstantopoulos. It stars Florence Pugh and Ben Lloyd-Hughes as siblings running a profitable ghostbusting racket, who are hired to investigate a genuinely haunted house. The film was awarded more than $390,000 (£300,000) from the PGF, and has shot at locations throughout Scotland.
"Over the years, I've used hundreds of thousands of Scottish locations, cast, crew and facilities," says Hush producer Brian Coffey of Glasgow-based Sigma Films, which has also made films such as The Legend Of Barney Thomson and Citadel in the country. "The very fact we don't have troublesome traffic means locations can be accessed quickly and easily. If you're shooting in Glasgow city centre, it's literally only 20 minutes drive to being loch-side or in the rolling hills."
Coffey also has first-hand experience of the crucial support provided by Creative Scotland. "They always go the extra mile for us and our crews; we couldn't do without the amazing staff they have in the Screen department," he says. "You can't put a price on local knowledge and expertise. The Scots are among the friendliest, most hardworking, resilient people in the world."
Other incentives
Alongside the PGF, Creative Scotland also offers production funding, through which it supports high-calibre international film and television projects that promote Scotland, Scottish talent, crews, location and tourism, as well as benefit the Scottish economy. This Screen Funding has an allocation of $5.2m (£4m) for 2016-17, and has five routes to funding: market and festival attendance; single project development funding; production funding; distribution and exhibition funding; and slate development funding.
One of Creative Scotland's recent Screen Funding awards was made to Una, the cinematic adaptation by Scottish playwright David Harrower of his Olivier Award-winning play Blackbird. The film will be screening in Special Presentations at Toronto International Film Festival.
In addition, Creative Scotland's Recce Funding is used to engage and attach Scottish location managers and other professionals to incoming productions. This allows international producers to secure the services of a local line producer, location manager or production manager to adapt budgets to Scottish spend, help with locations, assist with crewing and make essential practical recommendations, such as accommodation, for the production's time in the country. Scotland has seen a significant rise in the number of productions shooting in the country, as evidenced by the record $58m (£45m) spent by film and TV producers shooting on location in 2014. This was an increase of $15.6m (£12m) compared to 2013. Creative Scotland anticipates the 2015 figures will be equally buoyant and that 2016 will likely increase.
"This rise in production spend is a strong indication that film producers have a growing appetite to base their productions in Scotland," said Scottish culture secretary Fiona Hyslop when announcing the figures in late 2015. "With our stunning, iconic landscapes, rich culture and heritage, and skilled and talented crew, the £45m [$58m] production spend total for 2014 demonstrates that producers around the world recognise Scotland has much to offer."
Film in Scotland A five-year snapshot:
Churchill Dir Jonathan Teplitzky; The Etruscan Smile Dirs Oded Binnun, Mihal Brezis; Hush Dir Olaf de Fleur; Trainspotting 2 Dir Danny Boyle
Florence Foster Jenkins Dir Stephen Frears; The BFG Dir Steven Spielberg; King Arthur: Legend Of The Sword Dir Guy Ritchie; Swallows And Amazons Dir Philippa Lowthorpe; Whisky Galore! dir Gillies MacKinnon; Tommy's Honour Dir Jason Connery
Iona Dir Scott Graham; The Legend Of Barney Thomson Dir Robert Carlyle; Macbeth Dir Justin Kurzel; Scottish Mussel Dir Talulah Riley; Sunset Song Dir Terence Davies; Victor Frankenstein Dir Paul McGuigan
The Silent Storm Dir Corinna Mcfarlane; Slow West Dir John Maclean; Swung Dir Colin Kennedy; Sunshine On Leith Dir Dexter Fletcher; What We Did On Our Holiday Dirs Andy Hamilton, Guy Jenkin
Fast & Furious 6 Dir Justin Lin; The Railway Man Dir Jonathan Teplitzky; Filth Dir Jon S Baird; Prometheus Dir Ridley Scott;
The Dark Knight Rises Dir Christopher Nolan; Under The Skin Dir Jonathan Glazer
A Firm Foundation
Creative Scotland is dedicated to developing the country's screen sector, as well as training the next generation of talent, to ensure Scotland remains a world-class destination
With myriad international productions being attracted to Scotland — and with them, a record production spend — the country is fast becoming a major global location. Creative Scotland is building on this firm foundation to ensure the country's creative sector continues to grow and meet the needs of the increasing number of projects tempted to its shores.
Locations and facilities
Scotland is a country of diversity and contrast. It offers film-makers endless, accessible choice, from its stunning coastline and remote highlands to the urban centres of Edinburgh, with its incredible castle and sense of history, and Glasgow, which can double for US cities, as it did for Philadelphia in 2013's World War Z.
"We have an incredible and eclectic mixture of locations," says Brodie Pringle, Head of Screen Commission at Creative Scotland. "It's not just the incredible vistas. We have St Peter's in Cardross, which is one of the best pieces of modernist architecture that you can find in Europe. We have a whole Victorian prison in Aberdeenshire, Peterhead Prison. We have military underground bunkers and urban landscapes like Edinburgh and Glasgow."
Pringle notes that Scotland has had a production industry for well over 40 years, "so we are equipped to film in all these locations. The more Scottish crew you have on board your production, the easier it's going to be because there's nothing like the expertise of the locals in these situations. As a location manager for 15 years, I know what it takes to get a production onto one of the remote islands, for example, and also a fairly good idea of what it costs."
One production that took advantage of Scotland's diverse locations was Steven Spielberg's The BFG, and location manager David Broder found both landscape and crew were able to meet the film's challenging needs. "We were based in Skye, and filmed extensively on the island and on the Shiant Isles to the north, to provide the background shots for Giant Land in the film," Broder says. "We also filmed The BFG's journey sequences at the A1 at Haddington, East Lothian, at The Old Man of Hoy in the Orkney islands and aerial sequences over Loch Lomond and the Great Glen area.
"We had great support from Creative Scotland in the scouting and research process," Broder continues. "We also had help from National Trust for Scotland, the Royal Society for the Protection of Birds, Edinburgh Film Office, East Lothian Council, the Scottish ministers and the residents and business owners on Skye. We had a real challenge finding accommodation on Skye during the very busy tourist season but, through helpful residents who assisted via recommendations and social media, we managed to find beds for all the crew."
Studios and Infrastructure
As detailed in strategy document Creative Scotland On Screen: Film Strategy 2014-17, Creative Scotland is dedicated to delivering an enhanced studio infrastructure, and is a member of the Film Studio Delivery Group along with the Scottish Government and Scottish Enterprise.
Natalie Usher, Director of Screen at Creative Scotland, says: "In order to support all these incoming productions and the continued growth of productions in Scotland, both international and domestic, we have to make sure we have all of the right options for productions — that is purpose-built studio space, converted studio space and build space."
There are already many options for big and small productions looking for dedicated filming space in Scotland, with full-time conversions and build space already open for business. Indeed, the country has a total of 118,000 sq ft of converted stage space, all of which is currently in use with TV drama production. The Screen Commission is also marketing a total of 338,336 sq ft of build space, of which 173,095 sq ft is currently in use.
Wardpark Studios
Home to Sony Pictures Television's award-winning historical drama Outlander, Wardpark Studios in Cumbernauld, North Lanarkshire, has 48,000 sq ft of space across four stages. It will also soon be home to Scotland's largest dedicated film and TV studio, as North Lanarkshire Council has granted full planning permission for Wardpark to significantly enhance its existing facilities. Two 50ft high sound stages are planned to provide an additional 30,000 sq ft of space, with production offices and ancillary spaces.
Alternative Spaces
Alongside the existing and planned traditional studio space, Creative Scotland is always looking at other options and a number of alternative filming spaces are also becoming available. Examples of new filming spaces include the Pelamis building, a former marine power base on the waterfront in Leith, Edinburgh; Pyramids Business Park in Bathgate, West Lothian; Borron Street in Glasgow, which offers useable warehouse space; and Drampac in Bellshill, Lanarkshire. Full details of all these spaces can be found in Creative Scotland's Film In Scotland brochure: www.creativescotland.com/resources/our-publications/
Marketing/film-in-scotland
Skills Development
In addition to Scotland's financial incentives, unique locations, versatile filming spaces and dedicated infrastructure, its exceptional home-grown talent is also a major draw for international productions which, in turn, supply increased training opportunities. "The PGF is having a benefit on a number of levels," says Usher, "not just in productions coming here and spending money, but in offering incredible training opportunities to the next generation of Scottish craft and technical crew. Our commitment to training is one of the key areas of our strategic priorities. We're looking at how we help people get from education into the workplace."
Creative Scotland promotes such skills development through its Screen Skills Fund, which supports programmes and initiatives from industry and other public bodies that address four priority areas: advanced career development; business development; bespoke skills development, including traineeships and apprenticeships; and access routes into the industry focusing on employability, workforce diversity and emerging talent development.
The latest round of Screen Skills funding, in September 2015, awarded a total of $1.3m (£1m) to 12 initiatives, including Initialize Films' Market Leaders scheme, Step Ahead at Centre For The Moving Image and Film Hub Scotland, and Front Runner at Film City Futures, along with the key schemes profiled in the sidebars (right).
Fix VFX
Glasgow-based visual-effects studio Fix VFX has partnered with software providers The Foundry and Escape Studios to offer 10 graduates from Scottish universities a bespoke VFX training course. The skills development programme is intended to make trainees 'work-ready' for film and broadcast projects and, as well as supporting skills development, plugs into Creative Scotland's aim to sustain a new VFX facility in the country.
"The film and TV industry is crying out for investment in all areas and Creative Scotland's Screen Skills Fund has provided a much-needed shot in the arm in terms of capitalising on the great human resource we have in the country," says Colin Kennedy, MD of Fix VFX. "We have worked with Creative Scotland to find a way of addressing the skills shortage and creating the workforce we need, not just for Fix VFX but for the VFX sector in Scotland."
Screen nets
Screen Academy Scotland's long-running Screen NETS initiative supports skills development in new and existing film and television craft, technical and production grades. It consists of four strands: paid runner work experience for new entrants; a paid apprenticeship programme for new entrants in specific craft, technical or production grades; a targeted skills enhancement programme for industry assistants currently working in camera or post production; and a training/work placement scheme designed to help assistant production co-ordinators and third assistant directors step up to the next level in their careers.
"Our strong links with the industry mean we have invaluable support and relationships that allow us to have trainees attached to the most experienced and talented crews," says Kay Sheridan, professional practice and CPD co-ordinator, Screen Academy Scotland.
"Graduates of our programmes continue to work as successful industry practitioners and remain linked to Screen NETS, providing direct input to the paths we take when identifying what the industry needs. The Creative Scotland funding has allowed us to build a comprehensive framework of training and contribute to the growth of our industry." Further information: www.screen-nets.com
Outlander Training Programme
As production on the third series of Outlander prepares to get underway so does the production's practical trainee scheme, which has run since its first season. This year, 20 Scotland-based trainees have been selected to work on the series, learning from technicians and professionals across a wide-variety of roles, gaining valuable first-hand experience of working in a real filming environment.
Creative Scotland at Toronto
Creative Scotland's Head of Screen Commission, Brodie Pringle, will be at Toronto International Film Festival where you can find her in the UK Film Centre, located in the Hyatt Regency Hotel's Festival Room, from September 9-13. She will be on hand to offer free, confidential assistance to productions of any size looking to film on location in Scotland, and can assist with everything from location images to practical information and local crew contacts. To book a slot, please contact locations@creativescotland.com
Further information: www.creativescotlandlocations.com