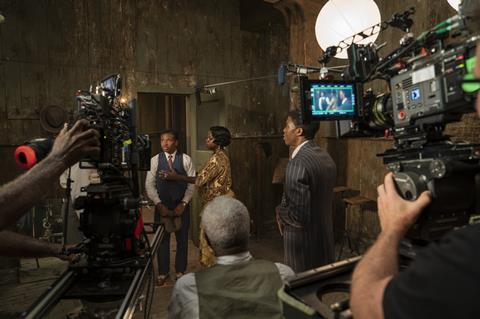 Shooting Ma Rainey's Black Bottom came with its challenges, says Tobias A Schliessler, the Germany-born director of photography whose credits include Dreamgirls and Disney's Beauty And The Beast.
Set in 1920s Chicago, Ma Rainey — adapted from August Wilson's stageplay and directed by George C Wolfe — tackles issues of race, religion, art, segregation and the exploitation of black recording artists, as Viola Davis's celebrated blues singer tangles with her manager, record label boss and backing musicians, including Chadwick Boseman as a trumpeter burning with ambition.
The confined setting — a sweltering basement where the band waits between recording sessions — was just one of the issues facing Schliessler in the Netflix feature, which is produced by Todd Black and Denzel Washington.
How did you keep the film looking so natural when in such close proximity to the actors?
That was a challenge because one of our major locations — which was about half the movie — is in this basement with four actors and their instruments in a rehearsal room measuring 18-by-20 feet. That was very tricky. Also our director, George C Wolfe, was very adamant about having the camera not distract the actors — but he also wanted to be very close and intimate with them for the performances.
It was a kind of dance between the cameras and trying to get the performance. Also, George wanted to have the actors not lose their momentum during the monologues so we shot all those in a continuous scene — all those monologues were done in one take. We had cameras in this small room hiding behind a piano, hiding behind a pillar.
George described the whole scene like it's a boxing match. They're coming from their corners, they're circling each other. He had very intricate blocking with the actors. So for me it was mainly about being able to move with the cameras while catching those important moments.
How did you create texture and evocative lighting in a confined space while keeping it out of shot?
We wanted to feel the heat of a Chicago summer. Originally that room is described in the script as a windowless basement with no air or light. We only used a one-by-two window high up, close to the ceiling. That was my main lighting motivation plus we had small practicals inside.
What were the key references when building your images?
George had a strong viewpoint of how he wanted to interpret it on screen. He used photos from Richard Samuel Roberts [noted for photographing black Americans in the south over the 1920s and '30s] and woodcuts from Jacob Lawrence [The Migration Series, depicting the migration of black Americans from the south to the north] and Aaron Douglas [a Harlem Renaissance painter known for his murals and illustrations] as visual references. I thought they were all amazing.
Why was the Sony CineAlta Venice camera important to you on this shoot?
It has a great high dynamic range and it's very true — it captures skin tones beautifully. Also it has built-in ND [natural density] filters. It feels very natural in terms of how it captures the highlights. And the Zeiss Supreme Prime lenses helped with that as well.
Does it affect your approach to know the film will screen mainly on Netflix in homes, and not in cinemas?
With the beautiful work that's been done in television, any movie now that's out there, you can't differentiate any more. The quality of television has become incredible in the last 10 years. This movie was of course originally made for the big screen but I wouldn't approach it any differently — I would shoot it exactly the same if it's streaming or for the big screen.