In ways both bold and subtle, garments created for female-fronted films have beguiled the eye this year. Screen meets the costume designers of Emma, Promising Young Woman, Ammonite, The United States Vs Billie Holiday and Ma Rainey's Black Bottom.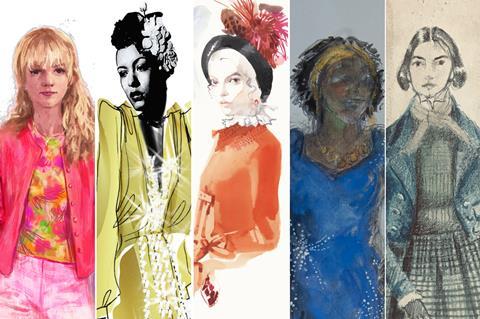 Alexandra Byrne - Emma
The first thing that is noticeable about Emma — both Autumn de Wilde's adaptation of Jane Austen's classic novel and the protagonist herself, played by Anya Taylor-Joy — is the swathes of vibrant colour, perhaps surprising for audiences used to period pieces doused in sepia. Yet, says costume designer Alexandra Byrne, whose career spans awards-garlanded period dramas and five Marvel films, this vivid styling is entirely in keeping with its time.
"Emma is set in 1814, which was the beginning of women's magazines, the beginning of fashion imaging," she notes. "These images played such an important role in securing fashion as a fast-moving, cosmopolitan phenomenon."
As a wealthy young lady, Emma Woodhouse was imagined by Byrne to be "the queen bee, the person who had the right clothes for every occasion".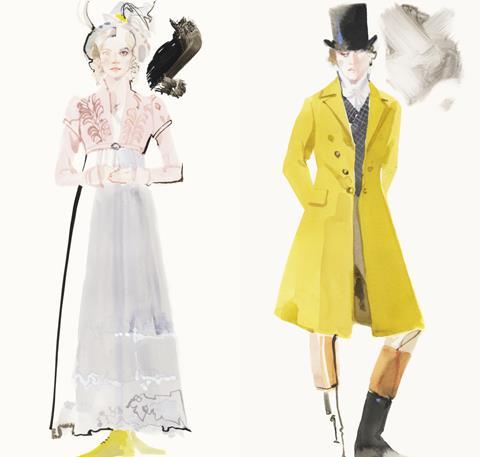 Taking her cues from Regency-era fashion plates, Byrne designed a seasonal palette for Emma — at the centre of which is the eye-catching yellow coat that adorns the film's poster. "We found an incredible fabric, and the colour just worked with the texture," says Byrne. "I wanted that yellow to pair up with Mr Knightley's riding coat, which was more bleached, more weathered, more masculine."
Similarly, the flowing dress with floral embroidery that Emma wears when longtime sparring partner Knightley (Johnny Flynn) confesses his love under a horse-chestnut blossom was also designed to tie in Emma with her surroundings and her emotions. "We worked a Victorian piece of embroidery into that dress — it was a complete one-off," says Byrne. "It anchored her into the countryside. The whole thing was quite wild and sculptural."
While Emma's wardrobe is impressive, it was underpinned by simple white muslin dresses that Byrne accessorised with coloured underlayers, bonnets, cropped jackets and jewellery. This gave flexibility to tweak the look in line with Taylor-Joy's feelings about her character on the day: an ostentatious bonnet at church, a spiky high collar when arguing with Knightley.
Byrne's favourite piece is Emma's wedding bonnet which, she says, "made her draw breath. A milliner used about three or four pieces of vintage fabric, and we dressed it in fresh flowers for the day. It's completely translucent with this wire frame, the kind of thing you look at and you have no idea how it's made."
Nancy Steiner - Promising Young Woman
When it came to designing the clothes for Carey Mulligan's vengeful Cassie in Emerald Fennell's Promising Young Woman, Nancy Steiner discovered she would be creating disguises rather than costumes.
"Cassie wears these candy-coloured pastels, frilly and feminine [on the] outside, to disguise her inward emotions," says Steiner of the character, who leads a double life entrapping sexual predators as she seeks justice for her dead friend. "I felt that what she wore during the day, in her real life, was just as much a disguise as her evening costumes."
This is evident on a date between Cassie and former classmate Ryan, played by Bo Burnham, as they wander seemingly carefree in a convenience store, singing along to Paris Hilton's 'Stars Are Blind'. Cassie wears a hot pink cardigan, bright floral top and pastel pink jeans.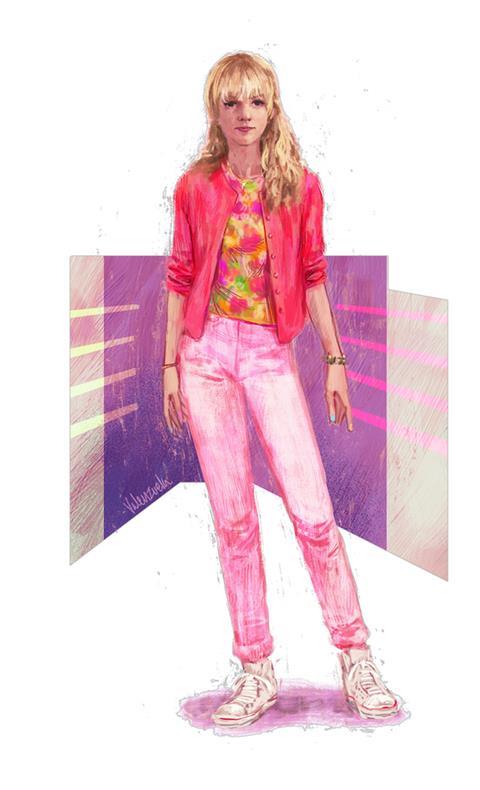 "I took some inspiration from Brigitte Bardot and the 1960s, and both the top and cardigan are vintage '60s pieces," says Steiner, whose credits include Lost In Translation and Little Miss Sunshine. "It's a subliminal thing that her colours get brighter as she's falling in love."
Steiner scoured thrift stores and Warner Bros and Universal rental houses in Los Angeles as well as Palace Costume & Prop, and retailers such as Urban Outfitters and Uniqlo. A red rose-patterned dress was taken from the fashion line of the director's sister, Coco Fennell.
But for the final act, in which Cassie wears a vinyl nurse/stripper outfit to gatecrash a bachelor party, Steiner realised she would need to make it from scratch. "I looked online for 'sexy nurse' outfits but nothing had everything we needed," she says. "We needed a zipper in the front, a specific length to the skirt and I made a headpiece. We also made multiples in case it ripped. We weren't sure what the action would be for that tense scene."
With just three weeks of prep and a 23-day shoot, Steiner recalls it was a tight job but lead actress Mulligan made time to properly fit the crucial nurse's outfit. "Carey was great," she says. "We were fitting her between filming, which is difficult as she's in almost every scene. She wanted it to be just right."
Michael O'Connor - Ammonite
When director Francis Lee asked Michael O'Connor to create the costumes for his 1840s-set romantic drama Ammonite, he imposed some restrictions: the lead character, real-life fossil hunter Mary Anning, played by Kate Winslet, should possess only three frocks, two hats, one pair of boots and one pair of shoes. "He was like, 'Oh God, really?'" says Lee, who adds that he was more generous when it came to Saoirse Ronan's character — "because she's posh, she can have more outfits".
The two men discussed how Mary ("like anybody from a poor background") would reuse clothes. "And then we talked about, and with Kate as well, where the wear was on these clothes, where the sweat stains were and where the stress points were," says Lee.
O'Connor reveals another of Lee's suggestions: "Francis is an actor, so he was very keen the actors should be very involved in costuming the characters." He also had to be mindful of the practical needs of Mary — as a fossil hunter, she would require pockets for her findings, and the designer came up with an old naval jacket, which could have once belonged to a male relative.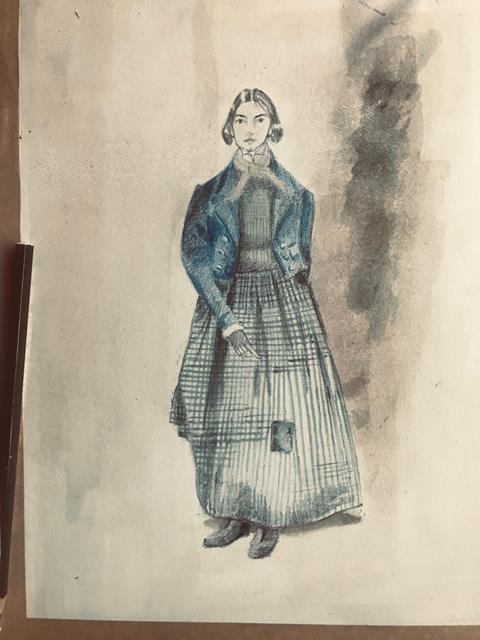 With Lee steering O'Connor away from both red and yellow — except for later scenes set in London where the relationship between the two women enters a different phase — he selected blue as the main colour for the gingham fabric options presented to Winslet, which he could then sometimes harmonise with green for Ronan.
Lee's aversion to bonnets was another discussion. "I think this comes from not being able to see the actor, and it's a distraction from what emotion is going on in the face and the eyes," suggests O'Connor. "I understand what that is, and the last thing you ever want to do is your costume to play and the character not to play. That would be a failure."
Adds Lee: "We worked out why Mary would go out without a bonnet, why she was other to that tradition. And then when they both go out [to a party], Mary's feeling insecure, she puts a bonnet on to hide. We tried to use them in a way in which they were character-driven rather than just beautiful bonnets, and it's period, and all that kind of thing."
Paolo Nieddu - The United States Vs Billie Holiday
Following his collaboration with director Lee Daniels on Fox drama series Empire, costume designer Paolo Nieddu embraced the opportunity to work again with the filmmaker on The United States Vs Billie Holiday.
"This was the first time I've done period costuming in my career," says Nieddu, who meticulously researched the titular US jazz singer's style from 1947 to 1959, played in the film by singer-songwriter Andra Day.
Nieddu's sources of inspiration spanned Instagram, Pinterest and vintage magazine clippings via eBay to photos in the Library of Congress. He also collaborated with House of Prada on nine pieces for Holiday, which included one of the first dresses they considered when preparing to recreate the singer's look.
"It was inspired by a black-and-white image from Look magazine," says Nieddu of the beaded satin gown, which is worn when Holi­day returns triumphantly to the stage after losing her cabaret card.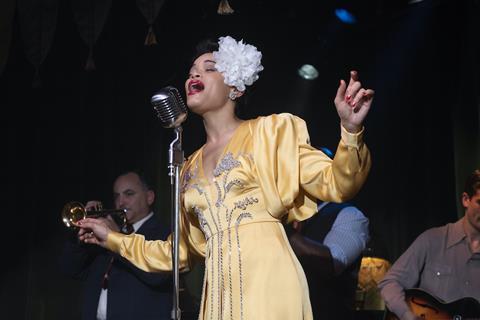 "For some reason, I saw it in yellow. The sleeve was referenced from a piece of Prada's fall 2017 collection. It was a dress on their runway that had that really cool 1940s shoulder and I asked them to create that using a long sleeve in yellow. It is one of my favourite dresses in the film."
While that creation was a favourite, one of the most eye-catching costumes came from an original design by Nieddu himself. The gown, made using black silk chiffon and bugle (tubular) beads, is worn for Holiday's comeback performance at Carnegie Hall.
"I was inspired by a very grainy audience photo of Billie in what looked like a black gown," he recalls. "I started sketching something that was more exact to the picture but it needed to be more. I went back to the drawing board and came up with this strong-shouldered dress, which had four panels in silk chiffon and would move when she takes the stage."
Nieddu acknowledges the design is a tribute to Adrian, chief costumer for MGM during the 1930s.
The earrings were discovered in a sale at Los Angeles' Western Costume and the necklace was sourced from eBay. "I bought it for around $100 and it looks like a million," he says. On why he chose black, Nieddu adds: "It's just classic, elegant and simple… and really allowed Andra to shine."
Ann Roth - Ma Rainey's Black Bottom
If the titular blues singer celebrated by George C Wolfe's Ma Rainey's Black Bottom was once a legend in her field, then the film's costume designer Ann Roth remains no less one in hers. In her near 60-year career, Roth has worked on classics from Midnight Cowboy and Klute to The English Patient (for which she won an Oscar). This project, however, provided a particular challenge.
"There are only eight photos in existence of Ma Rainey, and none of them are pretty," she says. "She was a big woman with gold teeth and a horsehair wig, and she was gorgeous."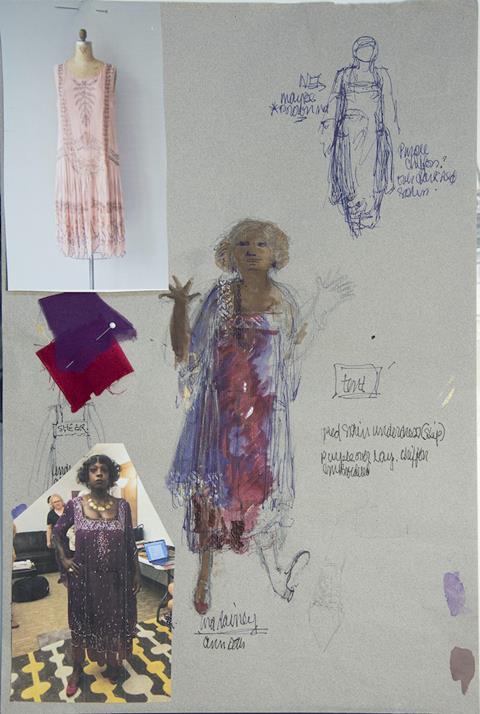 In order to turn star Viola Davis into this larger-than-life icon, Roth relied on a padded bodysuit that provided an instant transformation. "Viola started moving in this new body, and experimented with how Ma's going to swing that behind, and she started to find that woman and make her fabulous."
Fabulous she is indeed, particularly in her blue velvet concert dress seen in the film's prologue — the inspiration for which came right from the heart of Ma's environment.
"When I was researching Shuffle Along [Wolfe's stage musical on which Roth worked], I encountered the artist Miguel Covarrubias, who was from Mexico and came to New York in 1923. He got right into the middle of the Harlem Renaissance, and he painted it. He has this painting of a Sunday in Harlem with a promenade of fabulous people, and there is this big broad in a strong blue dress — and she knows she is it."
Similarly, when Ma rolls to a Chicago recording studio on a hot summer's day accessorising her outfit with a cap, gloves, fan and fur stole, it is all about the impact. "Ma knew she was making her entrance into a fancy northern city hotel, and she was bringing it all," says Roth of the look. "I pretended that Ma had a relationship with a dressmaker in Mississippi — she had this yellow dress made and they thought it was fantastic. But when she saw those city women, she knew the fur had to come out even though it was July. It was her armour."